Khloe Kardashian dating history: from Lamar Odom to Tristan Thompson
6 December 2021, 16:02 | Updated: 5 January 2022, 12:32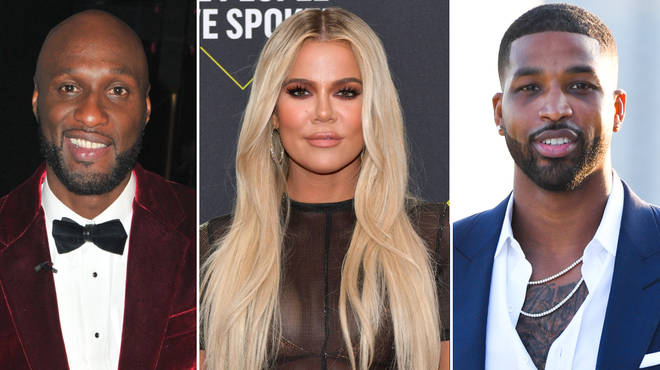 Khloe Kardashian is known for her on-off relationship with NBA star Tristan Thompson, but who else has the star dated?
Khloe Kardashian's relationship has been prominent in headlines for it's conflict and cheating scandals.
As well as this, Khloe's relationship with ex-husband Lamar Odom was known for it's turbulent nature - but who else has the mother of one been linked to?
Tristan Thompson

Khloe and Tristan had an on-off relationship. Picture: Getty

Khloe's relationship with basketball star Tristan Thompson has been on off and on since 2016.

The pair were said to have been introduced through Khloe's best friend Malika Haqq in August 2016, when the pair immediately hit it off and even went on multiple holidays together.

In September 2017, the couple announced that they were expecting their daughter True Thompson.

Tristan was caught with Kylie's best friend. Picture: Getty

However, Thompson was caught cheating with multiple women shortly before the reality star was due to give birth.

Despite staying together after this, the pair broke up in February 2019 after the NBA player was caught cheating again, with Khloe's sister Kylie's best friend, Jordyn Woods.

In August 2020, the pair were reported to be back together and were quarantining together amid the coronavirus pandemic.

The pair's romance was shown onscreen in March 2021, during the final season of KUWTK; the two even discussed having another child together.

Shortly after, during the finale episode of the family's show, it was confirmed that Khloe and Tristan called it quits again.

Reportedly "there was no drama that broke them up, things just didn't work out between the two of them".

In early December, Tristan was accused of insisting that a woman named Maralee Nichols should get an abortion after she became pregnant with his child.

The NBA star basketball star later confirmed that the child, a son, was his and publicly apologised to Khloe on Instagram.

Odell Beckham Jr.

Khloe was linked to Odell in 2016. Picture: Getty

Khloé was rumoured to have been dating NFL player Odell Beckham Jr. in June 2016, however a source speaking to Us Weekly at the time shut down the rumours, saying: "They were just flirting at a party".

James Harden

Khloe and James split in 2016. Picture: Getty

The reality star then was rumoured to have Kardashian moved on to basketball player James Harden.

The pair were said to have met at Kanye West's birthday party in June 2015, however broke up around a year later.

Rick Fox

Khloe was linked to NBA player Rick Fox. Picture: Getty

The mother of one briefly dated retired NBA player Rick Fox In May 2015. The pair were spotted on a date in Sherman Oaks in L.A.

However, it seemed to only be a short fling.

French Montana

Khloe and French dated on and off. Picture: Getty

Khloe dated rapper French Montana in 2013 and 2014 respectively, however it ended in December 2014.

Speaking on an episode of Kourtney & Khloe Take the Hamptons, she said: "I jumped into something because I was just, like, lonely and destructive".

Matt Kemp

Khloe was linked to baseball star Matt Kemp. Picture: Getty

After she first filed for divorce from Lamar Odom in 2013, Khloé was linked to baseball star Matt Kemp.

Rumours started as the two were spotted attending a number of concerts together including Drake and Jay Z.

Lamar Odom

Khloe was married to former basketball player Lamar Odom. Picture: Getty

Khloe famously married Basketball star player Lamar Odom in 2009, just a month after they met.

The pair were said to have had a difficult marriage, splitting up in 2013.

However, Kardashian put her divorce from Odom on hold in October 2015 after the former NBA star was reported to have overdosed at a legal brothel in Nevada.

However, after seeing him through his recovery the star filed for divorce again in May 2016.

Derrick Ward

Khloe had a 'fling' with Ward. Picture: Getty

Khloé is reported to have dated American football star Derrick Ward.

The pair were spotted cozying up in Mexico while celebrating her sister Kourtney Kardashian's 30th birthday. 

Rashad McCants

Rashad was one of Khloe's first public relationships. Picture: Getty

Rashad was one of the KUWTK star's first public relationships, with the pair dating in 2008.

However, their relationship reportedly didn't end well. With Rashad even blaming Kardashian for his falling NBA career.  

McCants also told Page Six that Khloé staged a scene in her families reality show, where she hacked into his voicemail and listened to supposed messages from another woman.

The basketball player however said she was "faking it", as Khloé didn't have his number - due to the fact the pair "had already called it quits".
The star is now reportedly single.