Drake's 'For All The Dogs' album: Release date, tracklist & more
21 September 2023, 11:41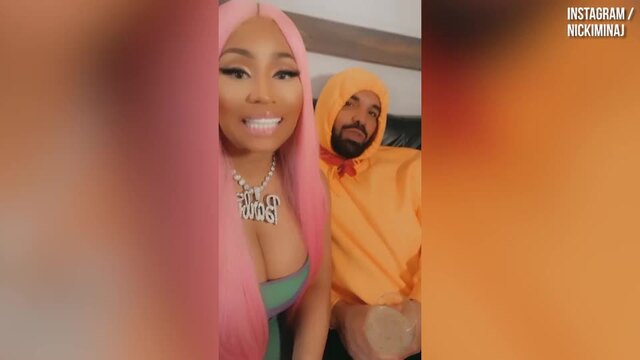 Nicki Minaj and Drake chill out on the couch for IG live
When is Drake's new album 'For All The Dogs' set to be released? Who features on it? Here's the lowdown.
Drake is back with another release titled 'For All The Dogs' this year!
The rapper has been teasing another project since last year's release of 'Her Loss' with 21 Savage - and after fans guessed that the project would be dropping in August, Drizzy shared a much-needed update.
So when is Drizzy's eighth studio album released? What is his collaboration with SZA? Here's all we know.
What is the title of Drake's new album?

Drake has announced his new LP will be called 'For All The Dogs'.

He announced the news in an Instagram post, alongside the cover artwork.

The album's cover is a drawing of a dog by his son Adonis, who he shares with baby mother Sophie Brussaux.

Drizzy's latest album cover.

Picture: OVO Sound

What is the tracklist for 'For All The Dogs'?

So far, there has been no tracklist revealed for Drizzy's upcoming release.

As soon as there is an update, this page will be updated.

It is likely that Drake & SZA's collaboration 'Slime You Out' will be included in the track-list.

Lil Baby & Friends Birthday Celebration Concert. Picture: Getty

Additionally, Drake is rumoured to be releasing a song titled IDGAF, which features Yeat.

The track was originally recorded in late 2021, and is looking to be released alongside Drizzy's 'For All The Dogs' album.

When is Drake's new album being released?

There has been no official release date as of yet, but fans had been speculating for weeks that the album would drop on August 25th as this was International Dog's Day.

However, when it didn't drop fans were understandably disappointed - but it didn't take long for Drizzy to share an update with fans about the release date.

During a concert that took place on his 'It's All a Blur Tour' on August 25th, Drake told the crowd: "I know everybody's upset that I didn't drop an album last night. I didn't say it was dropping last night. So don't be mad at me.

Drake gives an update on For All the Dogs album. 🐶

"I know everybody's upset 'cause I didn't drop the album last night. I didn't say it was dropping last night. So don't be mad at me." pic.twitter.com/bIjnXtm8fV

— XXL Magazine (@XXL) August 26, 2023

"I just said it was coming soon. It's not going to be that much longer, trust me. I'm finishing it up," Drake added, "You know I got shows everybody. But I promise you, 'For All the Dogs' is on the way. If you never loved anything I've ever done in the past, I promise you, this album will be for you. It'll be worth the wait."

This comes after the rap star previously teased an imminent release during a concert show in New York.

He told the crowd at the time: "I will be back soon. I have an album dropping for you in, like, two weeks or some s**t. But until then, just know, you're always with me and I'm always thinking of you. Everything I do is for you. Every time I step in that booth, I hope I make you proud."

Drake's eighth project should be coming soon! Picture: Getty

Drake has now revealed his album has been postponed again, and will no longer be released on September 22, 2023.

The date of Drizzy's release is now October 6, 2023, where he revealed he would have to either push back the album or cancel tour dates to finish it.

Drizzy pushed back his album release again.

Picture: Instagram

Who features on Drake's new album?

Drake has released the news that singer SZA will be featuring on a new song.

Both musicians posted the same album artwork of Halle Berry with slime on her at the 2012 Kids Choice Awards, with emojis seemingly teasing something.

SZA is tagged on Drake's post, leading fans to believe that the single is to be released on Friday, September 15 during a concert in Austin, Texas.

The album artwork for Drake and SZA's upcoming collaboration.

Picture: OVO Sound / Instagram

"I know y'all are excited to hear the album. I know it's like two weeks out, but I'm gonna drop a song this week – just to let you know what's up," Drake told the crowd.

There is no word on any other features for Drizzy's upcoming release.