Hip-Hop fans left shocked after list of famous rappers' real ages goes viral
18 February 2020, 12:34 | Updated: 20 February 2020, 09:09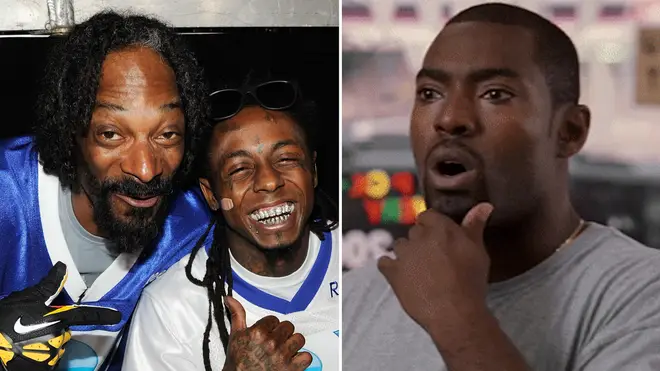 The tweet includes the ages of Snoop Dogg, Kendrick Lamar, Lil Wayne and more.
A list revealing the real ages of the world's most famous rappers has gone viral online.
In a tweet posted by emerging rapper Lil Brick, the ages of chart-toppers including Jay-Z, Lil Wayne, Snoop Dogg, Nicki Minaj and more were shared and some fans can't believe the results.
Award-winning artists Post Malone, Chance The Rapper and Travis Scott have already achieved a great deal of success despite still being in their twenties, while the same can be said for Kendrick Lamar, Meek Mill and Drake who are in their early thirties.
Ages of your favorite rappers:

YoungBoy: 20
Lil Brick: 20
Post: 24
Chance: 26
Travis: 27
Logic: 30
Rocky: 31
Kendrick: 32
Meek: 32
Wiz: 32
Drake: 33
J Cole: 35
Future: 36
Nicki: 37
Wayne: 37
Gucci: 40
Pusha: 42
2 Chainz: 42
Kanye: 42
Nas: 46
Eminem: 47
Snoop: 48
Jay-Z: 50

— Lil Brick 🧱 (@LilBrickCEO) February 16, 2020
As the list began to take off, even 'Jerry Sprunger' rapper Tory Lanez, 27 couldn't hide his astonishment, quote-tweeting it with the caption "Kinda crazy."
In particular, Snoop Dogg, 48, shocked users with his age. One person tweeted, "I swear Snoop has been 48 for years now," while another said, "Snoop looks 60."
One user wrote, "Wait no way snoop is younger then hov," while another added, "Wtf em is like an year younger to Snoop! does age have no relation to appearance?"
The viral list of rapper's ages had many fans questioning how old some Hip-Hop stars who weren't included on that list are, with many people shocked that Soulja Boy was 29-years-old and that 50 Cent is 44-years-old.
Soulja Boy released his breakthrough single 'Crank That' back in 2007 when he was just 16-years-old, which is probably why people can't believe just how young he actually is.
50 Cent, on the other hand, released his breakthrough single 'In Da Club' years before in 2003 but he was slightly older at 27-years-old.
Check out these other rapper's ages and see how many you already knew...
- Lil Pump, 19-years-old
- Kodak Black, 22-years-old
- Megan Thee Stallion, 25-years-old
- Cardi B, 27-years-old
- 21 Savage, 27-years-old
- Young Thug, 29-years-old
- Soulja Boy, 29-years-old
- Tyga, 30-years-old
- French Montana, 35-years-old
- T.I, 39-years-old
- The Game, 40-years-old
- 50 Cent, 44-years old
- Lil Kim, 45-years-old
- Diddy, 50-years-old
- Dr Dre, 55-years-old
Were you surprised by your favourite rappers' ages?