The best Hip-Hop songs of 2020
13 November 2020, 17:05 | Updated: 15 December 2020, 15:36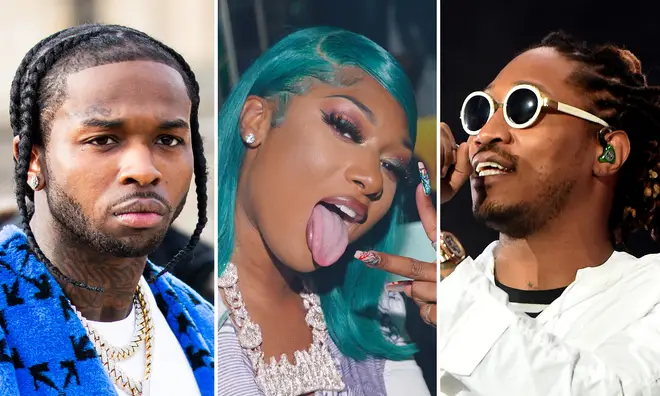 The hottest tracks from the likes of Future, Roddy Ricch, Meek Mill and more.
Turn up and get hyped to the hottest Hip-Hop tracks as soon as they land from your favourite rappers.
From seasoned chart-toppers like Drake, Future and Eminem to exciting newcomers like Roddy Ricch and Megan Thee Stallion, every drop you need for your motive is right here.
Check out the best Hip-Hop songs of 2020 below.
Internet Money feat. Don Toliver, Gunna & Nav - Lemonade

Internet Money - Lemonade ft. Don Toliver, Gunna & Nav (Dir. by @_ColeBennett_)

DJ Khaled feat. Drake - 'POPSTAR'

DJ Khaled ft. Drake - POPSTAR (Official Audio)

Pop Smoke feat. 50 Cent & Roddy Ricch - 'The Woo'

Pop Smoke - The Woo ft. 50 Cent, Roddy Ricch

Jack Harlow feat. DaBaby, Tory Lanez & Lil Wayne - 'WHATS POPPIN'

Jack Harlow - WHATS POPPIN feat. Dababy, Tory Lanez, & Lil Wayne [Official Music Video]

StaySolidRocky - 'Party Girl'

StaySolidRocky- Party Girl (Official Music Video)

Megan Thee Stallion feat. Beyoncé - Savage Remix

Megan Thee Stallion - Savage Remix (feat. Beyoncé) [Official Audio]

DJ Khaled ft. Drake - 'GREECE'

DJ Khaled ft. Drake - GREECE (Official Audio)

Saweetie - 'Tap In'

Saweetie - Tap In [Official Music Video]

Travis Scott & Kid Cudi - 'THE SCOTTS'

THE SCOTTS, Travis Scott, Kid Cudi - THE SCOTTS (Audio)

Pop Smoke feat. Lil Baby & DaBaby - 'For The Night'

Pop Smoke - For The Night (Audio) ft. Lil Baby, DaBaby

Future Feat. Youngboy Never Broke Again - 'Trillionaire'

Future - Trillionaire (Audio) ft. Youngboy Never Broke Again

Doja Cat feat. Nicki Minaj - 'Say So'

Doja Cat - Say So ft. Nicki Minaj

Lil Mosey - 'Blueberry Faygo'

Lil Mosey - Blueberry Faygo (Dir. by @_ColeBennett_)

Roddy Ricch - 'The Box'

Roddy Ricch - The Box [Official Audio]

DaBaby - 'Find My Way'

DaBaby - Find My Way (Official Music Video)

Future feat. Drake - 'Life Is Good'

Future - Life Is Good (Official Music Video) ft. Drake

Polo G feat. Juice WRLD - 'Flex'

Polo G - Flex (Official Audio) ft. Juice WRLD

Aitch x AJ Tracey - 'Rain'

Aitch x AJ Tracey - Rain Feat. Tay Keith (Official Video)

Lil Yachty, Drake, & DaBaby - 'Oprah's Bank Account'

Lil Yachty, Drake, & DaBaby - Oprah's Bank Account (Official Video)

JACKBOYS feat. Sheck Wes, Don Toliver, Luxury Tax 50 & Cactus Jack- 'GANG GANG'

JACKBOYS - GANG GANG feat. Sheck Wes, Don Toliver, Luxury Tax 50 & Cactus Jack (Official)

Future feat. Travis Scott - 'Solitaires'

Future - Solitaires (Audio) ft. Travis Scott

Eminem feat. Juice WRLD - 'Godzilla'

Godzilla (feat. Juice WRLD) [Official Audio]

Aitch - 'MICE'

Aitch - MICE (Official Video)

Pop Smoke feat. Quavo - 'Shake The Room'

POP SMOKE - SHAKE THE ROOM ft. Quavo (Official Lyric Video)

Megan Thee Stallion - 'B.I.T.C.H.'

Megan Thee Stallion - B.I.T.C.H [Official Video]

Meek Mill feat. Roddy Ricch - 'Letter to Nipsey'

Meek Mill - Letter to Nipsey (feat. Roddy Ricch) [Official Audio]

A Boogie Wit da Hoodie feat. Roddy Ricch, Gunna & London On Da Track - 'Numbers'

A Boogie Wit da Hoodie - Numbers feat. Roddy Ricch, Gunna & London On Da Track [Official Audio]

Gunna - 'WUNNA'

Gunna - WUNNA [Official Audio]

DaBaby feat. Roddy Richh - 'Rockstar'

DaBaby – ROCKSTAR FT RODDY RICH [Audio]

Tyga, Megan Thee Stallion - 'Freak'

Tyga, Megan Thee Stallion - FREAK (Official Video)

Lil Wayne feat. Big Sean & Lil Baby - 'I Do It'

Lil Wayne - I Do It ft. Big Sean & Lil Baby (Official Audio)

Meek Mill feat. Justin Timberlake - 'Believe'

Meek Mill - Believe (feat. Justin Timberlake) [Official Music Video]

Future & Lil Uzi Vert - Drankin N Smokin

Future & Lil Uzi Vert - Drankin N Smokin [Official Audio]

NAV Featuring Lil Baby - Don't Need Friends

NAV - Don't Need Friends feat. Lil Baby

City Girls Feat. Lil Baby - Flewed Out

City Girls Feat. Lil Baby - Flewed Out (Official Video)