Machine Gun Kelly and Megan Fox's relationship timeline: pictures, videos & more
29 March 2022, 17:15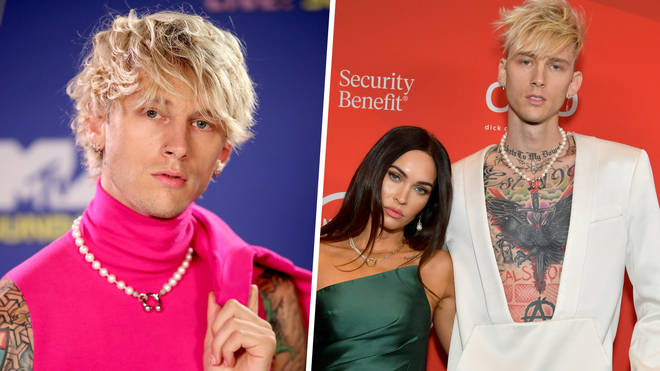 A recap of Megan Fox and Machine Gun Kelly's relationship so far. Here's what we know about the couple.
Machine Gun Kelly and Megan Fox are officially ENGAGED after dating for nearly two years! The couple shared the news on Instagram, revealing that they celebrated in the most Megan and MGK way possible – by drinking each other's blood!
The loved-up Hollywood couple haven't been shy about their romance when it comes to public PDAs.
From making a number of striking red carpet appearances together to revealing their love for each other, here's the low-down on their relationship.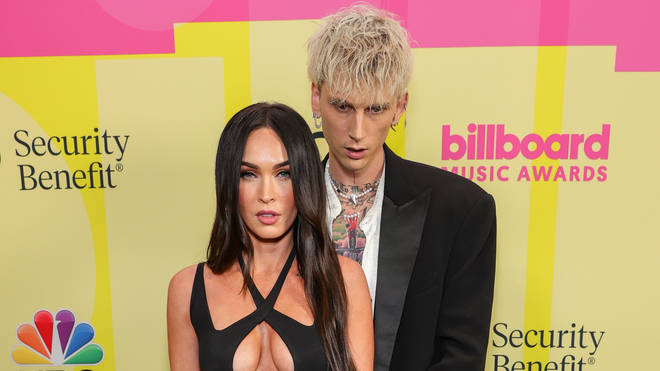 March 2022 - Wedding preparations are a go!

Megan Fox and Machine Gun Kelly have revealed their plans for an 'extravagant, dark wedding' as the two reportedly have plans for a gothic themed wedding.

According to a source, Megan and MGK are not in a huge rush to tie the knot, but have been starting to engage in the planning process. "They would love to get married next year if they can nail down all of the details by then, but they don't have a firm timeline".

They described their concept for the ceremony as follows: "They want an expensive, dark wedding because neither of them are typical folks" the source continued. Megan has considered wearing a coloured or possibly black dress.

Megan Fox and Machine Gun Kelly attend the 2022 NBA All-Star Game at Rocket Mortgage Fieldhouse on February 20, 2022 in Cleveland, Ohio. Picture: Getty

January 2022 - They are ENGAGED! 💍

Megan Fox and Machine Gun Kelly are officially engaged after the couple made the announcement on Instagram last night, revealing that they celebrated by 'drinking each other's blood'.

Posting a video of the engagement, Megan captioned the moment:

"In July of 2020 we sat under this banyan tree. We asked for magic. We were oblivious to the pain we would face together in such a short, frenetic period of time. Unaware of the work and sacrifices the relationship would require from us but intoxicated off of the love. And the karma".

"Somehow a year and a half later, having walked through hell together, and having laughed more than I ever imagined possible, he asked me to marry him. And just as in every lifetime before this one, and as in every lifetime that will follow it, I said yes".

She ended the caption by revealing: "…and then we drank each other's blood".

The engagement ring, which Machine Gun Kelly says he 'designed alongside Stephen Webster' is a combination of her birth stone and his birth stone.

"I designed it with Stephen Webster to be two: the emerald (her birth stone) and the diamond (my birth stone) set on two magnetic bands of thorns that draw together as two halves of the same soul forming the obscure heart that is our love" he captioned the post.

CONGRATS MEG & MGK! 🥂

November 2021

Megan Fox and Machine Gun Kelly go shopping on family vacation in Greece with her sons and his daughter Casie

MGK and Casie both held Noah's shoulders as he beamed while they crossed the street pic.twitter.com/IgyDR8tjpP

— Lilian Chan (@bestgug) November 29, 2021

Megan Fox and Machine Gun Kelly were spotted out with all of their children as they enjoyed a family vacation in Greece. The couple strolled down the busy sidewalk as they went shopping in Thessaloniki on Sunday with their kids and family.

The pair made innuendos about an airbnb table -

Megan shocked fans when she took to Instagram to post a selfie, captioned: "When I tell you that the table at this air bnb saw some things 🥵".

Her boo was then seen in the comments, saying: ""i'm really glad that's not our table anymore".

MGK responded to her caption.

Picture: Instagram

July 2021 - Machine Gun Kelly reveals he got his dream girl

Machine Gun Kelly revealed he had a poster of Megan Fox hanging in his bedroom as a teenager.

"It was from her GQ shoot," he said in a new interview with GQ, referencing the actress' sexy 2008 bikini shoot that shows her popping cherries into her mouth.

"So that's some full-circle s–t." One of Kelly's classmates remembers the him vowing to marry Megan in the future, according to the publication.

Kelly also got a Decepticons logo from "Transformers" tattooed on his arm as a teen.

June 2021 - The couple's luxe $30,000 per month mansion is revealed

Fox and Kelly reportedly moved into an Airbnb together in the Sherman Oaks neighbourhood in Los Angeles, California.

The five-bedroom, five-bathroom mansion was newly constructed in April, according to The Post, and is setting the famous couple back a whopping $30,000 per month.

The property also features a swimming pool, basketball court, terrace and spa facilities.

June 2021 - The film that started Megan Fox and MGK's romance is set to be released

The trailer for the film where the couples romance is rumoured to have began, has been released.

The couple were first spotted working together on the set of 'Midnight in the Switchgrass' in May 2020.

The trailer is heated and even shows Megans character punching her boo in a high drama scene.

Fans in the comments are excited to see the pair on screen, saying: "Megan and Machine Gun Kelly are the ONLY reasons I can't wait to watch this movie. Nothing else.". Another fan said: "Damn Kells and Megan both looking fine AF".

The film is set to be released in July, 2021 in the US whilst a UK release date is yet to be confirmed.

June 2021 - Megan Fox joined MGK on stage at an Indy 500 Party

Megan joined her boo on stage during one of his shows at the end of May after fans called out for her.

Sources told E! that "everyone was chanting 'Megan' for some time" while MGK performed his song 'I Think I'm Okay'.

The actress then stayed with her boyfriend on stage for the entirety of the song.

Barstool 500. Picture: Getty

May 2021- MGK reveals that he wears Megan's blood in a necklace

The artist soon revealed that his Valentines day caption was completely literal. According to E! news Kelly gave his explanation in an interview with Ellen DeGeneres on her talk show.

The star shared that it was a gift to bring comfort whilst his girlfriend was away filming "Some people give like a handkerchief to their partner, or whatever—she gave me her DNA" he told.

2021 Billboard Music Awards - Backstage. Picture: Getty

The stars have become well known for their wild displays of love and so their PDA at the Billboard Music Awards, where Kelly revealed his dyed black tongue, can't be seen much of a surprise.

February 2021 - Valentine's day Instagram posts

The couple continued to declare their love publicly on Instagram on Valentines day, with both Megan and MGK posting couple pics.

Fox captioned her post with a poetic message that read:

"there goes my heart
manifest outside of my body
draped in the towering silhouette of a most unusually handsome boy


magical and haunted
kinetic and tortured
ethereal and dangerous
cosmic
lawless
eternal
creative genius


the journey will likely be perilous
but there is no destination without him


happy valentine's day rehab barbie ❤️"

Her boyfriends post however, sparked more controversy with a cute couple pic captioned simply with "I wear your blood around my neck 🔪🩸"

November 2020 - Megan gets a tattoo tribute to her boyfriend

Fans were shocked when only 6 months into their relationship the 43 year old actress was spotted with a tattoo tribute to her boyfriend.

The ink was spotted during the American Music Awards where the couple made their first red carpet appearance.

2020 American Music Awards - Backstage. Picture: Getty

The cursive tattoo is placed on the Actress' collarbone and is thought to read 'el pistolero' which means 'gunman' in Spanish.

This refers to the nickname of her beau, whose real name is Colson Baker.

September 2020 - MGK meets Megan's kids

The couples relationship appeared to keep blossoming as in September sources told US Weekly that the Blood Valentine singer had met the star actresses children.

Fox has three sons - Noah Shannon, seven, Bodhi Ransom, six, and Journey River, three - with her estranged husband, Brian Austin Green.

The source told that "Megan thought it was a natural step, since they are getting more serious" with the couple even being said to be "planning a future together".

August 2020 - They went Instagram official

August of 2020 saw Fox post the couple on her Instagram page - with a black and white mirror selfie, similar to a picture previously shared by MGK. The post was captioned with a heartfelt message that reads "Achingly Beautiful Boy... My heart is yours 🔪♥️🔪"

July 2020 - A romantic getaway and their first interview

In July of 2020 The Sun spotted the pair looking cosy in Los Angeles International Airport, where they were again photographed kissing.

In the same month Entertainment Tonight shared details of the couples appearance on Lala Kent and Randall Emmett's podcast 'Give them Lala... with Randall'.

In the interview Megan shares that on meeting her boyfriend she "knew right away that he was what I call a twin flame". The actress elaborated saying "we're actually two halves of the same soul, I think. And I said that to him almost immediately, because I felt it right away".

June 2020 - Their first public kiss

The following month the Daily Mail shared an exclusive of the couple publicly holding hands and kissing, confirming previous rumours of their romance.

Days later, Kelly appeared to consolidate this with a tweet quoting lyrics his song 'Blood Valentine' - in which Fox starred. The tweet reads "I'm calling you girlfriend, what the f**k.' Life imitated art on that one".

MGK tweets lyrics from his song 'Bloody Valentine'.

Picture: Twitter/@machinegunkelly

May 2020 - Rumours began

Rumours surrounding the 35 year old Actress and the 31 year old Artist emerged around the same time conversation began on Fox's split from ex-husband, Actor Brian Austin Green.

Sources caught the pair getting food together following their meeting on the set of film 'Midnight In The Switchgrass' the previous month.

Speculation was then fuelled by a post from Beverly 90210 star Green, about his ex wife to mark her birthday.

The post consisted of a picture of a butterfly and a flower with a cryptic caption that reads: "Eventually butterflies get bored sitting on a flower for too long. They start feeling smothered. It's a great big world and they want to experience it."

Speculation was furthered when the Transformers actress appeared in the music video of Kelly's hit song 'Bloody Valentine', where the two appear to be acting as a couple. Fox is seen singing along to lyrics such as "In my head, I'm calling you girlfriend. What the f**k."