Tekashi 6ix9ine Releases His First Message To Fans Following Racketeering Arrest
27 November 2018, 15:35 | Updated: 27 November 2018, 15:41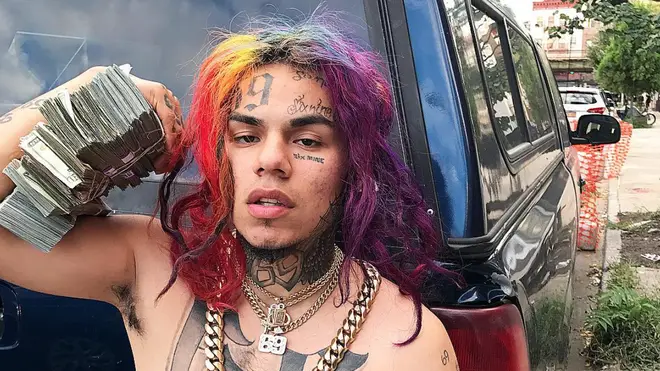 'FEFE' rapper 6ix9ine has spoken to his fans following his arrest for racketeering last week and will release new album 'Dummy Boy' alongside Nicki Minaj, Kanye West and more.
Tekashi 6ix9ine has released his first message to fans since his dramatic arrest for federal racketeering charges last week.
The 'BEBE' rapper, who is currently facing a life sentence as part of 6 charges, is still in jail after having his bail requests turned down – despite offering all the money in his bank account and surrendering his passport to the court.
6ix9ine's album 'Dummy Boy' was also leaked this weekend, featuring collaborations with Kanye West, Nicki Minaj, Lil Baby, Tory Lanez and more.
The album was officially pushed back following Tekashi 6ix9ine's arrest, however new songs including 'FEEFA' and 'MAMA' have been circulated around social media.
Following the leak, DJ Akademiks has revealed that Tekashi 6ix9ine will officially release the album to all major streaming platforms today.
According to Akademiks, 6ix9ine is "disappointed about his leak and his current situation and wants his fans to enjoy his music."
The 22-year-old reportedly "loves and misses his fans".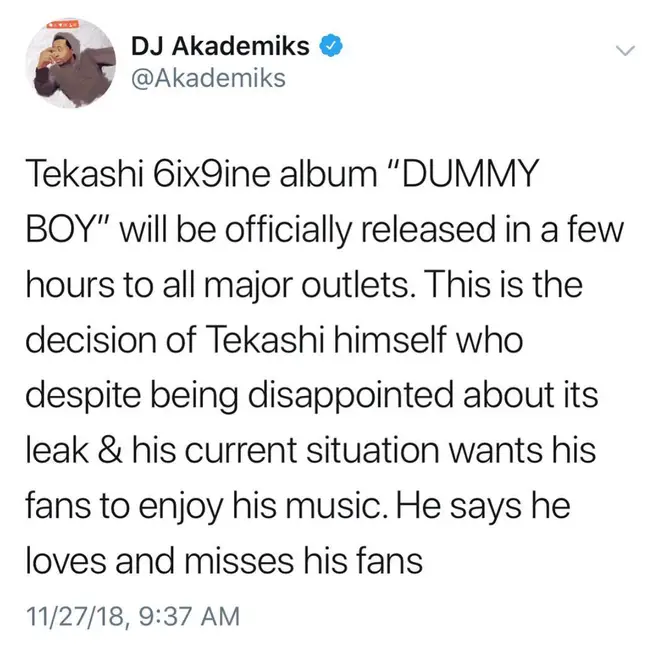 Tekashi 6ix9ine has pleaded "not guilty" to all of the federal charges against him and will face a trial in September 2019.
Until then, it appears that the 'FEFE' star may remain behind bars in a location that is separate from any gang members.
Rumours suggested that 6ix9ine was moved from his initial jail cell amid safety issues.