Tekashi 6ix9ine Arrest: Has The 'FEFE' Rapper Been Released From Jail Early?
23 November 2018, 10:37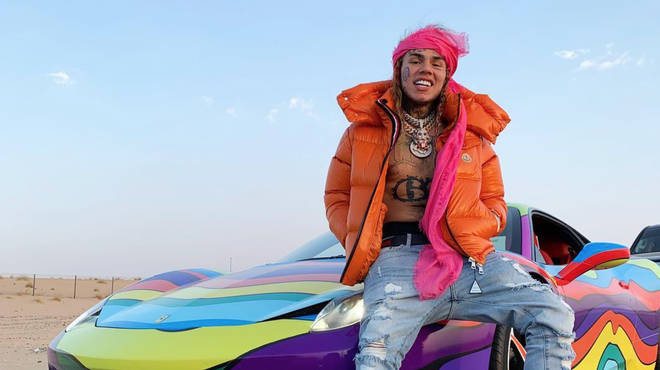 Has 6ix9ine been transferred from jail? Did he get a busted lip behind bars? Here's the latest on his racketeering case...
Tekashi 6ix9ine has reportedly been transferred from New York's Metropolitan Detention Centre to another federal facility that is known for housing people that cooperate with federal agents.
The 'BEBE' rapper, who has delayed his 'Dummy Boy' album, was moved from his initial jail cell on Wednesday night after he allegedly asked to be separated from the Crips and the Bloods behind bars.
According to TMZ, Tekashi 6ix9ine is now in jail alongside "neutral inmates", which means non-gang members.
Some fans have speculated that 6ix9ine had been moved to a new unit because he had "snitched" on his former Treyway associates.
However the rapper's attorney, Lance Lazzaro, claims that Tekashi 6ix9ine's transfer was for "security reasons" and didn't confirm or deny that the 'Dummy Boy' rapper is attempting to cut a deal with the Feds.
There were unconfirmed rumours that 6ix9ine had found it difficult at Metropolitan Detention Centre due to alleged "threats" from gang members.
Meanwhile, Tekashi 6ix9ine was recently denied bail despite reportedly offering his entire bank balance to the court and surrendering his passport.
The rapper has been hit with 6 different federal charges, including racketeering, and crimes which carry the maximum sentence of life in prison.
After Tekashi 6ix9ine revealed that his album 'Dummy Boy' had been delayed due to "unforeseen circumstances", Nicki Minaj announced her support for the rapper.
The 'Queen' star was set to appear on two songs on the project including 'FEFE' and an unreleased collaboration with Tekashi 6ix9ine and Kanye West.