Nicki Minaj Declares Her Love For Tekashi 6ix9ine Following His Arrest
22 November 2018, 10:15 | Updated: 22 November 2018, 10:20
The 'Queen' rapstress spoke out after 6ix9ine's album 'Dummy Boy' - which was due for release this week - was postponed. Minaj was set to appear on the record twice, including their collaboration 'FEFE'.
Nicki Minaj has finally spoken out after her 'FEFE' collaborator Tekashi 6ix9ine was taken in custody over RICO and racketeering charges.
The 'Chun-Li' rapper was due to appear on her fellow New Yorker's upcoming album 'Dummy Boy' on their aforementioned joint track, as well 'MAMA' alongside Kanye West.
However, after 6ix9ine - real name Daniel Hernandez - was arrested this week on charges including armed robberies, drug deals, shootings and more, the album's release has been postponed.
In response, Nicki, 35, took to Instagram to confirm the news to her fans. "For reasons beyond music, the record company will hold off on putting his project out for now" she wrote, before affectionally sending love to 6ix9ine.
"Danny, I love you and am praying for you, your Mother, daughter & her Mom during this time." See her post below.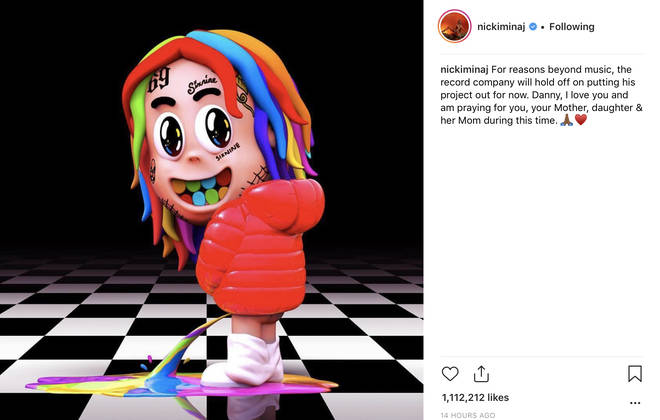 The 22-year-old rapper is now facing a life sentence and has remained in police custody after being denied bail by a New York judge earlier this week. It's unknown when - or if - his album will eventually drop.
His lawyer, Lance Lazzaro, claimed that 6ix9ine has been "overcharged" by the U.S. Attorney's Office and will is "confident that the charges will be dismissed."
Following an investigation from the FBI, the 'GUMMO' rapper has been accused of pulling an armed robbery, heading up a a shooting incident and selling heroin, fentanyl, MDMA and marijuana across New York City.