Tekashi 6ix9ine Just Pleaded 'Not Guilty' As His Surprise Court Date Is Revealed
27 November 2018, 10:49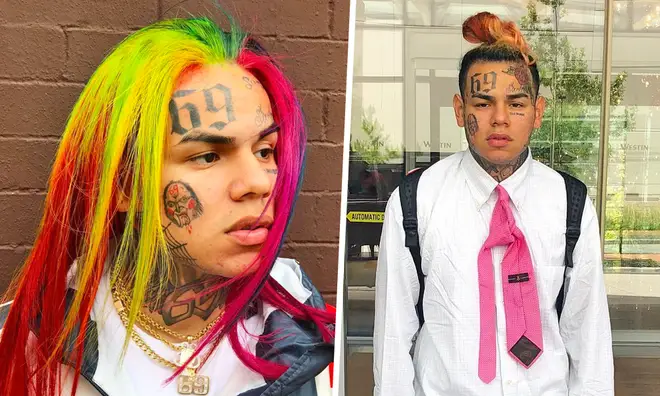 Tekashi 6ix9ine has appeared in court to enter a 'not guilty' plea as he's issued with a 2019 trial date which has shocked his fans.
New York rapper Tekashi 6ix9ine has appeared in court to enter a plea after being charged with a number of offences including firearms charges and racketeering.
> Tekashi 6ix9ine's New Album 'DUMMY BOY' Leaks Online
The 'Gummo' star entered a plea of "not guilty" when he appeared in court just a week after being arrested, however there was no talk of him being released on bail and so 6ix9ine will remain in prison whilst he awaits his 2019 court date.
The court date for the beginning of 6ix9ine's trial was set as Wednesday 4th September 2019, which means that the rapper will remain in prison for a further 281 days from his plea date until his trial begins.
If 6ix9ine is found not guilty during the trial, it's possible that he'll be released from prison before his daughter's fourth birthday, but fans have expressed their shock that he'll have to remain behind bars for almost a year before being given a trial.
6ix9ine's prison circumstances have already changed a couple of times in just one week after he was reportedly threatened by other inmates and moved to a new facility.

6ix9ine's lawyer Lance Lazarro admitted that the 'Dummy Boy' rapper had been moved and claimed that it was "due to threats", whilst also denying that he'd been snitching on his former associates, claiming the rapper is "not giving states evidence".
Tekashi 6ix9ine is yet to release an official statement from prison about his current situation, especially following the news that his new album 'Dummy Boy' leaked online after it was postponed following his arrest.
> Download Our Free App For All The Latest Tekashi 6ix9ine News!