Tekashi 6ix9ine's New Album 'DUMMY BOY' Leaks Online
26 November 2018, 11:12 | Updated: 26 November 2018, 16:04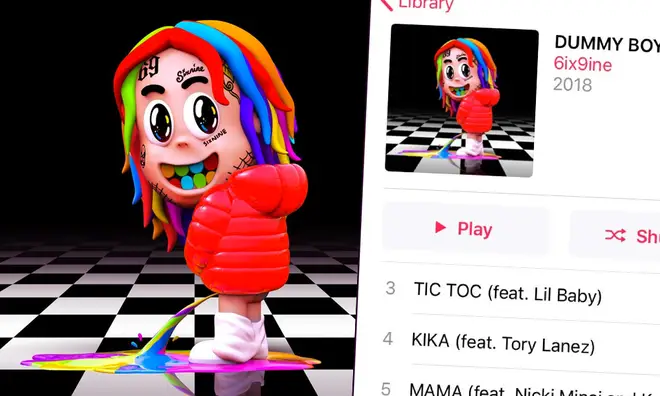 Tekashi 6ix9ine has been in prison since he was arrested last week, but that hasn't stopped his postponed new album 'Dummy Boy' from leaking online.
After being arrested on charges that could see him spend the rest of his life in prison, rapper Tekashi 6ix9ine delayed the released of his highly anticipated album 'Dummy Boy' - however the 13 song album has now been leaked online.
> Tekashi 6ix9ine Mugshot Leaked Following Racketeering Arrest
Social media was filled with people posting download links to the album and sharing screenshots showing that they'd been able to secure a copy of the 'Dummy Boy' album.
'Dummy Boy' was originally set for release on Friday 23rd November, however due to his sudden arrest he decided to delay the release indefinitely, but now that it's leaked fans have had the chance to take it in and the reception has been incredible.
With features from the likes of Kanye West, Nicki Minaj and fellow incarcerated rapper Bobby Shmurda, 'Dummy Boy' has been hugley well received and fans took to Twitter to share their love for the album.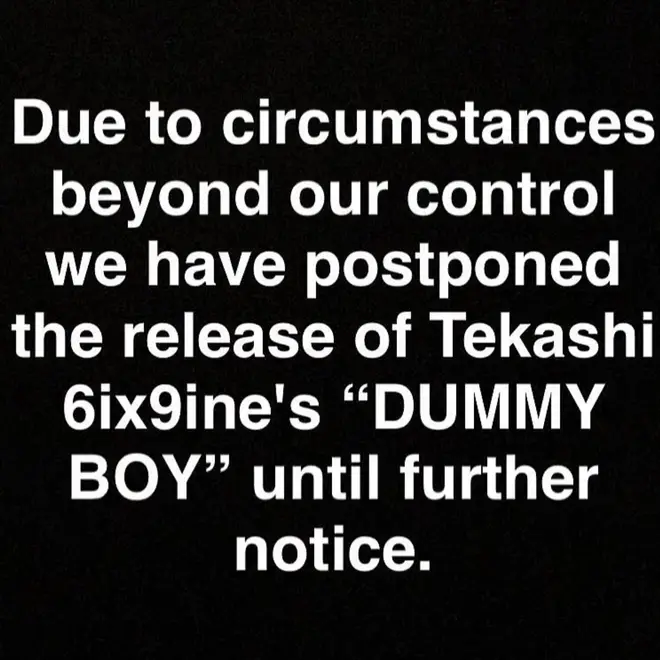 It's not clear where the leak started or who originally posted the album, but many fans have been drawing attention to the fact that Tekashi 6ix9ine collaborator Murda Beatz teased a leak of the album before it emerged recently.
Taking to Instagram Murda Beatz wrote, "I HAVE THE ALBUM SHOULD I….." before later deleteing his post - however we're not convinced he was the actual source of the leak.
Tekashi 6ix9ine hasn't yet shared an official statement about the leak, but given that he's currently in prison awaiting trial who knows when we'll get an update from the rapper.
Tekashi 6ix9ine 'Dummy Boy' Tracklist
1. Stoopid featuring Bobby Shmurda
2. FEFE featuring Nicki Minaj and Murda Beatz
3. Tic Toc featuring Lil Baby
4. Kika featuring Tory Lanez
5. Mama featuring Nicki Minaj & Kanye West
6. Waka featuring A Boogie Wit Da Hoodie
7. BEBE featuring Annuel AA
8. MALA featuring Annual AA
9. FEEFA featuring Kanye West
10. Kanga featuring Gunna
11. Tati featuring DJ Spink King
12. WONDO
13. DUMMY featuring Trife Drew
> Download Our Free App For All The Latest Tekashi 6ix9ine News!