Cardi B Responds To Nicki Minaj Diss On Tekashi 6ix9ine's 'Dummy Boy' Album
27 November 2018, 14:10 | Updated: 27 November 2018, 16:12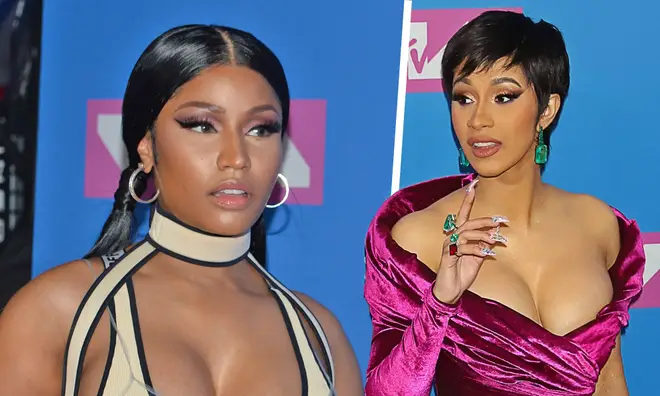 Nicki Minaj appeared to diss Cardi B on the Tekashi 6ix9ine song 'MAMA' and now Cardi has issued a response on Instagram Live.
The ongoing feud between Nicki Minaj and Cardi B appeared to have thawed out after their fight at New York Fashion Week, however it's now fired up once more after Nicki appeared to diss Cardi on her collaboration with Tekashi 6ix9ine 'MAMA'.
> Cardi B & Nicki Minaj Memes: Feud Sparks Hilarious Viral Moments
During an Instagram Live, once fans had heard the song after Tekashi 6ix9ine's album had leaked, Cardi B addressed the rumours Nicki had started and denied all the allegations.
During 'MAMA', Nicki raps, "I was out in Spain rockin' a Medusa head / I ain't never have to give a rap producer h**d / If I do though, I'ma write a book like Supahead / This ain't wonder that I'm making, this that super bread / Splish, splash, f**k him in a hurry, quick, fast".
Whilst Nicki doesn't specifically reference Cardi, there has been an ongoing dispute between Nicki and New York's DJ Self and it's been claimed that Nicki was talking about Cardi B and DJ Self on 'MAMA'.
When Cardi jumped onto Instagram Live after 'MAMA' had leaked online, fans were quick to quiz her on the whole thing and she brushed it all off saying that she'd "never been in a relationship with Self".
In the full video, Cardi denies being involved with DJ Self and says, "Nah, I never f****d a DJ on God. I dealt with scammers. drug dealers. I've dealt with some bum a*s n****s but I never f****d me a DJ. I know what y'all gonna ask me and I addressed this a whole lot of times...'Didn't you f**k Self?' No, I never f****d Self. I never been in a relationship with Self. I never flirted with Self."
Cardi B's response to Nicki Minaj's apparent diss has brought their feud to the fore once more and highlighted that the ongoing beef can escalate at any moment. 2019's just around the corner so hopefully these two can put this all behind them for the new year?
> Download Our Free App For All The Latest Cardi B & Nicki Minaj News!