Cardi B Reveals The Nicki Minaj Moment That Sparked Their NYFW Fight
10 October 2018, 10:36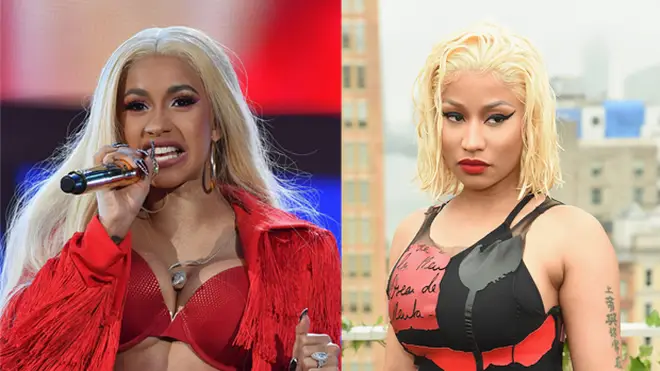 Cardi and Nicki were involved in a fight at New York Fashion Week this year...
Cardi B has revealed the real reason behind why she attempted to fight Nicki Minaj at New York Fashion Week in September.
The 'Bodak Yellow' rapper opened up about their rising tensions during a new interview with W Magazine.
"For a while now she's been taking a lot of shots at me," said Cardi B.
"I spoke to her twice before, and we came to an understanding. But she kept it going."
According to the publication, Cardi B finally had enough of Nicki Minaj after she discovered that the 'Queen' rapper had allegedly liked and unliked a tweet about her abilities as a mother.
"I was going to make millions off my Bruno Mars tour, and I sacrificed that to stay with my daughter," Cardi continued.
"I love my daughter. I'm a good-ass f*cking mom. So for somebody that don't have a child to like that comment?
"So many people want to say that party wasn't the time or the place, but I'm not going to catch another artist in the grocery store or down the block."
Last month Cardi B and Nicki Minaj were involved in a physical altercation at a Harper's Bazaar New York Fashion Week Party.
In the midst of the scuffle, Cardi B was seen throwing a shoe at Minaj.
In the direct aftermath of the drama, Cardi B explained that she was tired of Minaj attempting to stop her money and lessen her opportunities in the music industry.
However Nicki Minaj, who has denied all of Cardi B's accusations, has started selling "Nicki Stopped My Bag" merchandise, after the phrase went viral.