Cardi B Reveals Why She Attacked Nicki Minaj With Shoe At New York Fashion Week
8 September 2018, 14:49 | Updated: 8 September 2018, 18:36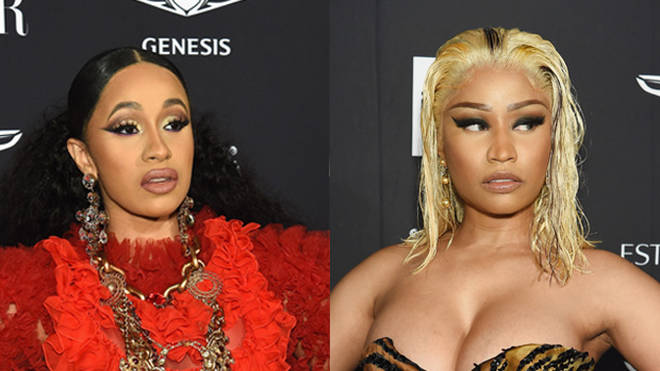 Cardi is furious...
Cardi B has responded after footage emerged of her attempting to confront rival Nicki Minaj at Harper's Bazaar's ICONS party at New York fashion week.
The 'Bodak Yellow' rapper, who is said to have arrived at the event first, was involved in an altercation on the second floor balcony during a performance by Christina Aguilera.
There are currently a number of different stories regarding what happened however TMZ claim that Cardi B yelled "let me tell you something" and lunged towards Nicki Minaj but was stopped before making contact.
Cardi then took off her shoe and threw it towards Minaj but missed the target.
Watch footage below:
According to the publication, Cardi B approached Nicki Minaj's table wanting to "address the lies Nicki was spreading" about her.
However as she got closer she was allegedly elbowed by somebody in the scuffle.
Following the dramatic scenes, Cardi B took to Instagram to send a very clear message to Nicki Minaj.
"I addressed you once in person, I addressed you a second time in person, and every time you copped the plea!! But when you mention my child, you choose to like comments about me as a mother, make comments about my abilities to take care of my daughter is when all bets are f*ckin off!!!"
See the full post below:
Nicki Minaj is yet to respond to the incident but has been posting footage of herself at the event.
The pair have a long and complicated feud, that originates from a number of miscommunications that have been escalated.