Who is Nicki Minaj's baby daddy?
11 February 2021, 17:16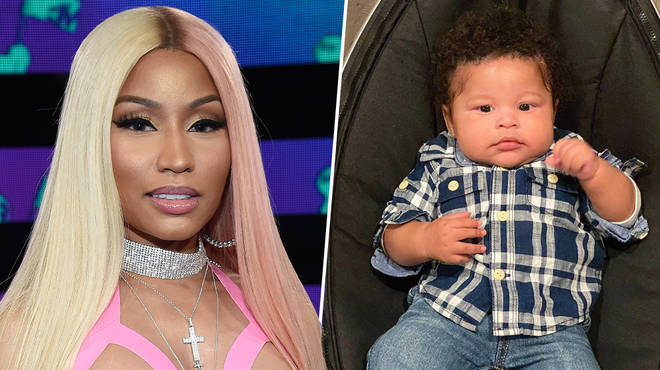 The rapper gave birth to her first child last year. But who is Nicki's sons father?
Nicki Minaj gave birth to her first child in Los Angeles on Wednesday (Sept 30, 2020). The rapstress welcomed a little baby boy into the world.
In the first image Nicki shared of her baby boy, she referred to her son as "Papa Bear". But fans are wondering who exactly is Nicki Minaj's baby daddy?
Who is Nicki Minaj's baby daddy?

Nicki Minaj's son's father is her husband, Kenneth Petty.

The rapstress surprised her fans when she announced that she was pregnant, on Instagram.

"Love. Marriage. Baby carriage. Overflowing with excitement & gratitude. Thank you all for the well wishes," she wrote at that time while sharing a photo from her pregnancy photoshoot.

Nicki kept her pregnancy under wraps for a while, until her baby bump was too hard to hide.

Kenneth and Nicki were childhood friends and went on to date each other when Nicki was 16. However, that relationship ended quickly.

Minaj and Petty rekindled their romance in 2018, a while after she had broken up with rapper Meek Mill.

Their relationship moved quite quickly, with the pair secretly getting married in 2019.

Nicki Minaj and Kenneth Petty. Picture: Getty

Speaking on their relationship, Nicki Minaj said  "I didn't think it would be as refreshing and calming as it is".

The star continued "Even if you're not married, when you have someone that feels like your soulmate or someone who understands you, it just makes you feel like you're on top of the world".

How old is Kenneth Petty?

Kenneth Petty is currently 42-years-old.

Petty was born on 7th April 1978 in Queens City of New York – where he grew up and met Nicki Minaj.

What is Kenneth Petty's job occupation?

Kenneth Petty reportedly dropped out of high-school during his teen years.

However, Petty managed to get his feet wet in the music industry, where he reconnected with Minaj.

In October 2020, Kenneth Petty was in the headlined after Minaj announced that she had given birth to their child.

Kenneth Petty and Nicki Minaj. Picture: Getty

What did Kenneth Petty go jail for?

In 1995, Kenneth Petty was convicted of the attempted first-degree rape of a 16-year-old girl one year prior.

Petty was then sentenced to between 18 and 54 months in New York state prison, serving for just under four years.

In 2006, Petty pled guilty to first-degree manslaughter and was sentenced to 10 years in prison.

In 2019, Petty, handed himself into police after failing to register as a sex offender when they had moved to another state.

He had been arrested prior to turning himself in.

What is Kenneth Petty's height?

According to Gossipgist, Kenneth Petty is 1.81 m (5 feet and 11 inches).

Petty has a body weight of 171 lbs (78 kg) and body measurement of 40-32-35 inches.