Nicki Minaj Sparks Pregnancy Rumours After Posting Suggestive Video With Kenneth Petty
21 June 2019, 11:16 | Updated: 21 June 2019, 11:18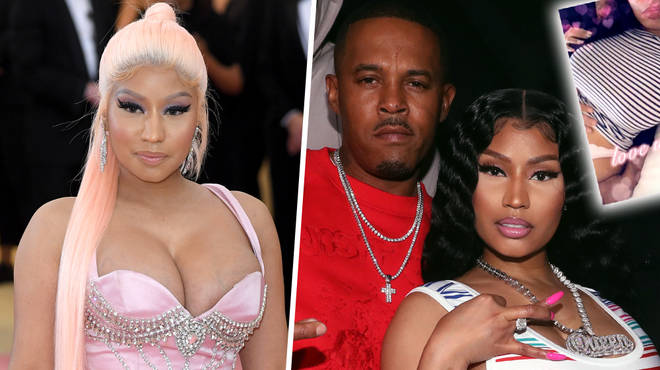 Nicki Minaj fans are in a frenzy over the rapper's latest video with boyfriend Kenneth Petty. The Barbz are convinced the star is pregnant after posting this suggestive video.
Nicki Minaj and her boyfriend Kenneth Petty are looking loved up and happy as ever in the latest video of the couple. The"Megatron" rapper, 36, promoted her new single by sharing a cute video of Petty rubbing her stomach while listening to her new single.
Soon after, many Minaj fans commented on the video suspecting that the Queens rapper is pregnant with Kenneth Petty's baby.
On Thursday (Jun 20th) Nicki Minaj took to Twitter to promote her new single "Megatron" that she released at midnight.
The "queen of rap" wrote: "...who's ready for MIDNIGHT?!!!!" along with a video of Petty.
The video shows Petty, 41, rubbing Minaj's stomach for quite a while, as though he is trying to make a point. Minaj's fans quickly took to social media, questioning whether the could be hinting Minaj's pregnancy.
On fan commented underneath the photo on Twitter writing: "Yasss!!! Kenny is spilling sum tea by rubbing your tummy with his zaddy hands".
Nicki Minaj has been suspected to be pregnant for quite a while now, after she jokingly announced she's pregnant on Queen Radio. The "Chun-Li" artist has also been quiet on social media.
The superstar's last public appearance at The Met Gala 2019, left fans feeling as though she is pregnant.
See fans reactions to Nicki Minaj's new video with Kenneth Petty below.
a baby is coming period

— 𝑵𝒊𝒄𝒐𝒍𝒂́𝒔 (@nicolasreloaded) June 20, 2019
What's up with the tummy rubbing? You pregnant huh

— No Frauds 🚫🇵🇷#Milan (@JoshJesus24) June 20, 2019
all the "she's pregnant" comments coming in 3..2...1..

— stream BAPS (@stream_baps) June 20, 2019