Nicki Minaj Fans Are Convinced She's Pregnant After Seeing Her Met Gala Photos
10 May 2019, 11:02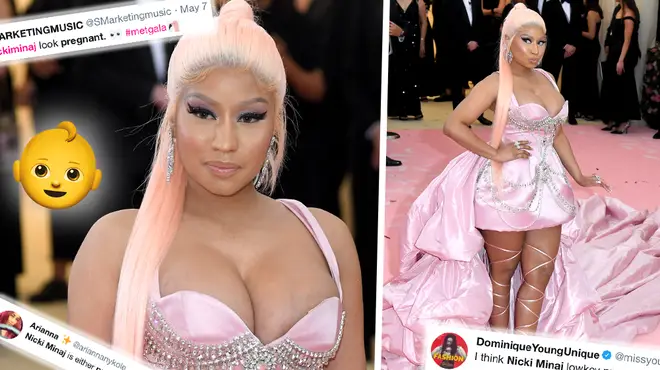 Nicki Minaj fans have suspected that the superstar is pregnant after seeing her Met Gala photos. Fans have come up with several things they have spotted in the photos that "show" she's pregnant...
Nicki Minaj was one of the many hip-hop artists that slayed the Met Gala carpet this Monday (6th May). Following the "Camp: Notes on Fashion" theme, the superstar she wore a pink puffer dress with Brother Vellies pink lace-up stilettos and pink hair.
The Barbs seem to believe that the "Barbie Dreams" rapper is pregnant after her appearance at the Met Gala this week. Many fans have taken to social media to congratulate Nicki on her rumoured pregnancy.
Nicki Minaj's fans are excited and filled with joy after suspecting that the superstar is pregnant. The Barbz suspect Nicki is pregnant because of her glow, some claim her face and nose has gotten rounder and others claim her cleavage is bigger than usual.
A twitter user wrote ""I think Nicki Minaj is pregnant. This is my prediction. I could be wrong but idk, I just have a feeling".
Another fan wrote "If Nicki Minaj reveals she pregnant at Met Gala I'm going to cry. #MetGala #NickiGala."
I think Nicki Minaj is pregnant. This is my prediction. I could be wrong but idk, I just have a feeling!!! 🤔🧐🤭

— too blessed to be stressed (@ojcastrology) May 7, 2019
Nicki Minaj nor her boyfriend Kenneth Petty have confirmed or denied the pregnancy rumours. However, last year the star revealed that she did want to have a baby soon.
Nicki Minaj is also rumored to be engaged to Petty, whom she has been dating for close to a year now. The two knew each other from their teenage years and have rekindled their relationship following her split with Nas.
Nicki Minaj veins are popping out of her breast...very much pregnant 😭

— Roman. (@wronggoota) May 7, 2019
The star has been ghost on social media recently, before The Met Gala, which also caused fans to think she's pregnant. However, it could be that she's taking a well deserved break after wrapping up her European tour with Juice WRLD.
The Met Gala has been the first time fans have seen Nicki, since the tour. Fans have pointed out that she was also absent from the Grammys and the Billboard Music Awards last week. They suspect that she has been off the radar to protect the bun in the oven.
I think Nicki Minaj lowkey pregnant 🤰 I have this strong feeling but I might be wrong 😊 @NICKIMINAJ

— DominiqueYoungUnique (@missyoungunique) May 7, 2019
Nicki Minaj has been dating her boyfriend Petty for almost a year now. Fans suspect they are secretly married.