Met Gala 2019: The Best Dressed In Hip-Hop Including Cardi B, 21 Savage & More
7 May 2019, 11:37 | Updated: 7 May 2019, 11:44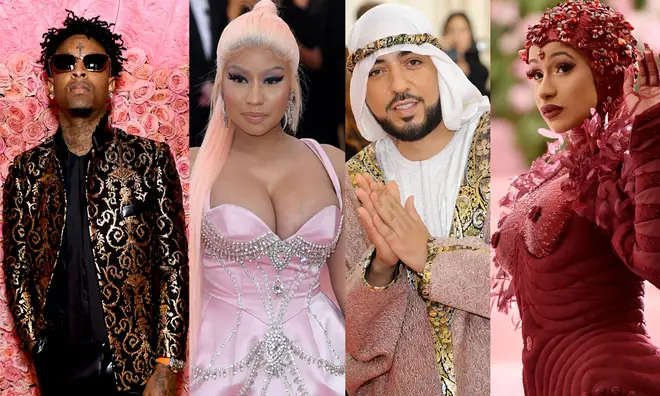 Hip-hop stars such as Cardi B, Nicki Minaj, 21 Savage, Kanye West and many more came to slay in their best outfits for The Met Gala 2019.
Our favourite hip-hop celebrities are back to slay the The Met Gala 2019 in New York. This year's theme is "Camp: Notes on Fashion," which is a reference to Susan Sontag's 1964 seminal essay "Notes on Camp." 
Here's what our favourite hip-hop and R&B stars wore to the biggest night of the best dazzling outfits.
Cardi B

Cardi B - The Met Gala 2019. Picture: Getty

Cardi B strut the carpet with an extravagant jaw-dropping burgundy long dress that wowed the crowd.

The hip-hop princess looked stunning and caught everyone's attention as she walked through with the up most elegance.

Nicki Minaj

Nicki Minaj - The Met Gala 2019. Picture: Getty

Nicki Minaj took the carpet by storm, with her amazing baby pink dress, embezzled with stunning silver diamonds.

The "queen of rap" wore a high pink ponytail to compliment her pink dress.

21 Savage

21 Savage - The Met Gala 2019. Picture: Getty

21 Savage rocked the carpet with a black and gold metallic blazer along with black PV slim fit trousers and smart studded shoes.

He wore his outfit with a watch and black tinted glasses, giving off a cool vibe.

Kanye West & Kim Kardashian

Kanye West And Kim Kardashian. Picture: Getty

Kanye West kept it rather simple with an all black outfit, featuring a smart bomber jacket, black trousers and black boots. On the other hand, his wife Kim Kardashian turned up to the carpet dripping in jewels with a beautiful skin tone see through fitted dress.

The front of the dress features a low plunge, buttons down the middle, with rouched detail.

Travis Scott & Kylie Jenner

Travis Scott And Kylie Jenner. Picture: Getty

Travis Scott and Kylie Jenner looked amazing for the carpet at The Met Gala 2019. Kylie wore a violet feathered dress while Travis wore a khaki utility suit.

Anderson .Paak

Anderson Paak. Picture: Getty

Anderson .Paak came through with cowboy vibes this Met Gala. The star wore a printed blazer that caught eyes.

He also dressed the outfit up with a pink cowboy hat, along with a light pink shirt and vibrant pink trousers. Paak's Burgundy cowboy boots featured a Chinese dragon design.

Swizz Beats & Alicia Keys

Swizz Beats and Alicia Keys - The Met Gala 2019. Picture: Getty

Swizz Beats rocked a velvet emerald green blazer with black trainers and a white shirt. He looked incredibly smart with the bow tie and black shiny loafers.

Alicia Keys dress complimented her husband Swizz's outfit, by wearing a mint green sparkly dress. The dress featured a hood and cape styled shoulders.

French Montana

French Montana - The Met Gala 2019. Picture: Getty

French Montana came through and honoured Ramadan with his cultural and religious wear on the Met Gala 2019 carpet.

His beautiful outfit featured a long dusty pink gown with black and gold detailing around the chest. He also wore a matching headband with the black and gold print, along with black and gold shiny shoes.

Frank Ocean

Frank Ocean - The Met Gala 2019. Picture: Getty

Frank Ocean rocked a simple black outfit on the carpet this year at the Met Gala. He done it with absolute swag. The outfit featured a black jacket, black three quarter length trousers with black Chelsea boots.

Solange

Solange - The Met Gala 2019. Picture: Getty

Solange wore a stunning Python print two piece to the Met Gala this year.

The star wore a snakeskin long sleeved playsuit which featured a low plunge. She also wore matching thigh-high snakeskin boot heels.

Ciara

Ciara - The Met Gala 2019.

Picture: PA Images

Ciara absolutely slayed the Met Gala 2019 carpet with a cut out emerald green sparkly leg slit dress.

Her dress featured sparkly jewels, multiple cut outs showing her toned body and green feathers at the bottom. The "Goodies" singer wowed the crowd with her beautiful big 'fro and amazing green themed make up.

Kylie Jenner & Kendall Jenner

Kylie Jenner & Kendall Jenner - The Met Gala 2019. Picture: Getty

Kylie Jenner and Kendall Jenner were twinning with their beautifully feathered dresses.

While Kylie wore a violet see through netted dress, Kendall wore a bright orange low plunge see through dress with sparkly detailing. It is safe to say the sisters slayed !

Jennifer Lopez

Jennifer Lopez - The Met Gala 2019. Picture: Getty

Jennifer Lopez totally slayed the Met Gala 2019 carpet. She rocked a sparkly silver jewelled dress featuring a low plunge and a leg slit. She also wore a matching headpiece to go along with the dress.