Kanye West 'Donda': 5 leaked songs rumoured to be on the album
29 July 2021, 13:08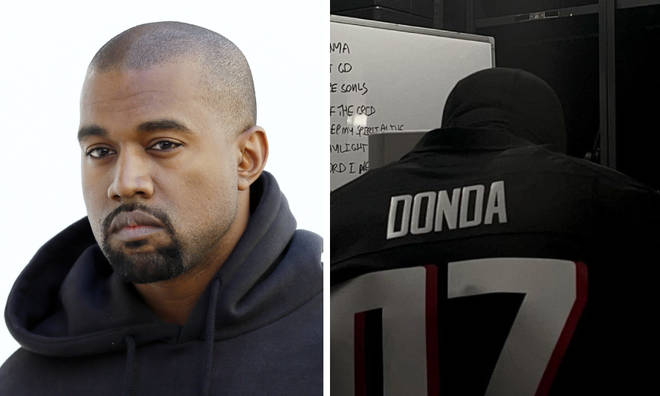 Kanye's upcoming album 'Donda' will reportedly drop in August 2021. Here are some leaked songs fans expect to hear.
Kanye has hit headlines for the recent news surrounding his upcoming album 'Donda'.
Whilst fans expected to hear Kanye's new music in July, the rapper has now confirmed 'Donda' can be expected to arrive on August 6, 2021.
Kanye fans have spotted drafted track-lists that have been posted on Kanye's social media.
Image's of lists written on whiteboards have sparked speculation as to what tracks 'Donda' will host.
The two pictures contain some of the same songs, such as 'remote' and 'no child left behind', but also have some differing titles.
However, there have also been some leaked snippets of tracks that are expected to be featured on the album.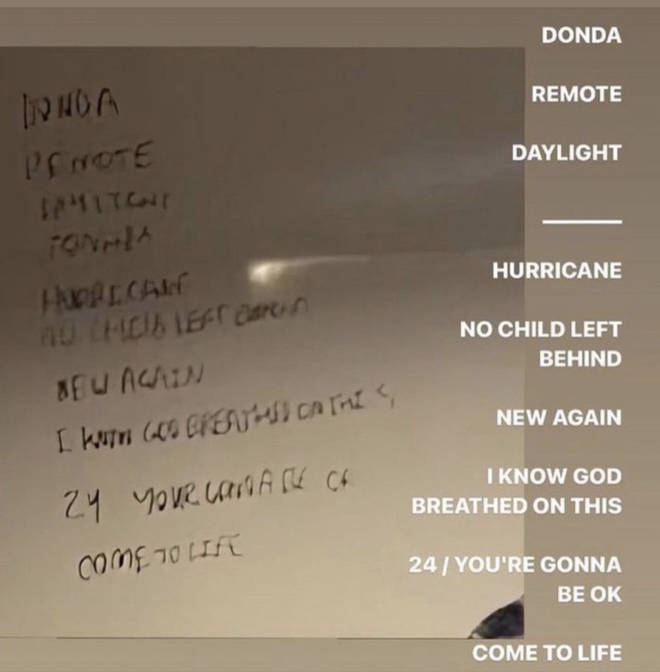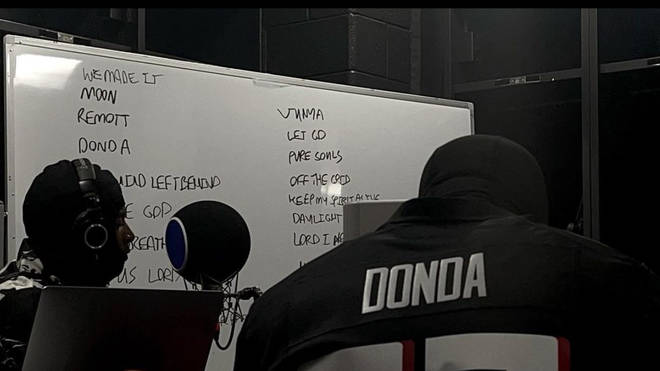 No Child Left Behind

'No Child Left Behind' was the first preview from the album.

The song was used for a promotion video with 'Beats' and featured Olympic athlete Sha'Carri Richardson.

The track hears Kanye sing "Always count on God, he's done miracles on me".

Sha'Carri is seen in the accompanying video on a race track.

'Return of the Throne' featuring Jay Z

Fans are excited as Jay Z and Kanye have reunited for a collaboration.

The pair are notorious for the songs together such as 'N*ggas in Paris' and 'No Church In The Wild', as well as their album 'Watch the Throne'.

Whilst an official song name is yet to be released Jay Z can be heard saying 'This might be the return of the throne'.

Fans have spotted some other videos of Kanye in the studio.

Fans were excited when Kanye was spotted in the Studio with Tyler, The Creator - who recently released his album 'Call Me If You Get Lost'.

Other videos have seen Kanye in the studio excitedly hyped to rumoured new music, getting fans excited for the upcoming album.

Kanye West and Mike Dean are putting the finishing touches on 'DONDA' ahead of his listening event tomorrow night in Atlanta. How's it sounding? pic.twitter.com/Axc6J5dh8W

— Pigeons & Planes (@PigsAndPlans) July 21, 2021