Kanye West new album 2021 'Donda': Deluxe, tracklist, release date, songs, features & more
17 November 2021, 17:48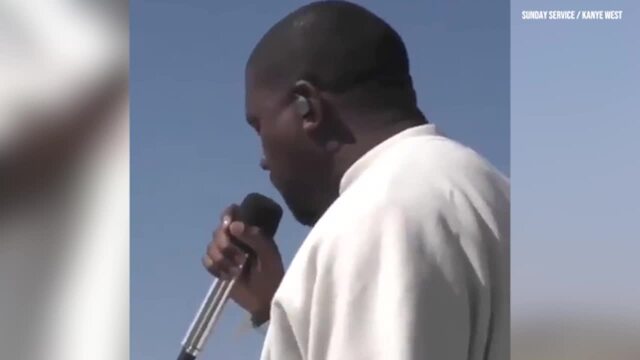 Watch Kanye West's Tribute To His Late Mother During Sunday Service
The rapper was supposed to drop his new album in July and have pushed it back until August. Here's everything we know about 'Donda'...
Kanye West was originally set to drop his highly-anticipated new album DONDA on Friday (Jul 23) but it has now received a new release date.
This new album is the follow up to his ninth studio album Jesus Is King, which he released in 2019.
The Chicago rapper did not manage to release it on August 6th, which was his second confirmed release date. However, there has been another one set.
He has also reportedly moved from Mercedes Benz stadium in Atlanta, to another stadium to complete the album.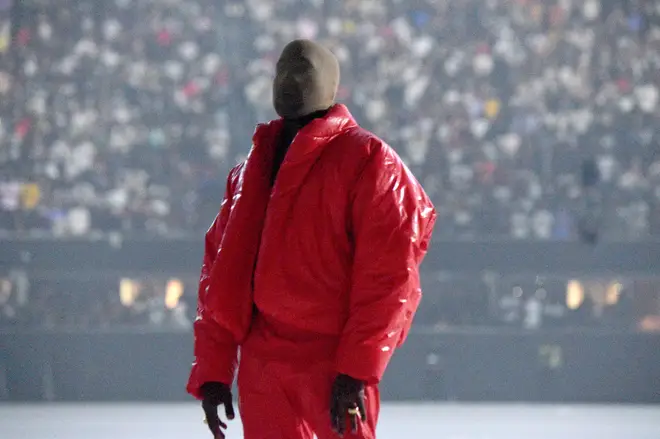 'Ye was rumoured to be dropping the new album, titled in honour of his late mother, last year, but the project was not released.
The star has hosted an exclusive and public listening events for the album in July. Here's what we know about the upcoming project so far.
What is Kanye West's new album called?

Kanye West's forthcoming new album is titled DONDA, but has had a few names over the course of its production.

Most recently, West's manager Bu appeared to confirm that the album would be named West Day Ever. "WestDayEver," he wrote on Instagram, "Album OTW!"

A year prior, West had announced the name of his tenth studio album was DONDA.

Before that, he said that it would be named God's Country, tweeting following the release of his Travis Scott-assisted single 'Wash Us In The Blood':

"KANYE WEST, ARTHUR JAFA, PROJECT 02, WASH US IN THE BLOOD, FROM THE FORTHCOMING ALBUM GOD'S COUNTRY".

Is Kanye West releasing a new album?

After the rapper did not drop the album on Friday (Jul 23rd), there has been a new release date via media personality Justin Laboy.

On Saturday (Jul 24th) Laboy tweeted: "KANYE WEST WILL MOVE THE RELEASE DATE OF DONDA TO AUGUST 6TH. THANKS FOR YOUR PATIENCE.

"HE WANTS TO GIVE HIS FANS THE BEST POSSIBLE PRODUCT WITHOUT RUSHING ANYTHING. HE LOVES YALL WITH ALL OF HIS HEART. GOD BLESS #DONDA #RESPECTFULLY".

However, the project still did not drop on August 6th at midnight.

On Sunday (Aug 6) Apple Music revealed Donda will be available from August 15th.

However, there are rumours that iTunes lists its expected release date for Donda as August 13.

West previously announced that he was releasing DONDA in the summer of 2020.

He tweeted at the time, "DONDA ALBM CVR," alongside a futuristic cover art of three figures floating in the air.

Prior to Kanye West's announcement, artist Arthur Jafa confirmed Ye was working new music for his upcoming album, previously named 'God's Country'.

Jafa announced West's plans for the project during a conversation he had with French fashion designer and film producer Michèle Lamy.

"It's from his new record," Jafa said in the clip below. "It's called God's Country and this will be, like, the first single, I guess, off of it."

🚨 NEW KANYE MUSIC & VIDEO SOON. 🚨

Cinematographer Arthur Jafa tells Michèle Lamy that he's been working with Kanye on a new video possibly dropping next week. He added that the accompanying song is from Kanye's forthcoming album. pic.twitter.com/trwJIHtz2O

— TeamKanyeDaily (@TeamKanyeDaily) May 22, 2020

Kanye has previously announced that he will be making gospel rap going forward in his career.

Back in October, Kanye asked the people working on Jesus Is King to abstain from premarital sex.

During a chat with Zane Lowe for his Apple Music Beats 1 show, Kanye said, "There were times where I was asking people not to have premarital sex while they were working on the album."

"There were times where I went to people that were working on other projects and said, can you just work and focus on this? I thought if we could all focus and fast – families who pray together stay together."

When is Kanye West releasing his new album?

Kanye West is dropping his new album DONDA on Friday 23rd July, 2021.

West's album was initially set to be released a year prior, but the project never emerged.

Apple Music will also livestream the album's listening event on Thursday, 8pm (Eastern Time).

Prior to Kanye West revealing the release date, Jafa's teased the release and confirmed it would be "soon".

Jada said, "But yeah, it's from a new record that's forthcoming," he said. "I don't know when the album is coming out but the single, I think, maybe sometime next week. Maybe. It's not sure. It's not definite."

Since the rapper's listening party on Sunday (Jul 18), it has been said to be dropping this week.

On Sunday, media personality Justin Laboy tweeted: "Kanye West album is really done. When it drops this week, we probably not going to listen to anything else for a while.. Let me go enjoy all the current artist I'm listening to until then. God bless #Respectfully"

Justin Laboy shares his thoughts on Kanye West's upcoming album.

Picture: Twitter/@JustinLaboy

In another tweet, Justin said: "Kanye played his new album for me & @KDTrey5 last night in Vegas. Man listen! The production is light years ahead of it's time, and the bars sound like he's broke & hungry trying to get signed again."

Adding: "Any artist who plan on dropping soon should just push it back 📷 #Respectfully"

Justin Laboy says Kanye West's new album is "light years ahead of it's time".

Picture: Twitter/@JustinLaboy

What songs are on Kanye West's new album?

In the days prior to the album's release, Kanye teased what appeared to be a tracklist for DONDA on Instagram.

The image shows a number of song titles written on a whiteboard - including 'We Made It', 'Moon', 'Donda', 'Let Go' and 'Pure Souls' - and sees Kanye sitting alongside a Playboi Carti, who sits wearing headphones in front of a microphone.

Kanye teased what appeared to be a tracklist for DONDA on Instagram.

Picture: Instagram/@kanyewest

Kanye previously released the first track expected to be taken from the album, 'Wash Us In The Blood' which features Travis Scott.

Many fans have said that the song has musical vibes similar to the rapper's album 'Yeezus'.

Kanye West – Wash Us In The Blood feat. Travis Scott (Official Video)

What is the tracklist for Kanye West's album?

Kanye West previously revealed a tracklist for DONDA, consisting of 12 songs.

However, a new tracklist has appeared in a clip where Tyler, The Creator is spotted in the studio with Ye.

The alleged tracklist is:

1. Remote

2. Daylight

3. Jonah

4. Hurricane (feat Lil Baby)

5. No Choir Left Open

6. New Again

7. I Know God Breathed On This (Feat Vory)

8. 24/ You're Gonna Be Ok

9. Come To Life (ft Tyler, the creator)

10. Off The Grid (ft Pusha T)

11. This Is The Glory

12. Our King

13. 12,000 Acres (Ft Pusha T)

14. Keep My Spirit Alive (Conway the Machine, Westside Gunn & KayCyy)

15. Welcome to My Life (Ty Dolla $ign)

Kanye West alleged tracklist for his new album.

Picture: Instagram/@djakadmiks

Who will be featured on Kanye West's album?

Many fans have been taking to Twitter, speculating that Kanye West will be collaborating with several gospel artists on his new album.

Justin Laboy, who Ye played his album to, revealed that Lil Baby is on one of the tracks off the new album.

He wrote: "This Kanye x Lil Baby record so crazy. Y'all gon leave that mf on repeat ALL DAY & NIGHT. BABY REALLY A GOAT #Respectfully" on Twitter.

Tyler, The Creator is also another rapper who will seemingly appear on Ye's new album. The pair were spotted in the studio together.

See video below.

On August 6th, Tidal revealed all the features that will appear on Kanye West's album. Check it out below.

What is different about Kanye West's Donda Deluxe?

Kanye West has released the deluxe version to his 10th studio album Donda – which was made available on streaming services on Monday (Nov. 15).

The deluxe version includes unreleased songs and alternate versions of original tracks from the album.

Donda deluxe includes a new feature from Kid Cudi, as well as touch-ups to "Life Of The Party" featuring Andre 3000, "Up From The Ashes," "Never Abandon Your Family," "Remote Control 2" with Young Thug, and more.