Who is Yaya Mayweather? Age, height, boyfriend & Instagram revealed
5 March 2021, 11:40 | Updated: 25 April 2022, 16:31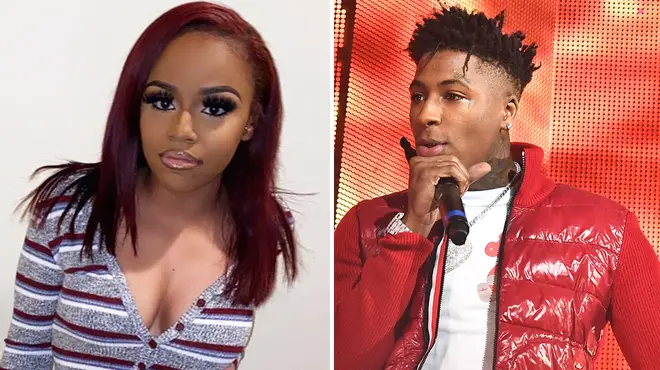 How old is Floyd Mayweather's daughter? And when did she give birth to her son? Here's everything we know.
Iyanna "Yaya" Mayweather gave birth to her first child with her on-and-off boyfriend NBA YoungBoy in January 2021.
Yaya has shared several photos of the sweet little boy whom she shares with the 'Bandit' rapper.
But fans are wondering if Yaya and NBA YoungBoy are still together? And who is Floyd Mayweather's grandson?
Is Yaya Mayweather going to jail?

In October 2021, it was reported that Yaya could be facing 'up to 20 years' in prison following an alleged stabbing the year prior.

Floyd's daughter was arrested in April 2020 for aggravated assault with a deadly weapon after allegedly stabbing Lapattra Lashai Jocaobs, the mother of one of NBA YoungBoy's children.

In April 2022, Yaya plead guilty to aggravated assault with a deadly weapon.

According to documents obtained by Complex, Yaya faces six months of probation for the assault, which could include community service, restitution, or both.

Mayweather, who had originally faced the possibility facing up to 20 years in prison for the crime, has a court hearing scheduled for the 16th of June 2022.

Who is Yaya Mayweather?

Iyanna Mayweather, also known as Yaya Mayweather, is the daughter of the legendary boxing star Floyd Mayweather.

Mayweather is most known for her public relationship with NBA YoungBoy, who has seven children with several different women.

Floyd Mayweather and his daughter Iyanna "Yaya" Mayweather. Picture: Getty

The pair welcomed their first child, Kentrell Jr. earlier this year, making it YoungBoy's alleged eighth child.

Mayweather and YoungBoy have been in an on-and-off relationship since 2019.

NBA Youngboy and Yaya Mayweather cuddle up on Instagram.

Picture: Instagram

They are known to be in a volatile relationship, with Yaya Mayweather being arrested for reportedly stabbing YoungBoy's baby mama Lapattra Jacobs in 2020 – and slashing NBA's Maybach in 2019.

How old is Yaya Mayweather?

Yaya Mayweather is 21-years-old and was born on May 20th, 2000, in Nevada, Las Vegas.

Her zodiac birth sign is a Taurus.

When did Yaya Mayweather give birth to her son?

Yaya Mayweather and NBA YoungBoy welcomed their baby boy on January 9th, 2021, according to her Instagram page.

Yaya shared posted a cute photo of her son's foot as Queen Naija's song "Mama's Hand" played in the background.

Yaya revealed she and NBA YoungBoy were expecting a boy during her baby shower on Nov, 5.

The star Yaya showed off the glam setup which included big lights that spelled out the words "BABY BOY" on her instagram Live.

Floyd Mayweather gifts his grandson his first Rolex.

Picture: Instagram

On Thursday (Feb 18) Yaya revealed that her father, Floyd, had gifted Kentrell Jr his first Rolex at five-weeks-old.

The watch appears to be a Rolex Oyster Perpetual Datejust, with prices starting around £32,000.

However, Kentrell's first watch appears to have been fully customised to have diamonds encrusted on the band as well as the circumference of the face,

Yaya Mayweather shares photo of Floyd Mayweather holding his grandson.

Picture: Instagram

In March 2021, NBA Youngboy was spotted out in public with his son, Kentrell Jr., for the first time.

They rapper appeared to be leaving Sparks Steak House in Manhattan, New York, carrying his newborn son and making his way to a car with his entourage.

How tall is Yaya Mayweather?

Yaya Mayweather is 4 ft 11 inches and weighs 50 kg, according to TG Time.

What is Yaya Mayweather's Instagram?

Yaya Mayweather's Instagram account handle is @moneyyaya. The social media sensation has over 1.4 Million followers on the app.

She often shares photos of herself, and now her baby Kentrell Jr. See a few posts from Yaya below.

On Monday (Feb 22) Yaya Mayweather received backlash after sharing a video of herself holding her newborn baby Kentrell Jr on yatch.

While some fans pointed out that Yaya was standing while the boat was moving, other chimed in on the safety risk for her child.

One fan wrote "I just wouldn't be comfortable standing on something that looks easy for you to lose your balance on, while holding a baby, while on a damn yacht. But to each it's own.".

Another Instagram user wrote "This gives me anxiety 🥴 that baby too close to the water 😏".

The comments were swamped with worries for the child, but everything had turned out fine and nobody was injured.