Diddy Reflects On 'The Culture' In Motivational Instagram Post: "Enough Is Enough"
9 April 2019, 13:30 | Updated: 9 April 2019, 13:32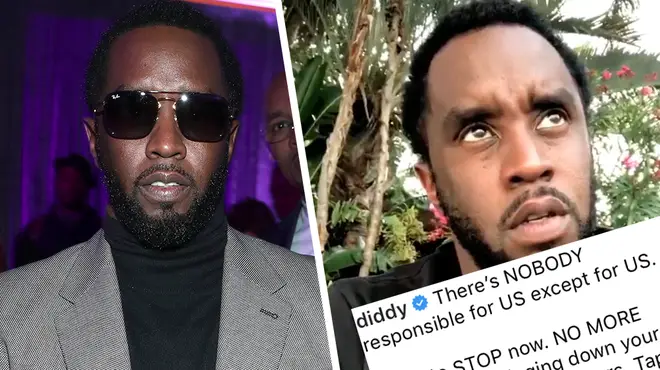 Diddy takes to Instagram to express his views on the culture that's weighing heavy on his chest. The hip-hop mogul says "enough is enough"...
The passing of the legendary rapper Nipsey Hussle has sparked many dialogues throughout the hip hop community with many celebrities such as The Game, Drake, Kanye West and more paying tribute to the late rapper.
Yesterday, hip-hop mogul Diddy took to social media to reveal his frustrations with 'the culture' and shares an empowering and motivational message.
Many celebrities are coming together and paying respects to Nipsey Hussle and his family since the 33-year-old rapper was murdered outside his Marathon Store in L.A.
Due to recent killings, Diddy felt compelled to take to Instagram to post a lengthy 7 minute motivational video to educate 'the culture'.
The hip-hop mogul captioned the video "There's NOBODY responsible for US except for US,". The post continues to read:
"It has to STOP now. NO MORE hurting and bringing down your fellow brothers and sisters. Tap into LOVE. Remind yourself we are KINGS and QUEENS and reprogram your mind everyday."
Diddy continues "WE'VE BEEN AT WAR WITH OURSELVES. It stops now. I'll do my best to uplift, love and heal my people. But the responsibility lies with YOU! What are you going to do!?!?!? You must be responsible for yourself!!!!!"
In the video clip, Diddy reveals a heartfelt message for the people. This early morning talk with Diddy is definitely a special one as he drops knowledge and shares his views surrounding senseless killings and hatred in the world.
Diddy starts his 7 minute speech saying:
"Today I feel the need to like, kind of record this and basically say to my people enough is enough. I'm not coming from any moral authority. I'm just coming from a black king perspective. Black man perspective. Black person perspective. Enough is enough."
Diddy goes on to talk about crime and gives a critical view reflecting on what the culture is like.
The 'king of hip-hop' reveals "We came as a tribe. We are a tribe. We're killing each other. We hate on each other. We give negative thoughts on each other. We don't know how to support each other. "
On a positive note, Diddy feels empowered to make change and shift the culture. He continues
"Killing somebody, us hurting...us not treating our women like they're queens...it's really sad that the special beings that we are, we haven't tapped into love and we haven't put a stop to this. I'mma do my best to put a stop to this. I'mma do my best to uplift my people, to love my people, to help heal my people, to do whatever I can."
Many fans are supporting Diddy and feel empowered by his views and reflection on society.