The Game Shares Emotional Tribute To "True King" Nipsey Hussle Following His Tragic Death
2 April 2019, 13:08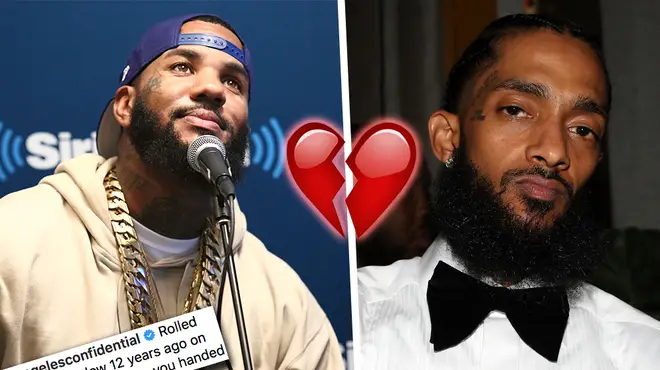 The Game posts an emotional tribute to Nipsey Hussle and reflects on the 12 years they spent together as friends...
Nipsey Hussle's tragic murder has prompted the hip-hop community to come together. While many celebrities and fans of Nipsey who don't personally know him post tributes in dedication to his life on earth, Nip's death has had a profound effect on his friend, The Game.
The West Coast rapper has been left in an emotional state after losing his friend to a terrible senseless killing.
Soon after the news emerged that Nipsey Hussle was shot outside of "The Marathon", his clothing store, The Game went for a drive in the streets of Los Angeles to clear his head. In the video The Game shared on Instagram, he poured his heart out and revealed how he felt about his friend being murdered.
The Game began his heartfelt spiel "Driving down Slauson, four in the morning," says Game.
He continues: "Cause I can't sleep behind what happened to Nip, man! Why n***as do the homie like that man? On his own motherfuckin stop. In his own fuckin hood, man. He's trying to do good for n***as man. Sh*t crazy man, I can't even f**king sleep, I'm disgusted by this sh*t! That's how ya'll do the homie?! In his own city, in his own hood, in his own place of business!? That's how n***as do n***as man?! LA on some bulls***t, on ME!".
The rapper took to Instagram to express further how he feels in an emotional tribute to Nipsey Hussle. The 39 year-old rapper reflected on the 12 years they spent as friends and reveals the reasons why Nipsey's a "True King".
Yesterday (Apr 1st), The Game posted a photo of himself and Nipsey, with a heartbreaking paragraph beneath it.
The Game wrote "I keep seeing your name in these headlines bro, but it seems unreal to me.... like, I just cannot believe you gone !!!!" he writes, via IG. "I love you..... I'm really broken & saddened by the fact they did this to you SMMFH !!!!! I can only imagine what your family is going through right now... This was not how your life on earth was supposed to end !!!!!!!! Rest in peace, Nipsey. Keep your head up, Game."
It's been difficult for The Game to deal with the passing of Nipsey Hussle as they previously linked up in the studio for Game's own Born To Rap album. Although Nip is no longer here to make more music, hopefully The Game releases their collaborations together so fans can hear his voice again.