Drake Honours Nipsey Hussle With Heartbreaking Tribute At His London Show
2 April 2019, 10:57 | Updated: 2 April 2019, 11:05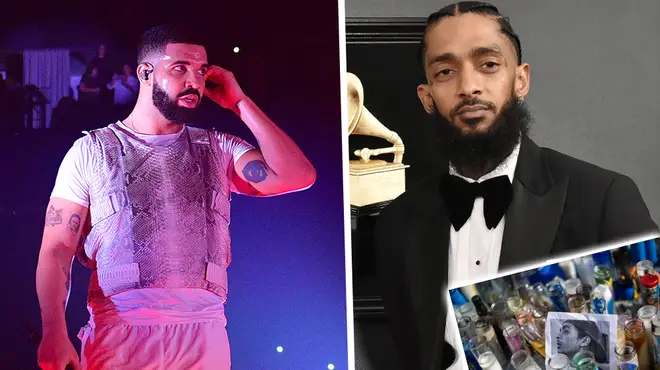 Drake pays respect to his "brother" Nipsey Hussle during his London concert on the "Assassination Vaction" tour...
Drake's currently in London for the "Assassination Vacation" tour along with Baka Not Nice and Tory Lanez. The tour started in Manchester on the 10th March and he is now on his run of London shows. Drake has always professed his love for London and has spoken on how London culture has influenced his music.
Last night (Apr 1st), the Canadian superstar kicked off his seven-night show at London's O2 arena, which the rapper switched to the "O3," as he mentioned in his hit "God's Plan".
Since the passing of Nipsey Hussle, Drake has been pretty vocal on social media and payed homage on two Instagram posts. During his first night in London, the rapper made sure to pay his respects to the late rapper Nipsey Hussle.
During Drake's Live concert in London, he made a tribute to Nipsey Hussle, who recently passed away from a gunshot wound to the head and torso. In the video clip, Drake can be heard saying:
"Somebody that provided for his people, somebody that always treated you with respect when they saw you. Somebody that commanded respect when you walk in the room. So I really want to do this show for Nip tonight" he said as a picture of Nipsey Hussle was projected on the screens.
The "Nice For What" rapper continued:
"London, as long as you'll have me back I'll stand in the middle of this building and give you everything I've fucking got. Cheers to my brother, rest easy my g. London, I love you."
On the day the Nipsey Hussle's passing news emerged, Drake posted a heartbreaking tribute on Instagram. Drake pours his heart out revealing:
"I was so happy watching from distance fam nobody ever talks down on your name you were a real one to your people and to the rest of us,".
Drake's post continued on to say "I'm only doing this here cause I want the world to know I saw you as a man of respect and a don. Rest easy my g".
Many celebrities are paying homage to Nipsey Hussle during this trying time. Wishes go out to Nipsey Hussle's family.
In other Drake news, he also premiered of the trailer for Drake's long-awaited Top Boy season 3.