Kanye West Dedicates 'Sunday Service' Tribute To Late Rapper Nipsey Hussle - WATCH
8 April 2019, 12:45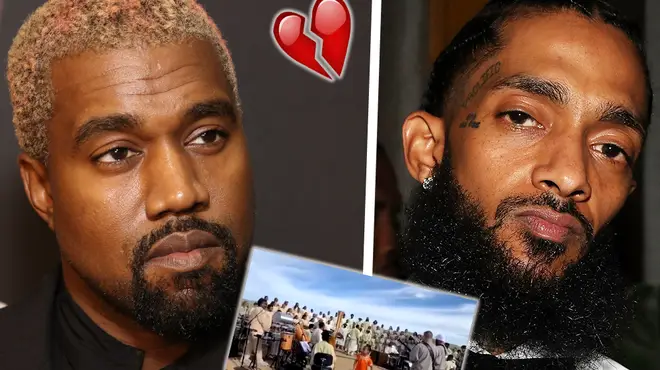 Kanye West uses his Sunday Service platform to honour late rapper Nipsey Hussle, days after his passing...
Kanye West is the latest celebrity of Nipsey Hussle's peers to pay tribute to the late rapper following the death of Nip, after he was gunned down in Los Angeles.
The "Fade" rapper used his popular, well-received Sunday Service session to honour Nipsey Hussle. The hip-hop community has been vocal about his Nipsey's legacy and congratulate him on what he achieved in his life on earth.
Ye surprised the world when he opened the ceremony memory using an audio snippet of Hussle speaking words of wisdom and encouragement.
Nipsey was known for being a positive role model for being someone who made it out of "the hood", turned his life around, and gave back to his community.
The audio snippet was followed by Ye's choir descending into an ethereal hymn.
In the video clip of the Sunday Service session, Nipsey can be heard saying "Just wanted to send some words of encouragement,".
He continues "Y'all stay focused, y'all keep working hard. Believe in y'all self. Prove everybody that doubt y'all wrong. Show up every day. Stay pure. Stay motivated. Stay smart. Show love to your people." Nipsey says.
Since the passing of Nipsey, law enforcement have declared that Hussle's shooting death was the result of a personal dispute.
In other recent news, Kodak Black made a move on Nipsey Hussle's girlfriend Lauren London saying she's a "whole widow" and that she can cry on his shoulder.
Nipsey Hussle's memorial service will take place on Thursday, April 11th at Los Angeles' Staples Center.