Meek Mill Breaks His Silence On Tekashi 6ix9ine Following Racketeering Arrest
29 November 2018, 12:02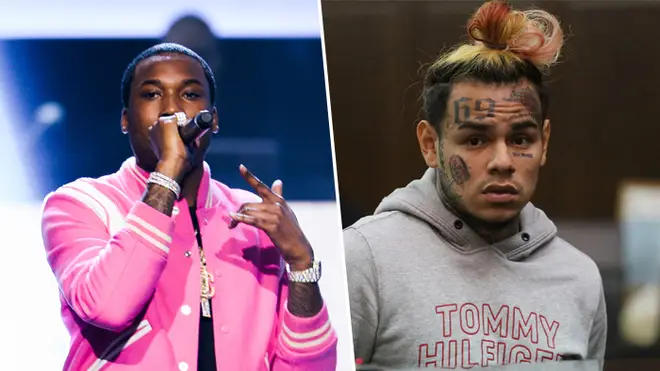 'Stay Woke' rapper Meek Mill has addressed 6ix9ine's arrest for racketeering and his jail situation.
Meek Mill has addressed Tekashi 6ix9ine's recent arrest for federal racketeering, following his own legal issues earlier this year.
6ix9ine recently pleaded "not guilty" to all 6 of his charges, after discovering he is facing a potential life sentence for his actions with his former team Tr3yway.
However Meek Mill, who was in prison earlier in 2018, has revealed that the 'BEBE' rapper's current situation is an important message to all young rappers.
"I used to always want to tell that kid, 'You give out that certain kind of energy. You give out that energy, and that energy actually comes back.'"
He later added: "Having 50 people around you and two people got a job, it means nothing. It can get you in a lot of trouble that everybody don't make it out [of]. Not saying that he won't make it out of his situation, but it could get you in a lot of trouble that it's hard to make it out [of]."
See the interview above.
Tekashi 6ix9ine is likely to remain in jail until his trial date in September 2019, after his attempt to get bail was denied by the judge.
The 'FEFE' star reportedly offered his entire bank balance and surrendered his passport but was unsuccessful.
6ix9ine was allegedly moved to a different jail following "safety issues" at his original location in New York.
Meek Mill's message about Tekashi 6ix9ine follows his recent attempt to promote prison reform.
His new album 'Championships' will be released on 30th November.