Tekashi 6ix9ine & Fashion Nova Reportedly Feuding Over Nicki Minaj & Cardi B
28 November 2018, 15:16 | Updated: 28 November 2018, 15:21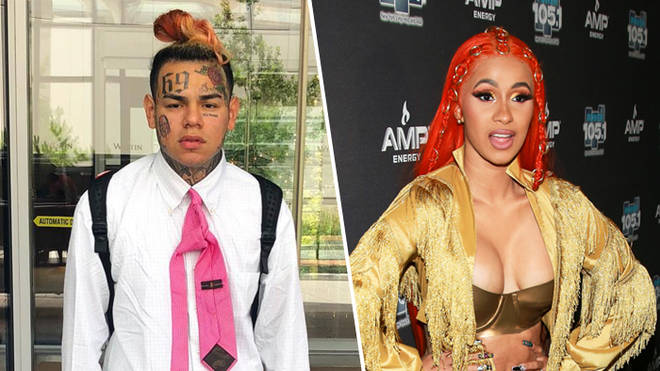 6ix9ine is still in jail for alleged racketeering however the rapper is now in the middle of Nicki Minaj and Cardi B's feud.
Tekashi 6ix9ine is reportedly feuding with Fashion Nova following his arrest for racketeering last week.
The 'BEBE' rapper, who is facing a life sentence over 6 federal charges, is now embroiled in more drama involving the clothing brand, Nicki Minaj and Cardi B.
According to TMZ, 6ix9ine had a six-figure deal with Fashion Nova and part of their agreement was for the controversial rapper to namedrop the brand in his new 'MAMA' collaboration with Kanye West and Nicki Minaj.
On the 'Dummy Boy' song, 6ix9ine raps the lyrics: "Splish splash apple bottoms make that ass phat."
However the rapper was expected to rap the lyrics: "Splish splash Fashion Nova make that ass phat."
6ix9ine's surprise lyric change has reportedly ruined his deal with Fashion Nova, who had allegedly paid the rapper all the money up front.
It is believed that Fashion Nova were also expecting 6ix9ine to include the clothing brand in the song's official music video alongside Kanye West and Nicki Minaj.
However the video shoot in Beverly Hills was the subject of a real shooting and was forced to end early, costing 6ix9ine's record label over $500,000.
Interestingly, TMZ claim that 6ix9ine changed the Fashion Nova lyric because Nicki Minaj was furious over Cardi B's brand deal with them and asked him to alter the words.
Fashion Nova is reportedly waiting to see Tekashi 6ix9ine's legal fate before asking for the money back.
6ix9ine will face a trial over his racketeering charges on September 2019, alongside his former Tr3yWay associates.