Nicki Minaj & Tekashi 6ix9ine's Girlfriend Just Threw Shade At Cardi B In The 'Good Form' Video
30 November 2018, 12:04 | Updated: 30 November 2018, 12:14
Nicki Minaj - Good Form ft. Lil Wayne
The 'Queen' rapstress teamed up strip club bartenders Baddie Gi and Jade, who are preparing to sue Cardi after she allegedly ordered an attack on them, leaving them injured. Jade, as it happens, is Tekashi 6ix9ine's girlfriend.
Nicki Minaj unveiled the music video to her Lil Wayne collaboration 'Good Form' yesterday (29th Nov.), and it appears she's not done with taking jabs at her rap rival Cardi B just yet.
The 25-year-old 'Queen' rapstress enlisted the help of two strip club bartenders, Baddie Gi and Jade, to star alongside her in the music video - the same bartenders who are preparing to sue Cardi.
Baddie Gi and Jade accused the 'I Like It' rapper of ordering an attack on them at the club they work at because Cardi believed Jade had slept with her partner, Offset.
Cardi was arrested last month for her alleged role in the attack, but denied the claims. And now, it seems, both Baddie and Jade appear to take Nicki's side in her long-running beef with Cardi.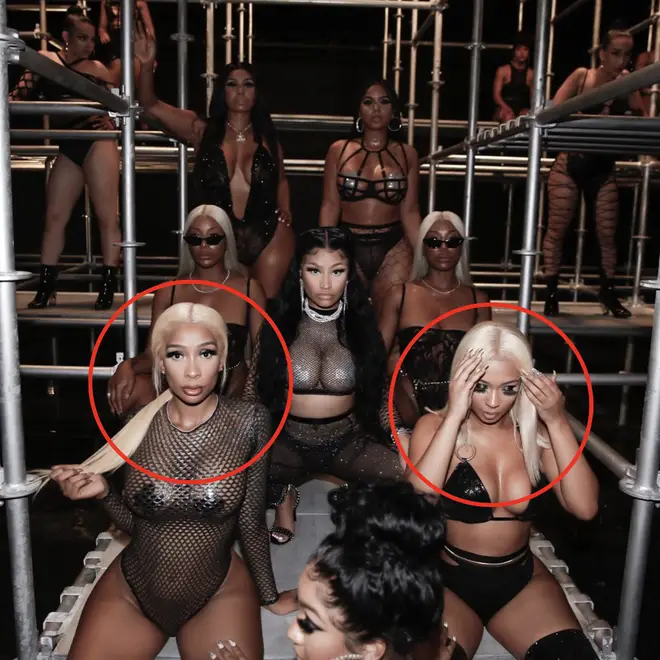 The bartenders can be seen dancing next to Nicki during the video and promoted the visuals on their socials, with Nicki sending them heart emojis and kisses in response.
It's also worth noting that Jade happens to be the girlfriend of incarcerated rapper Tekashi 6ix9ine, who has collaborated with Nicki on the songs 'FEFE' and 'MAMA' from his new album 'DUMMY BOY'.
Furthermore, 6ix9ine planned on throwing shade at Cardi himself by featuring Baddie and Jade in his own music video. However, a shooting incident caused the video shoot to be shut down.
Cardi B is yet to respond.