Tekashi 6ix9ine Hires Cardi B Strip Club Rivals For Nicki Minaj Music Video
13 November 2018, 10:45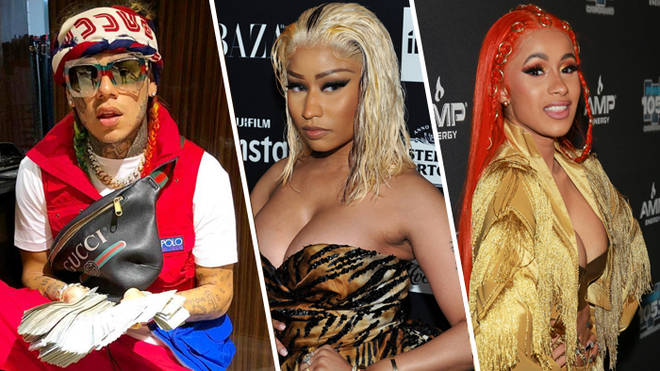 6ix9ine has risked sparking a feud with Cardi B, after hiring Nicki Minaj's associates for his latest music video with the 'Chun Li' rapper.
Tekashi 6ix9ine has risked reigniting Cardi B and Nicki Minaj ongoing feud with his latest actions.
The 'BEBE' rapper has reportedly hired the bartenders that are currently suing Cardi B for an alleged assault in a strip club.
According to TMZ, Baddie Gi and Jade were flown into California by 6ix9ine, to make an appearance in his upcoming music video with Nicki Minaj and Kanye West.
Cardi B handed herself into New York police in October, over her role in an assault at Angels Strip Club earlier this year.
The 'Bodak Yellow' rapper was charged for allegedly being the mastermind behind the fight, which saw both Baddie Gi and Jade hospitalised.
There were unconfirmed rumours that Jade had slept with Cardi B's husband Offset.
Both women were reportedly at the music video shoot when gun shots were fired at the Beverly Hills set.
Around 10 shots were fired, with one bullet going through the window of Nicki Minaj's dressing room.
The 'Chun Li' rapper wasn't on set at the time and nobody was hurt in the shooting.
Cardi B is yet to respond to Tekashi 6ix9ine's actions however she recently publicly agreed to end her feud with Nicki Minaj.
Meanwhile, Tekashi 6ix9ine is currently preparing to release his upcoming project 'Dummy Boy', which is expected to include his new song alongside Kanye West and Nicki Minaj.
The project is set for release on 23th November.