Nicki Minaj & Cardi B Both Agree To End Feud Following Rants
30 October 2018, 17:04 | Updated: 30 October 2018, 17:06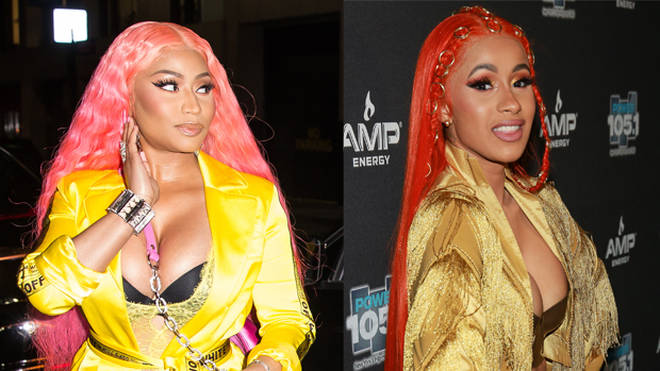 'Chun Li' rapper Nicki Minaj has attempted to end her feud with Cardi B, following her Queen Radio rant.
Nicki Minaj and Cardi B have both agreed to end their feud following their public showdown last night.
The apparent agreement follows Nicki Minaj's brutal Queen Radio rant, in which she placed a $100,000 bounty on footage of Cardi B's New York Fashion Week fight video.
In response, Cardi B unleashed a lengthy Instagram video, in which she attempted to expose Nicki Minaj over a Diesel brand endorsement and a Little Mix collaboration, among other topics.
However after the savage back-and-forth, which resulted in a number of celebrities and brands being exposed, Nicki Minaj was the first to publicly distance herself from the drama.
"Ok you guys, let's focus on positive things only from here on out," she tweeted her fans.
"We're all so blessed. I know this stuff is entertaining and funny to a lot of people but I won't be discussing this nonsense anymore.
"Thank you for the support and encouragement year after year. Love you."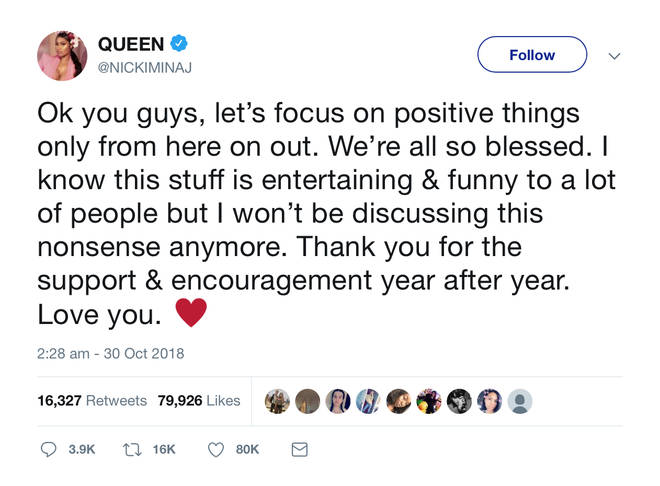 Cardi B then followed suit by screengrabbing Nicki Minaj's tweet and posting it on her Instagram page.
"Alright then!," said Cardi, who tagged Nicki Minaj in the post. "Let's keep it positive and keep it pushing."
Nicki Minaj and Cardi B's feud is rumoured to have began after the 'Chun Li' rapper 'liked' a tweet about Cardi B's rapping skills.
The feud then escalated over time and resulted in a physical altercation between the two rappers during a party at New York Fashion Week.