Nicki Minaj Offers $100,000 For Footage Of Cardi B New York Fashion Week Fight
30 October 2018, 12:32 | Updated: 30 October 2018, 12:36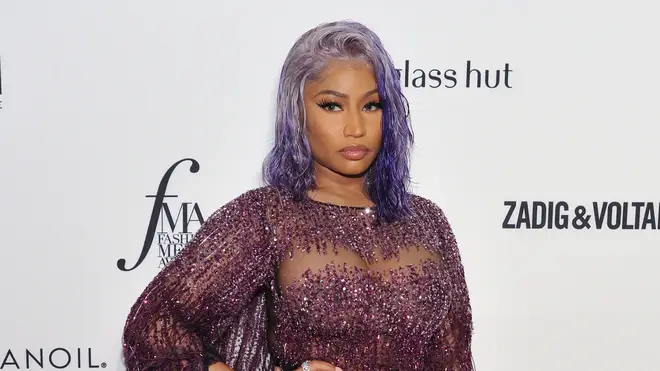 'Queen' rapper Nicki Minaj is annoyed after Cardi B claimed that she was hit by security in their New York Fashion Week scuffle.
Nicki Minaj has offered $100,000 for surveillance footage of her "fight" with Cardi B at New York Fashion Week.
The 'Chun Li' rapper, who reignited her Cardi B feud last night on Queen Radio, claimed that Cardi was lying about what really happened during their physical altercation at Harper's Bazaar's party.
Initial reports claimed that Cardi B received a big lump on her head from a collision with security at the event.
However Nicki Minaj is claiming that Cardi B was beaten up by her friend Love & Hip-Hop New York star Rah Ali and lied about the truth.
"Anybody that wants to pull up the surveillance footage, I will give you $100,000," Minaj said.
"Anybody that says that didn't happen. I would never come up here and lie. For people who don't know, Rah Ali beat Cardi's a** real bad.
"You went home and told people that security hit you, and we let that ride for legal reasons."
Nicki Minaj also suggested that her camera man also has footage of the incident.
However after some fans were confused about why Nicki Minaj would need to pay for footage if she already has it, the 'Chun Li' rapper cleared up the situation on Twitter.
"For the slow ones in the back on the blogs, I offered money for the footage from the venue," she said in a now-deleted tweet.
"I have footage on my own camera but I was asking for overhead footage that the venue may have.
"Y'all listen to snippets of my show and think y'all Albert Einstein."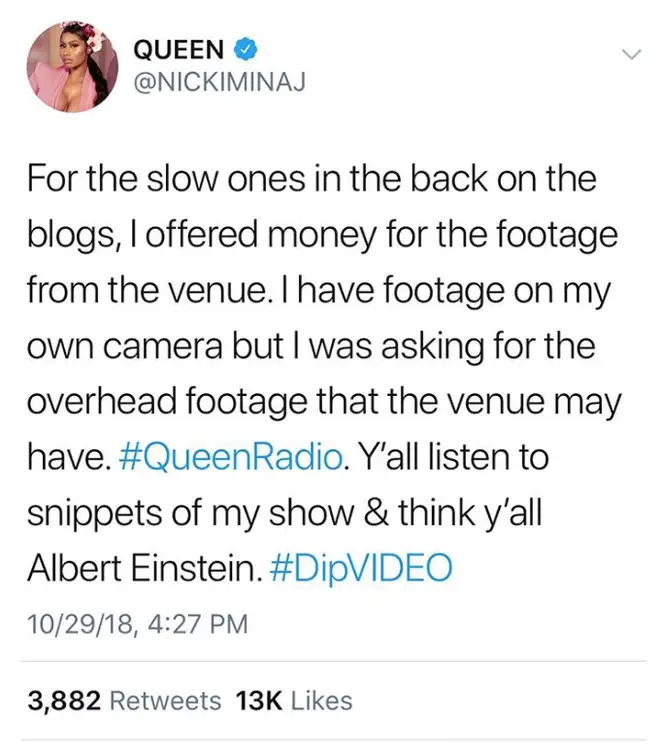 Nicki Minaj also asked Cardi B to take a lie detector test about her claims.
"I'll pay you to take a lie detector test about every claim I made on Queen Radio," she tweeted.
"You won't. I must admit you are a convincing liar. You looked me dead in my face and said you told ya man not to do the 'no flags' video cuz I was dissing you. London On Da Track got the same call."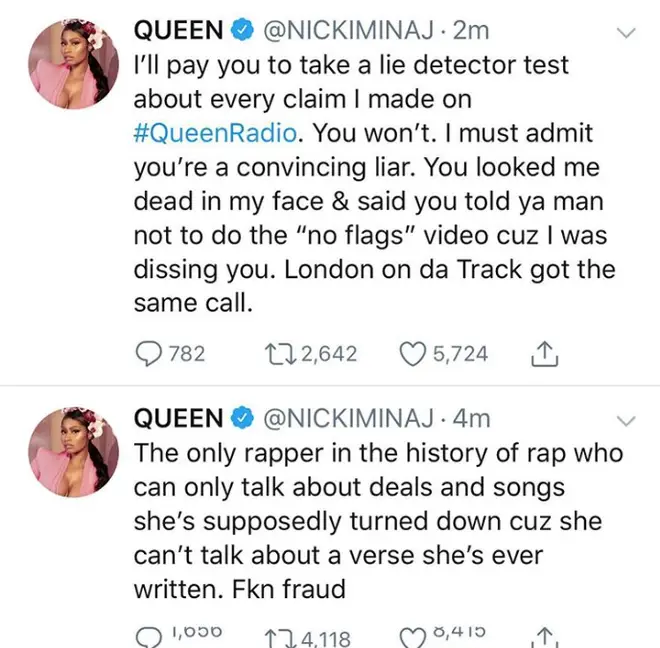 Cardi B fired back at Nicki Minaj's claims with a series of Instagram videos, in which she claimed that the 'Queen' rapper was lying about her claims.