Drake 'CLB' lyrics for when you need the perfect Instagram caption
6 September 2021, 13:29 | Updated: 8 September 2021, 17:32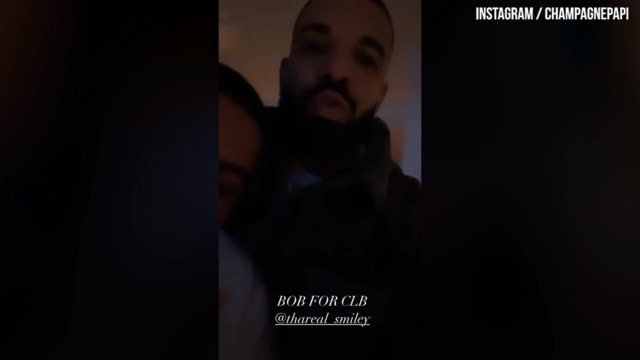 Drake hangs out with his team and friends in bar on day of new Lover Boy album release
Drake has come to fulfil all of your Instagram needs.
Drake has finally given fans 'Certified Lover Boy' after over a year of anticipation.
The stars sixth studio album did not disappoint - breaking records on the release date; becoming the 'most streamed album in a single day' on Spotify.
But fans know, with a Drake album - along with hits come some of the best quotable lyrics. The star said himself on 'Champagne Poetry' - "Under a picture lives some of the greatest quotes from me".
So, here are some of the most caption-worthy lyrics from CLB.
On love -

My soulmate is somewhere out in the world just waiting on me - Champagne Poetry

I remember that I told I loved you, that was really in the past tense - Papi's Home

You don't know love, you don't love me like my child - In The Bible ft. Given & Lil Durk

I got love to show you - Fountains, ft. Tems

I got feelings for you, that's the thing about it, yeah. You know that it's somethin' when I sing about it, yeah - Fair Trade, ft. Travis Scott

You got me losing my mind, oh - Fountains, ft. Tems

Certified Lover Boy, I'm not the one for cuddling or none of that - The Remorse

On heartbreak -

My heart feel vacant and lonely - Champagne Poetry

N**gas told you that they love you, but they fell through - Girls Want Girls ft. Lil Baby

I wasn't in love with none of them anyway - N 2 Deep ft. Future

Said you belong to the streets but the streets belong to me - Pipe Down

I can't believe you told me it was ride or die, 'Cause you're not here, somehow you're still alive - Pipe Down

Writing down these feelings, it's been overdue (Overdue). Don't know how many pens it's gonna take to get over you - Pipe Down

On friendship -

Trust in my brothers is as strong as I know it should be - Champagne Poetry

Loyalty is priceless and it's all I need. Can't burn a bridge just to light my way - Love All ft. Jay Z

I don't have to second-guess nothing with no one I love - Champagne Poetry

I've been losin' friends and findin' peace, but honestly that sound like a fair trade to me - Fair Trade, ft. Travis Scott

My brothers been my brothers, man - No friends in the industry

When all the lights go out, that's when you see the real guys - You Only Live Twice, ft. Rick Ross & Lil Wayne

On lifestyle -

Never had a lot, this is all I need - Love All ft. Jay Z

Turn up every day, girl, it don't say that in the Bible. Can't give it up 'cause you love the lifestyle - In The Bible ft. Given & Lil Durk

Too sexy for your gang Too sexy for this fame, yeah, yeah - Way 2 Sexy ft. future & Young Thug

Money, cars, and all this jewelry make a b*tch look sexy -Way 2 sexy, ft. future & Young Thug

She tryna get out of the mix, shawty is goin' legit - TSU

On money -

Lotta '42 on the flights I'm takin' - Love All ft. Jay Z

You know the price of everything but the value of nothing - Love All ft. Jay Z

And if money's all I need in my grave, then bury me now - Champagne Poetry

Please don't google my net worth, the numbers are way off - The Remorse

I'm in the bank thinkin', "Poor you" - Papi's home

I only vibе with a payday - Girls Want Girls, ft. Lil Baby

She hittin' up Virgil for Louis Vuitton - In the Bible, ft. Given & Lil Durk

How much I gotta spend for you to pipe down? - Pipe Down

Money callin' so I threw the deuce up - You Only Live Twice, ft. Rick Ross & Lil Wayne

On success -

Windows of opportunity let me go through the doors - Champagne Poetry

I'm standing at the top, that's how I know you never seen the top - Papi's Home

The world is yours, but the city's mine - Pipe Down

And the dirt that they threw on my name, turned to soil and I grew up out it - Fair Trade ft. Travis Scott

And I'm like Sha'Carri, smoke 'em on and off the track (Aye) - No Friends in The Industry

No stress is on my brain, no worries here, I'm chosen - IMY2 ft. Kid Cudi

On betrayal -

People never care 'til it's R.I.P., N**gas turned they back on me for no good reason - Love All ft. Jay Z

Lotta fallin' outs help me build foundation - Love All ft. Jay Z

Hard to tell people that I'm all out of favors. Call me for songs or they call me for paper - Love All ft. Jay Z

Cannot play a player, bae - Girls Want Girls ft. Lil Baby

People don't wanna see me succeed, this sh*t come with that - The Remorse

CLB is Drake's sixth studio album.

Picture: Drake

Niggas wanted to kill me and y'all still with 'em. Nigga, y'all chill with 'em, and y'all wonder why we not friends? - Love All ft. Jay Z

Woah, I'm runnin' out of opps - Papi's Home

I done seen the realest ones come and leave a crazy way - Girls Want Girls ft. Lil Wayne

And they want the tea on me, I swear these b*tches nosey - Fair Trade ft. Travis Scott

I set my expectations way too high - Pipe Down