Here are all the samples used on Drake's new album 'Certified Lover Boy'
3 September 2021, 17:31 | Updated: 6 September 2021, 14:53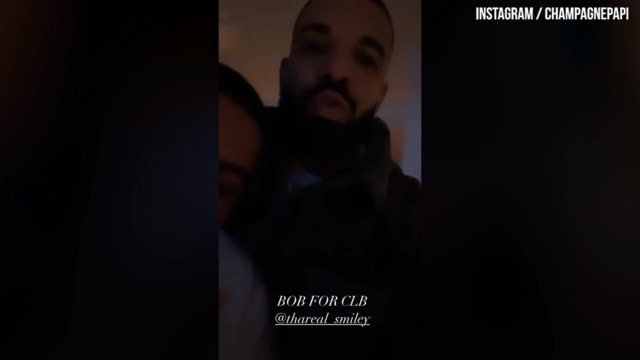 Drake hangs out with his team and friends in bar on day of new Lover Boy album release
Here are the samples used on Drake's long awaited album 'Certified Lover Boy'.
Fans have long awaited Drake's most recent release 'Certified Lover boy'.
The album shows off iconic features from music legends such as Yebba, Jay Z and Lil Wayne.
However, the album also has a long list of samples.
See which tracks Drizzy drew inspiration from here.
Track 1 - 'Champagne Poetry'

CLB's first track is introduced with a sample of the distinguishable 2017 hit 'Navajo' by Masego.

The singer took to instagram to celebrate the sample, with a reworked version of Drake's album cover, captioned: "Track 1 👑".

Masego's hit is also known for sampling and reworking The Beatles 1965 song 'Michelle'.

Track 2 - 'Papi's Home'

'Papi's home' excited fans who spotted a sample from Nicki Minaj mid-track.

However, the song also samples 'Daddy's Home' by Montell Jordan - perhaps also the influence for the tracks title.

Fans spotted Drake and Nicki in the studio together.

Picture: Instagram

Track 5 - 'Love All'

Fans were excited for this track which featured the icon Jay Z.

As well as featuring the rap legend, the track samples the 'Life After Death' Intro by The Notorious B.I.G..

Drake sampled Notorious B.I.G., aka Biggie Smalls. Picture: Getty

Track 6 - Fair Trade

Track six 'Fair Trade' featuring Travis Scott is introduced by angelic vocals, which is a sample of 'Mountains' by Charlotte Day Wilson.

Wilson posted a picture of the album cover to her instagram, with the caption: "CDW on CLB 🥶".

Track 7 - 'Way too Sexy'

On track 7 Drake and Future link up, joined also by Young Thug.

Future and Drake often link up - even having a joint album 'What A Time To Be Alive'.

However, this track also features a sample of 'I'm Too Sexy' by Right Said Fred.

Drake and Future are known for their iconic collaborations. Picture: Getty

Track 8 - TSU

Track 8 'TSU' is a textbook Drake track - even giving a shoutout to Houston Texas in the intro, as well as referenced by the title (Texas State University).

Drake has given a shoutout to Houston Texas on previous songs such as 'From Time', '305 to my city' and 'HYFR'- where Drake says: "all my exes live in Texas".

On this Texas dedicated track Drake samples Sailing by *NSYNC.

Drake is known for shouting out Texas. Picture: Getty

Track 9 - 'N 2 Deep'.

'N 2 Deep' is Future's second appearance on the song.

The track also samples 'Get Throwed' by Bun B (Ft. JAY-Z, Jeezy, Pimp C & Z-Ro).

Track 10 - Pipe Down

Drake and Lil Wayne have a strong relationship, with Wayne having signed Drizzy in 2009.

On this track Drake samples his mentors hit track 'P*ssy Money Weed'.

Track 13 - 'Knife Talk'

Knife Talk samples Samples Feed the Streets by Juicy J (Ft. A$AP Rocky & Project Pat).

21 Savage also joins Drake on this track.

The pair have previously collaborated on songs such as 'Sneakin' and 'Issa'.

21 Savage features on 'Knife Talk'. Picture: Getty

Track 15 - 'Race My Mind'

This iconic CLB track again features samples from both Biggie and Jay Z.

'Hope You N*ggas Sleep' by The Notorious B.I.G. (Ft. Cash Money Millionaires) can be heard, as well as 'Dead Presidents II' by JAY-Z.

Track 17 - 'Get Along Better'

Drake samples an iconic R'n'B hit by Musiq SoulChild on track 17.

Fans can spot 2002 hit 'Half Crazy'.