Drake new album 'Certified Lover Boy' 2021: release date, songs, tracklist & more
14 July 2021, 10:50
Drake has announced that he's dropping his sixth studio album, Certified Lover Boy, this year.
Drake has announced that he's planning on dropping his sixth album Certified Lover Boy, the highly-anticipated follow-up to his chart-topping album 'Scorpion', before the end of summer.
The OVO rapper has steadily been dropping clues that fans can expect new music in the near future, following the success of his recent string of singles including 'Laugh Now Cry Later', 'Toosie Slide', 'Life Is Good' and 'Going Bad'.
Drizzy even treated fans to a quarantine gift in May 2020 when he released his mixtape 'Dark Lane Demo Tapes', made up of 14 songs, and featuring guest appearances from Chris Brown Young Thug and Playboi Carti.
Drake's new album will also be his sixth, which is a special number for the Canadian rapper from Toronto.
When will it be released?
In July 2021, Drake confirmed that CLB was entering the mixing process. Speaking on the Fry Yiy Friday show by Sound 42 on Sirius XM, Drizzy told OVO Noel that Noel's daughter would be hearing his music very soon.
"Drake's on his way back home to mix the album so she's got a bunch of new tracks coming her way," he said, "Definitely on the way home to reunite with my dog and just finish this thing up."
A few days later, the rapper shared a snapshot from the studio on his Instagram Story, showing a mixing desk in the background and a shisha pipe in front of him.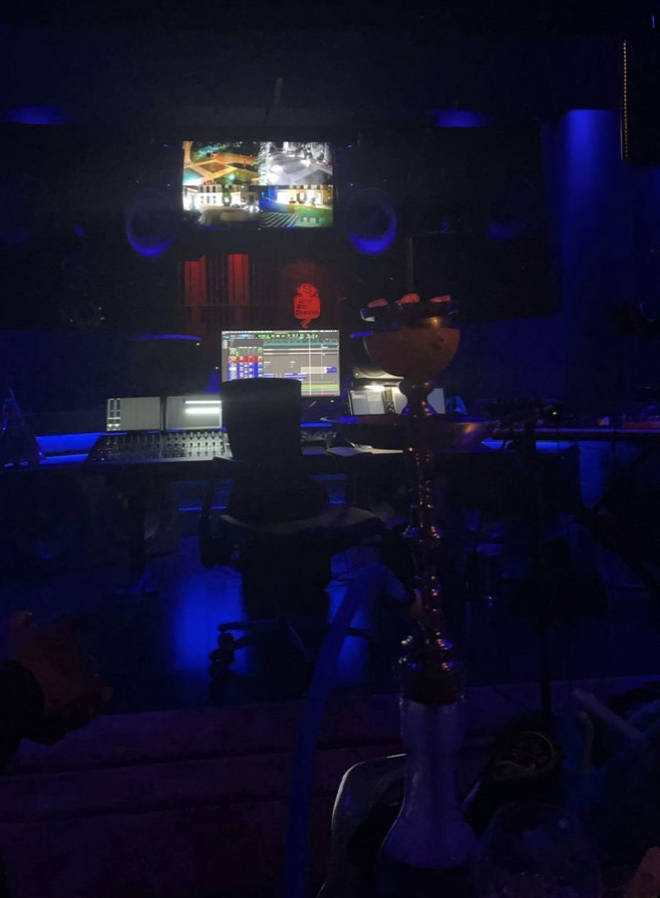 In June 2021, Drake announced CLB will arrive before the end of summer. Speaking at the Ultimate Rap League's N.O.M.E. XI battle rap event, the rapper said he planned on attending the Summer Madness event, before spilling that the album would be released by that point. "I'll be there. My album will be out by then," he said.
On Wednesday (20 Jan), Drake has revealed that Certified Lover Boy will be no longer be dropping in January 2021 as he previously announced.
"I was planning to release may album this month but between surgery and rehab my energy has been dedicated to recovery," he wrote on his Instagram story.
"I'm blessed to be back on my feet feeling great and focused on the album, but CLB won't be dropping in January," he continued, "I'm looking forward to sharing it with you all in 2021."
Later in January, the rapper was spotted in the Bahamas after announcing the album's delay.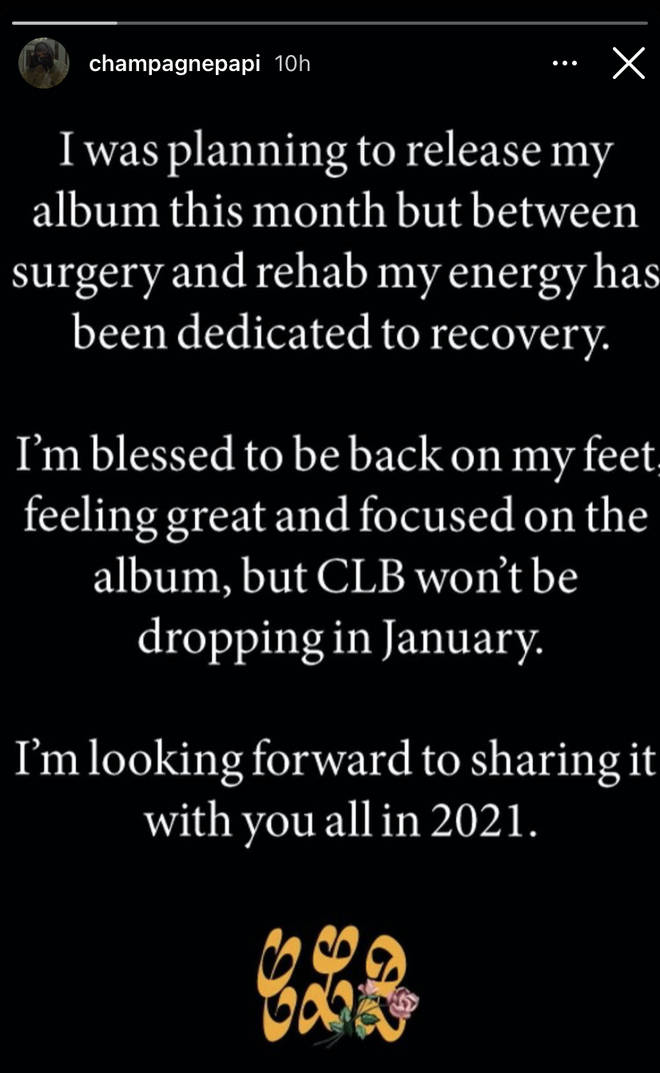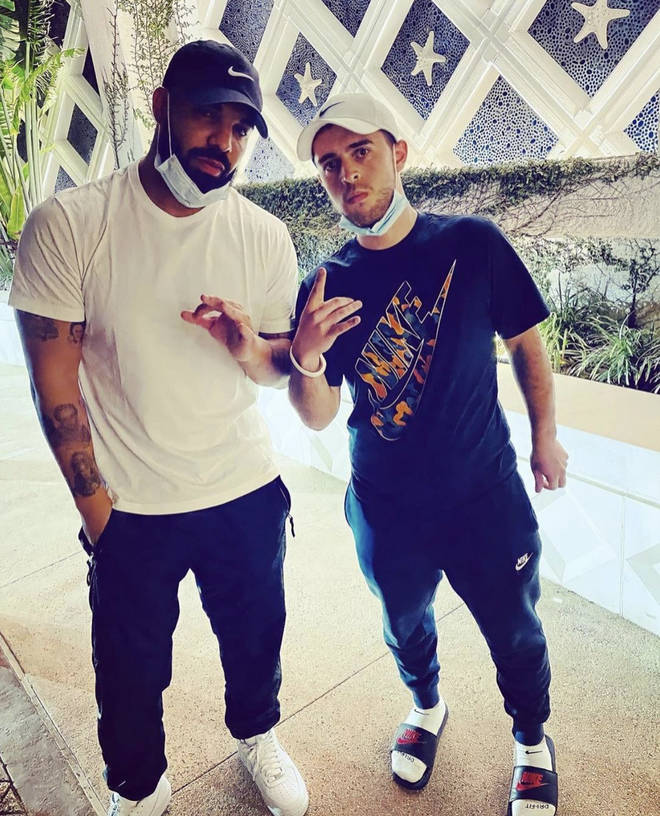 On Thursday (Feb 26) DJ Akademiks went on Instagram Live to dispel rumours that Drake was dropping on that day.
During his live, the media personality said: "CLB update. I've seen some people say, 'oh, it was supposed to drop tonight', as in Thursday night.
He clarified "No. No, it's not dropping then," said Akademiks. "Drake told me that it's going to be dropping before April so he's not waiting until summer to drop his sh*t."
"I don't wanna say before April... April or before. But the reason why I'm saying it's not dropping tonight, as in Thursday night, is because he's spent so much time on this project that he's not trying to put out a surprise project."
"He's gonna let people know at least a week before, bro."
On Tuesday (Feb 9) Drake's team shared a message to his fans, dispelling rumours about when Certified Lover Boy will be released.
Night Owl Sound relayed a message on behalf of Drake, writing: "Anything CLB related will be posted by DRAKE himself. Until then hold a seat and wait on it," the message reads.
Back in October 2020, the rapper had released a short teaser video on Instagram on his 34th birthday to announce the news.
The trailer sees the Canadian rapper recreate a number of his first studio albums including So Far Gone, Take Care and Nothing Was The Same.
While an exact date hasn't been announced yet, some fans were previously convinced that he was going to drop CLB on January 29th. This is because his last two album releases, 2018's Scorpion and 2016's Views, were released on June 29th and April 29th, respectively.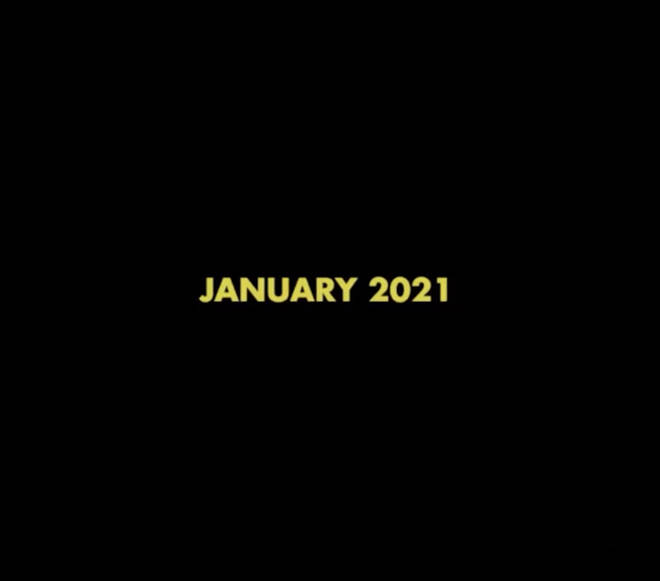 THEORY: Drake's upcoming album Certified Lover Boy will be released on January 29th.
 
Views (2016) was released on April 29th & Scorpion (2018) on June 29th
 
Drake will keep the pattern going & likely drop another single before the album's out to build more hype. pic.twitter.com/jvYRZTYOgp

— NFR Podcast (@nfr_podcast) January 5, 2021
On January 19, 2020, American singer-songwriter and record producer Charlie Puth tweeted an alleged release date for Drake's new album.
In a now-deleted tweet, Puth wrote "Drakes dropping on the 21st".
While many fans wondered how Puth was able to attain this information - which has since been proved false - others suggested he may have contributed towards the album.
One fan wrote "I don't think he's Trolling he can possibly be on the album either as a writer, producer, or feature ?", while others expressed their excitement for the upcoming album.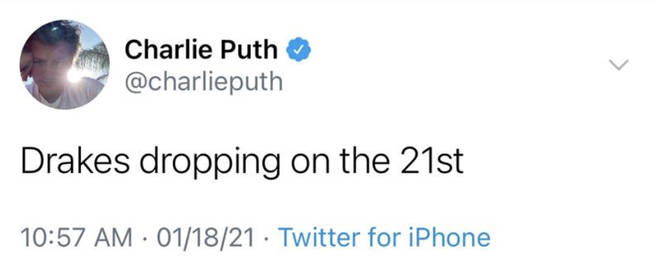 Drake's go-to producer, Noah '40' Shebib, previously said the rapper could drop his new album "any day now". Speaking on Kevin Durant's The ETCS podcast, Noah said, "He's always got it."
"Now does that mean he's done? I don't know, sh*t. He might make 10 songs next week. I don't know. But he's got it."
He added, "He's going to pull the trigger when he wants to pull it. But he's got it. He always got it. He's always ready. If Drake wants to drop the album tomorrow, it's coming out tomorrow. Drake can make the industry move."
On the seventh anniversary of his 2013 album Nothing Was The Same, Drake reminisced on his old material and promised Certified Lover Boy is on the way. "New one's on the way, soon enough," he told his Instagram followers.
At the end of the July 2020, Drake's producer OVO Noel teased that the rapper's new album is "90%" completed. "Ya'll gonna have to wait on the last 10%," he wrote alongside an image of a soundboard with the inputs reading "Drake".
A few weeks earlier, Drake himself had teased that the new album was "80%" done. The rapper shared a snap of himself in the studio confirming his progress on the record and revealed that he's approaching completion.
What is it called?
The title of Drake's sixth album is Certified Lover Boy. When announcing the release of the album's lead single, 'Laugh Now Cry Later', he dropped the name of the new record.
"Laugh Now Cry Later off my next studio album CERTIFIED LOVER BOY," he captioned the post.
Drizzy's previous albums were called Thank Me Later, Take Care, Nothing Was The Same, Views and Scorpion.
At the start of January, Drizzy featured in Martine Rose's one-time digital experience "What We Do All Day", which "documents the pandemic life and the styles we could wear to endure it."
The rapper could be seen working in his Toronto studio, recording in the booth and also sitting beside the mixing desk, counting poker chips with a microphone in front of him.
How many songs are on it?
On Friday (May 21) Drake took to his Instagram feed and shared a video teasing a new track from the album.
The rapper captioned the clip "Fair Trade" along with a white heart emoji and a speaker emoji, presumably what the track is called.
In the video, Drizzy is the studio with his engineer blasting the track, while the rapper is laying down listening back to the song. Watch the clip here.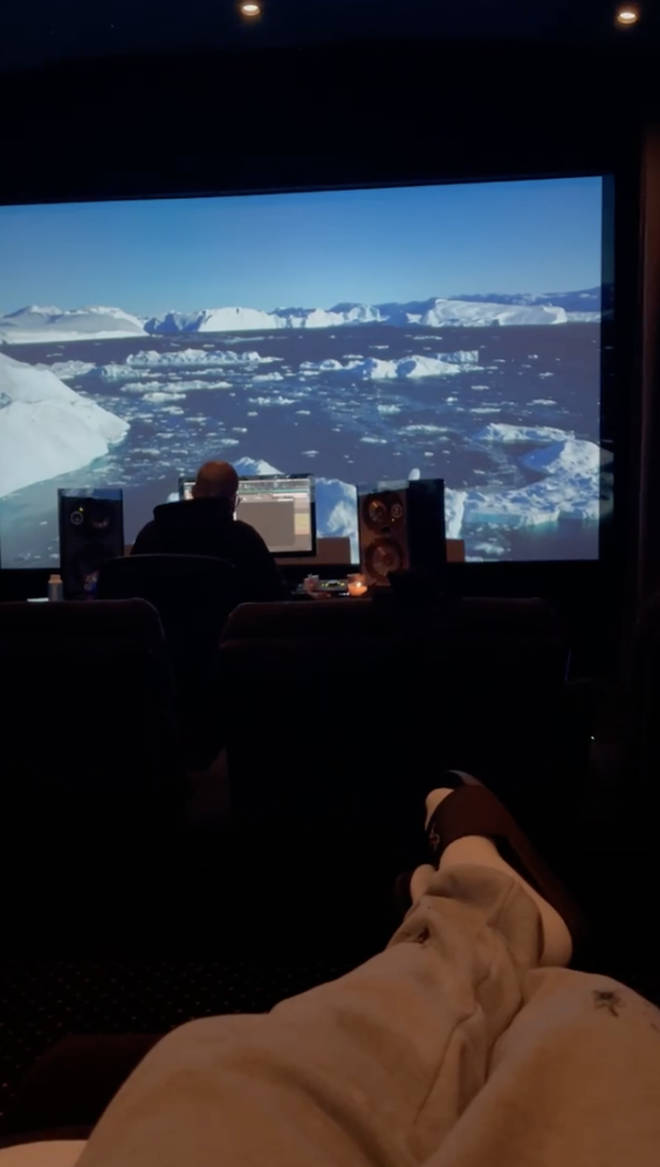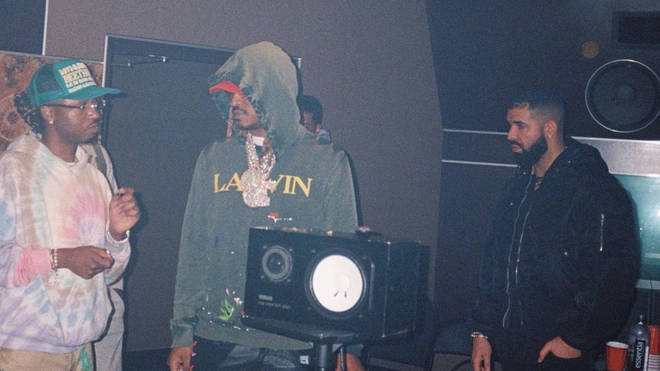 In June 2021, Drake posted a picture to his Instagram that features himself, Future and star producer Metro Boomin'. Metro has previously produced a number of songs that feature Drake - such as 'no complaints' featuring Offset, as well as Futures hit 'where ya at'. Metro also produced Drake and Future's hit album 'What A Time To Be Alive' in 2015.
In April 2021, French Montana teased a collaboration with Drake in an Instagram post. "We'll see what's 'bout to happen next, okayyyyyyyyyyy?!" he captioned a snap of the pair standing side by side.
If their chart-topping joint 2018 hit 'No Stylist' is anything to go by, a potential new song could be a banger!
Drake dropped Scary Hours 2, the follow-up EP to 2018's Scary Hours, on 4th March, 2021, ahead of the CLB's launch.
Drizzy released the first Scary Hours five months ahead of his fifth album, Scorpion. Scary Hours consists of two singles, 'God's Plan' and 'Diplomatic Immunity', with the former later acting as the lead single on Scorpion.
Scary Hours 2 features three singles; 'What's Next', 'Wants and Needs' feat. Lil Baby and 'Lemon Pepper Freestyle' feat. Rick Ross. Could one of these be on CLB?
In January 2021, shortly after announcing the album's delay, Drake teased his followers with a meme alluding to some of the album's lyrics.
"Bars manifesting themselves before they even drop," he wrote with the hashtag #CLB, alongside an edited photo of Wagner Moura portraying Pablo Escobar in the Netflix series Narcos.
Moura sits alone on a bench with a heart shaved into the side of his head, mimicking Drake's current hairstyle in promotion for the new album.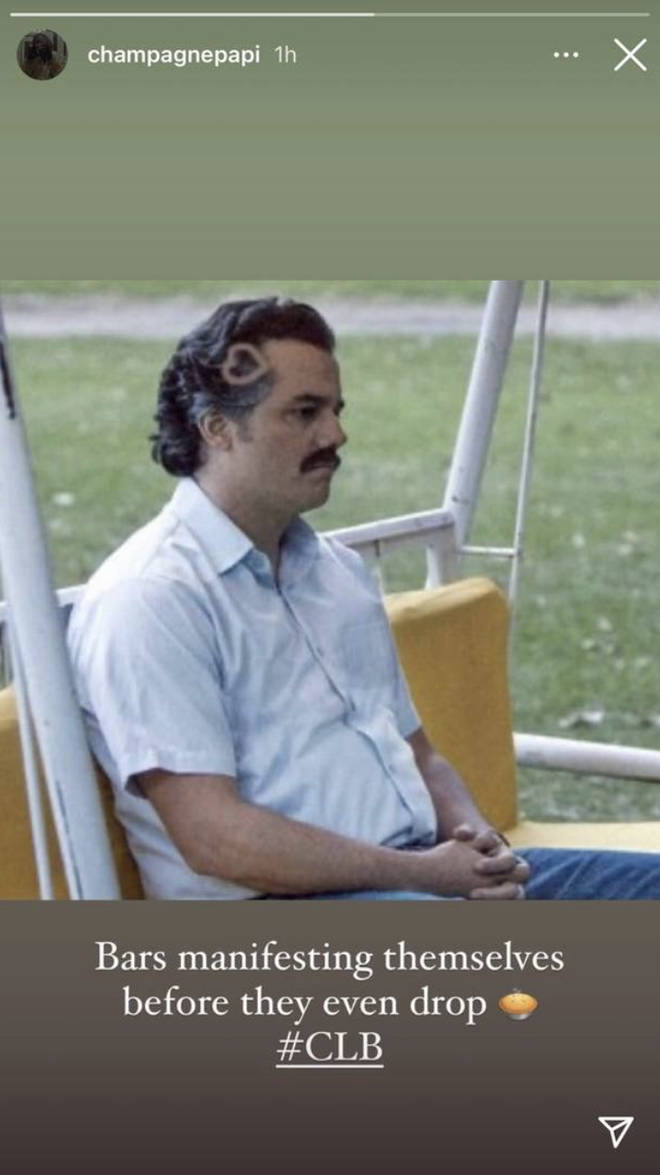 DJ Akademiks fuelled rumours of a collaboration between Drake and Meek Mill after Drizzy shared a snap of himself posted up in the islands.
"I heard Drake and Meek in Bahamas shooting a music video...hmmm. Heard that content will soon fwd," he tweeted in early January.
At the beginning of 2021, a song recorded by Drake allegedly titled 'Lucky Lefty' leaked online, and it received overall positive reactions from fans.
Drake dropped 'Laugh Now Cry Later' featuring Lil Durk, the lead single from Certified Lover Boy, on August 14th.
The music video, directed by Dave Meyers, plays centre stage to a whole lot of Nike product placement and features athletes including Kevin Durant, Marshawn Lynch and Odell Beckham Jr.
The day before, Drake released a teaser video of himself riding a jet-ski at night with the caption 'TMRW MIDNIGHT', leaving fans convinced the new song was set to drop.
In August 2020, an unreleased song by Drake titled 'Intoxicated' leaked online.
It's unclear as to when the track was recorded and indeed which project it was intended for, but the leak has done nothing but build anticipation for his upcoming album.
The track came after the release of Drake's teaser project Dark Lane Demo Tapes, a compilation mixtape full of leaked tracks and Soundcloud drops from the Canadian rapper.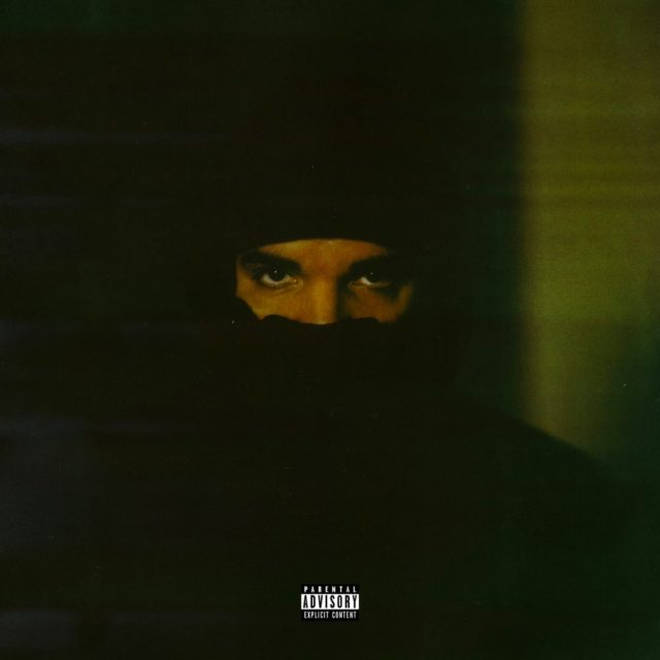 Although Drizzy's been in album mode, he hasn't held back on features. He's collaborated with PartyNextDoor ('Loyal'), Chris Brown ('No Guidance'), Future ('Life Is Good'), Meek Mill ('Going Bad') and in recent months.
During an Instagram Live with PartyNextDoor, Drake told the R&B singer that he wanted him on his album. "Are you getting on my album orrrrrrrrr," Drizzy commented in the Live chat. "It's not a album without you." 
On July 5th, Drake was spotted shooting a music video with rapper Future. Fans suspect the pair have a song together that will be on CLB.
A day later, Drake posted a snap in Nicki Minaj's studio, teasing a possible collaboration for his album.
In April 2019, Drake announced that he'd already started work on his new album. During a show at London's O2, he told the audience, "What I'ma do, I kinda started night last night to be honest with you... But I think what I'm going to do after this, is go home and I'ma make a new album so I can come back to London next year and so we can do this again."
There is no indication of the number of songs on the album so far. Although Drake may play into the significance of the number 6 – a number that has been important throughout his career.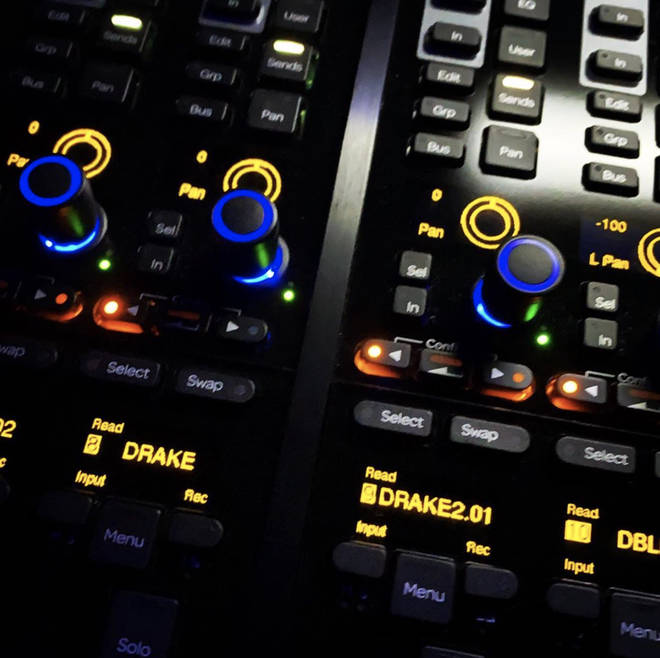 Drake had previously announced that his sixth studio album would be dropping in the summer of 2020, which has since been pushed back. After dropping his new mixtape 'Dark Lane Demo Tapes' in May, the OVO hitmaker told his fans the good news.
"DARK LANE DEMO TAPES out everywhere at midnight…also my 6th STUDIO ALBUM DROPPING SUMMER 2020!!! Lucky number 6 😈 soon fwd," he captioned the post.
In June 2019, Drake teased that he was still working on his new album. The Canadian rapper posted several professional photos of himself in Turks and Caicos, Toronto and L.A. Drake captioned the photos "Album Mode", alluding to him being in the process of making his album.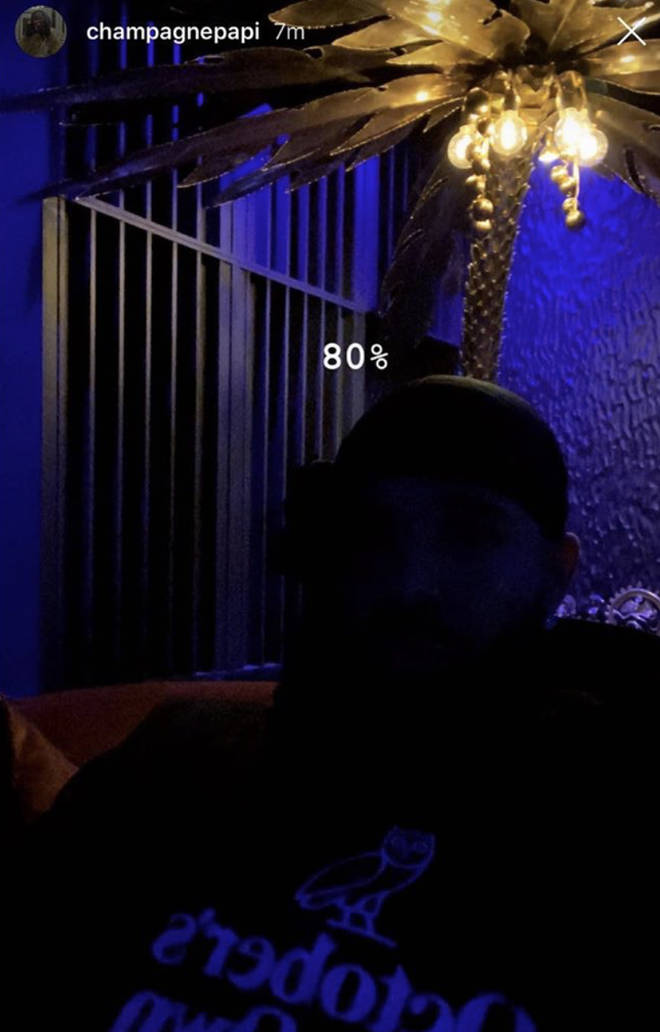 During a show in Edmonton, Canada, in November 2018, Drake confirmed that as soon as his 'Aubrey & The Three Migos Tour' wraps, he'd be heading to the studio to write and record his new album.
"Six shows left. I guess most people would go on a vacation, or I don't know what they do… I'ma tell you what I'ma do," he told the crowd. "Because I keep having nights like this that remind me why I love my job so much.
"I promise you that as soon as this tour is over–and maybe I'll take, like, a little break - I'ma get right to work on a new album, so we can be right back here and have a new party."
In August 2018, Drake told fans about his plans for new music, while on his Aubrey & The Migos tour around the US. "I'm gonna go and finish out this tour, I'm going to take a little break. I'm gonna go be back with my family and my friends.
"Then I'll be right back in that studio making some new music, so I can be back in Chicago doing this sh*t again."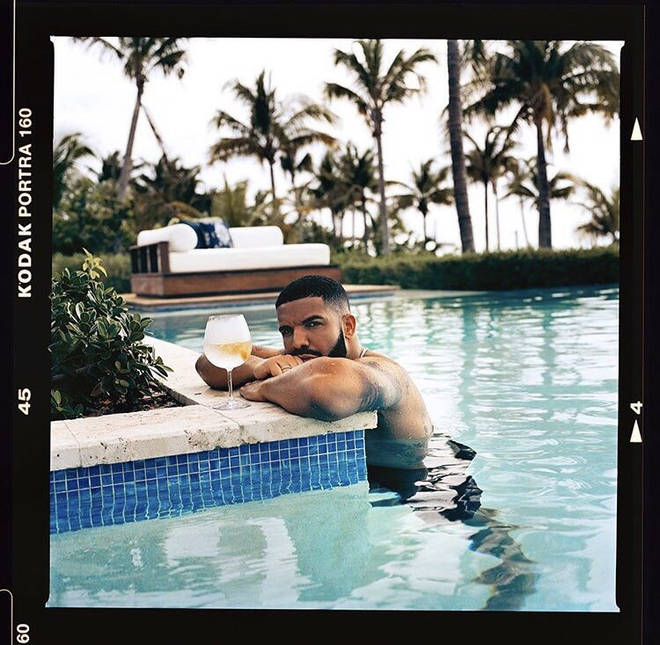 Who is producing it?
Drake's long-time producer Noah '40' Shebib is playing some part in the album. In October 2020, the Canadian rapper shared a picture of 40 cooking up in the studio for his new album.
"@ovo40 I'm scared to hear these things you built," wrote Drake alongside a photo of 40 sitting in front of a mixing desk and some gigantic speakers.
The OVO producer is famous for his ambient, moody sound that has defined Drake's career so far. However over recent years, Drake has been experimenting with a number of other producers such as Tay Keith, Pi'erre Bourne, TrapMoneyBenny and more.
Drake's friend and OVO co-founder Oliver El-Khatib also helped to produce his previous album 'Scorpion'. During his Aubrey And The Migos tour, Drake told fans that he plans to work with producer Tay Keith as soon as they were free to hit the studio together.