Drake 'Certified Lover Boy' album collaborations and features
3 September 2021, 07:18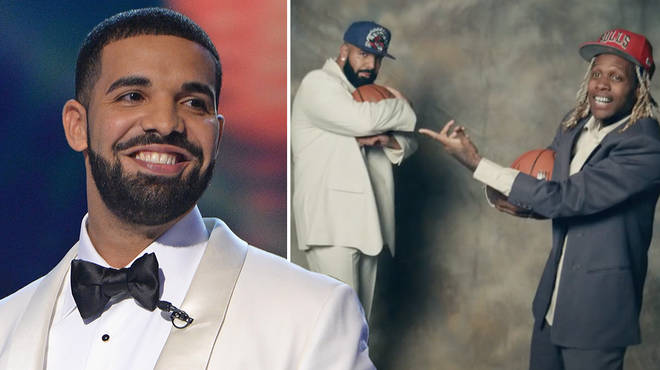 Drake's new album is here! Here's who the rapper worked with on his new album 'Certified Lover Boy'?
Drake has released his highly-anticipated sixth studio album 'Certified Lover Boy' on Friday, September 3rd.
Along with Drake's release date announcement, Drake surprised his fans by dropping a CLB merch line – but the Canadian rapper didn't stop there.
Not only did the star drop off a hot single 'Laugh Now Cry Later' with Lil Durk, which fans thought would feature on the new album, he also released star-studded visuals for the video.
While fans were stunned by Lil Durk's feature on the single, it lead fans to speculate whether Drake will have any other great features on his album.
Now, we can confirm the album is star-studded with huge features.
Which features have been confirmed for 'Certified Lover Boy'?

Drake has shocked fans with a dramatic announcement of the CLB features.

The Canadian star has displayed billboards in the home cities of the artists that have been selected to feature on the long awaited album.

Drake confirmed his features in a post on Instagram, where he revealed the tracklist to the 21 song album.

1. "Champagne Poetry"
2." Papi's Home"
3. "Girls Want Girls" with Lil Baby
4. "In The Bible" with Lil Durk and Giveon
5. "Love All" with JAY-Z
6. "Fair Trade" with Travis Scott
7. "Way Too Sexy" with Future and Young Thug
8. "TSU"
9. "N 2 Deep" with Future
10. "Pipe Down"
11. "Yebba's Heartbreak" with Yebba
12. "No friends In The Industry"
13. "Knife Talk" with 21 Savage and Project Pat
14. "7am On Bridle Path"
15. "Race My Mind"
16. "Fountains" with Tems
17. "Get Along Better" with Ty Dolla $ign
18. "You Only Live Twice" with Lil Wayne and Rick Ross
19. "IMY2" with Kid Cudi
20. "F*cking Fans"
21. "The Remorse"

Which artists were rumoured to be featuring on Drake's 'Certified Lover Boy' album?

PartyNextDoor

Fans are suspecting that PartyNextDoor mate feature on Certified Lover Boy following his cryptic tweet, after the announcement of the albums release date.

The "Break From Toronto" singer tweeted: "CLB" followed by the owl emoji - the OVO logo.

The pair have previously come together on hits such as "Recognise" and "Come and see Me".

Nicki Minaj

Drake shared a few snaps hinting at a Nicki Minaj collaboration. In the first photo Drizzy uploaded to his Instagram story, she showed himself inside of a vehicle rocking a YMCMB sweatshirt.

In another snap, he revealed he was in the studio with Minaj. Fans believe the pair have teamed up for a collab on CLB.

Drake shares photo of Nicki Minaj's studio, a day after she teases a big announcement.

Picture: Instagram/@champagnepapi

Future and Metro Boomin

On Jul 5th, a video circulated on social media of Future and Drake on set, shooting what looks like a music video, for a track which may appear on the album.

On Tuesday (Jun 8) Drake took to Instagram to share a few photos of himself, Future and producer Metro Boomin in the studio.

Fans were excited to see that the trio are working together for a new track on Drake's new album.

One fan wrote: "WATTBA 2 We need it" hoping that Future and Drake are working on a sequel to their 'What a Time To Be Alive' project.

Another fan wrote "Y'all two never miss on songs🔥 drop that sh*t ASAP!"

Davido

In March 2020, two months after Certified Lover Boy was initially scheduled to drop, Nigerian singer Davido shared a video of himself alongside Drake, prompting fans to assume a collaboration could be on the way.

It's unclear whether the video was shot in a studio or not, but fans are hoping the pair have got something cooking in time for the new record.

Ariana Grande

On Monday (Jan 18), an Ariana Grande fan account shared a screenshot of an anonymous submission via Deux Moi,which read: "One of the girl pop artists on Drake's new album is Ariana Grande."

Deux Moi alleges Ariana Grande will feature on Drake's new album.

Picture: Instagram

Roddy Ricch

In July last year, Roddy Ricch reacted to his song with Drake being leaked online.

The Canadian rapper and the Compton star collaborated on a track titled "In The Cut".

During an IG Live session, Ricch expressed his frustration with the track being leaked, saying ""Man, n***as leaking the music and sh*t like that". He added "That sh*t crazy." 

However, the song has not been released yet. Many fans think the completed version of the track will feature on Drake's new album.

Roddy Ricch. Picture: Getty

Jessie Reyez

In March 2020, a collaboration between Drake and singer Jessie Reyez leaked online.

The song titled 'Zodiac Sign' quickly spread on Twitter, leaving many R&B fans excited.

While it's not far fetched as Drake and Jessie are both from Toronto, it is still uncertain that the song will appear on his album.

Jessie Reyez. Picture: Getty

Which producers were rumoured to be featuring on Drake's 'Certified Lover Boy' album?

Noah Shebib

Producer Noah '40' Shebib, whom Drake has worked with previously, is contributing to the album.

In October 2020, Drake posted a photo of Noah in the studio, working on his new album.

Drizzy captioned the photo "@ovo40 I'm scared to hear these things you built," alongside a picture of Noah sitting at a mixing desk.

Charlie Puth

American singer/songwriter and record producer, Charlie Puth, has sparked rumours that he has involvement in the album process.

This came after Puth posted, then deleted a tweet, revealed the album release date.

On Monday (Jan 18) Charlie Puth tweeted "Drakes dropping on the 21st".

Many fans questioned whether he was trolling, or if he had inside information due to his potentially working on the album.

Charlie Puth reveals Drake's album release date.

Picture: Twitter

Did Drake collaborate with Nike?

Drake collaborated with Nike for his Certified Lover Boy merchandise line.

The Canadian rapper launched the apparel line a week after dropping his music video for his hit "Laugh Now Cry Later" featuring Lil Durk.

In the music video, Drake teased a few items from the collection, leaving many fans excited to see what's coming.

Drake X Nike collaborate on Certified Lover Boy merch line.

Picture: Drake X Nike

In October 2020, Drake officially released the line via his website drakerelated.com.

The collection featured thirteen co-branded Drake x Nike pieces including hoodies, t-shirts, socks, a hat, and two bomber jackets.

Who is in Drake's 'Laugh Now Cry Later video?

Drake and Lil Durk's 'Laugh Now Cry Later' music video was the topic of conversation on social media when it dropped, due to the star studded visuals.

The music video begins with Drake taking over the Nike headquarters in Beaverton, Oregon.

Drake is then seen playing one-on-one basketball with NBA star Kevin Durant.

In another scene, Drake is seen playing football with Cleveland Browns receiver Odell Beckham Jr.

Professional American footballer Marshawn Lynch also featured in the video.

Drake plays homage to LeBron James in the music video, when he is standing posed with his index finger up, wearing a cap.

Watch Drake and Lil Durk's 'Laugh Now Cry Later' video below.