Drake 'Certified Lover Boy' merch: release date, restock, sale & more
21 July 2021, 12:30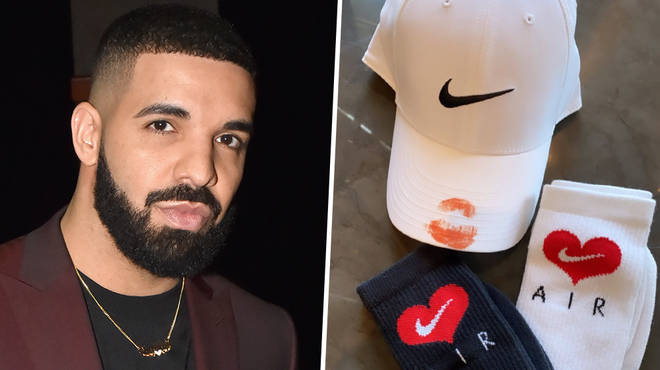 Drake collaborated with Nike and Chrome Hearts to deliver some 'Certified Lover Boy' merchandise.
Gearing up to the release of his upcoming album, Drake released an official Certified Lover Boy merch collection with Nike.
While the rapper's hotly-anticipated sixth studio album is set to be released later this year, Drake and Nike dropped their highly-anticipated apparel collection in 2020.
In early 2021, the 'Laugh Now Cry Later' rapper linked up with celebrity-favoured brand Chrome Hearts for another rumoured range of CLB merchandise, with an additional nod to his Nike sub-label NOCTA.
Find out more about Drake's 'Certified Lover Boy' merch below.
When does Drake's Nike Air Force 1 'Certified Lover Boy' collaboration drop?

To coincide with the release of Certified Lover Boy, Drizzy is dropping some collaborative footwear with Nike in the form of his Nike Air Force 1 'Certified Lover Boy' sneakers.

The brand's trademark white trainers have had an OVO overhaul, with the phrase 'Love You Forever' debased alongside the midsole of the shoe where you would normally find the classic 'Air' branding.

Drizzy is dropping some collaborative footwear with Nike.

Picture: Instagram/@levibentlee

The lower front of the shoe also swaps out its traditional stars for heart shapes, nodding to the rapper's ongoing 'Lover Boy' era.

While a release date is yet to be confirmed, rumours suggest that the shoes are set to drop about the autumn time.

When does the 'Certified Lover Boy' x Chrome Hearts merchandise drop?

It's unclear when the new drop with Chrome Hearts will be released.

In April 2021, Drake and some of the OVO crew - including Chubbs and OVO co-founder Oliver El-Khatib - teased some upcoming pieces on Instagram, including sweaters, sweatpants and a jade roller.

What is the release date of Drake's 'Certified Lover Boy' merch?

On Monday (Oct 26), two days after his 34th birthday, Drake revealed his upcoming album will be coming early 2021.

The merch reveal came a week after Drake dropped the visuals for 'Laugh Now Cry Later'" featuring Lil Durk.

Sharing a polaroid snapshot from the music video, Drake wrote "Laugh Now Cry Later off my next studio album CERTIFIED LOVER BOY" on his Instagram post.

In the music video, the Lover Boy title is printed out on the back of Drake's Nike jersey in one of the scenes.

At the end of the Dave Meyers-directed video, the initials "CLB" and a rose appear on the screen. Check it out below.

In August 2020, Drake took to his Instagram story to share an image of the Certified Lover Boy merch.

In the photo, Drake showed off the hat and socks, which was apart of the collection.

Drake shares an image of the Certified Lover Boy merch on his Instagram story.

Picture: Instagram

The rapper officially released the line via his website drakerelated.com back in October.

Stay tuned for future releases.

When is Drake's Certified Lover Boy merch being restocked?

While the Certified Lover Boy Nike Merch sold out shortly after the clothing was made available on his website, many fans were unable to get their hands on the items.

Drake and Nike have not revealed when the next restock is coming. However, fans suspect more merch will be made available when Drake's album drops.

Where is Drake's Certified Lover Boy merch up for sale?

The merch originally was released on drakerelated.com, in October 2020, but sold out instantly.

Many fans were happy to see the items were affordable, with others being fairly cheap. A three-pack of socks went for $18, while the hoodie costs $75.

Some items are still available at external seller StockX, depending on your location.

What is in the Certified Lover Boy Nike Merch collection?

Drizzy's collection with Nike, which is said to be "only the beginning" for their partnership, includes the love heart bomber jacket featured in the rappers 'Laugh Now Cry Later' video.

Other items include a white cap with red lipstick on the brim, pairs of socks with hearts on them, a hoodie and a couple of t-shirts.

The collection features thirteen co-branded Drake x Nike pieces including hoodies, t-shirts, socks, a hat, and two bomber jackets.

Check out some items below.

Drake and Nike release their Certified Lover Boy merch.

Picture: Drake X Nike