Who is Keke Palmer's boyfriend Darius Jackson? Age, Instagram and more revealed
5 December 2022, 10:49
Actress and singer Keke Palmer has revealed her pregnancy, but who is her partner Darius Jackson?
This weekend actress Keke Palmer announced that she was expecting her first child with boyfriend Darius Jackson.
She announced the exciting news on SNL, and showed her growing baby bump during her monologue by opening her coat.
After the news, many people were speculating over her boyfriend Darius Jackson, who she keeps fairly quiet.
Keke Palmer praised for encouraging soldiers to take the knee during George Floyd protest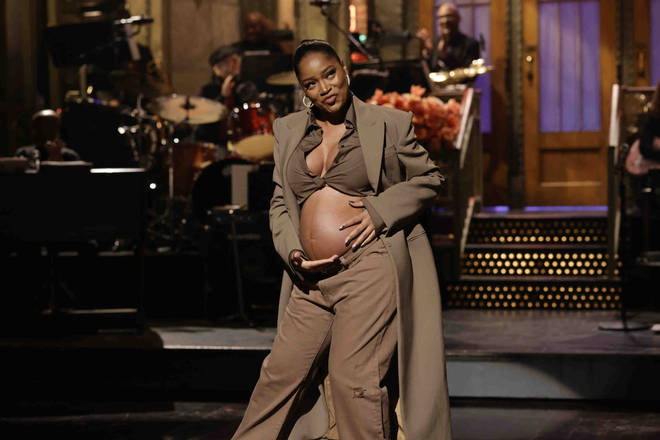 Who is Darius Jackson?

Darius Jackson works in fitness and the entertainment industry, and runs a YouTube channel for his workouts.

His younger brother is Sarunas Jackson, who appeared in the HBO show 'Insecure' created by Issa Rae.

The workout fiend seems to be expanding his work into the film industry, and lists his experience on LinkedIn as "between acting, stand-in, background, sports reporting, sports marketing & writing."

How old is Darius Jackson?

According to his Instagram bio, Jackson was born in 1994.

This makes him either 27 or 28 years old.

Keke Palmer is 29, meaning that the 'Nope' actress and fitness trainer are close in age.

Keke and Darius at a basketball game earlier this year. Picture: Getty

How long have Darius and Keke been together?

Keke was introduced to her now boyfriend through his brother in May 2021 at a Memorial Day party.

The pair went public with their relationship in August of that year.

Since then, the couple have been going from strength to strength and are soon to be parents.

Keke and Darius have been together for over a year. Picture: Getty

What is Darius' Instagram?

Darius can be found on Instagram @dvulton.

He currently has over 80,000 followers thanks to his relationship to Palmer.