Jack Harlow dating history: does he have a girlfriend and who are his exes?
14 December 2022, 15:26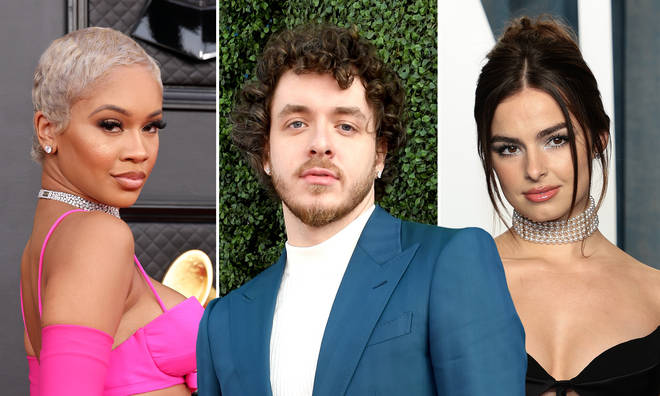 Does Jack Harlow have a girlfriend? Is he married or single? Here's what we know.
Everybody is talking about Jack Harlow. His catchy hooks, smooth flow and Southern charm have won the hearts of fans worldwide, and all eyes are on the Louisville native in the run-up to the release of his sophomore album, Come Home The Kids Miss You.
And while he's busy scoring number one singles and going viral on TikTok with the infectious Fergie-sampled 'First Class', Jack is also the talk of the town when it comes to his love life.
So, who is Jack Harlow dating? Does he have a girlfriend? And who has he been linked to in the past? Here's everything we know.
Dua Lipa

Mr Harlow clearly has a thing for famous girls - as he has most recently been linked to British singer Dua Lipa.

Reports from Page Six suggest that the pair have been in "constant communication" ever since the pair met in person in November 2022 in Los Angeles.

According to the source, Jack was "very interested in her, and was going to strongly pursue [the romance]."

The pair met back in November after Harlow penned a song about the singer. Picture: Getty

Reports also claim that the two were spotted arriving separately at a restaurant in New York the day after her performance.

According to the source close to Harlow, "he is going to do his best, as he has always been a fan of her."

Harlow puts his infatuation for Lipa in the track as "Dua Lipa, I'm tryna do more with her than do a feature," so who knows what this means for the pair.

Saweetie

Jack Harlow and Saweetie shared a flirty exchange at the BET Awards 2021. Picture: Getty

Jack Harlow and fellow rapper Saweetie sent the internet spinning following their flirty exchange at the BET Awards 2021.

Jack - who had previously featured on the remix to Saweetie's song 'Tap In' - crashed one of Saweetie's interviews on the red carpet to introduce himself to the Bay Area beauty.

In a video clip that soon went viral online, Jack could be seen shaking Saweetie's hand and saying, "You don't like getting caught off guard."

Saweetie then responds by asking why he was "shaking," to which Jack replies, "Nobody's shaking."

A photo of the pair locking eyes during the event added fuel to the fire as fans began dissecting the interaction online. However, Jack later clarified that he was simply saying "hello" rather than shooting his shot.

"You can't say hello these days, I guess," Jack said, saying that he's a "nice person." He added, "That's a friend. That's a friend vibe."

Addison Rae

TikTok star Addison Rae was linked to Jack Harlow back in 2021. Picture: Getty

Jack was romantically linked to social media star Addison Rae in April 2021 after the pair were reportedly spotted together at a boxing match in Atlanta.

According to a post on @TikTokRoom, Rae - who had recently split with her on-off boyfriend Bryce Hall at the time - was seen alongside Harlow at the Triller Fight Club boxing match.

The account also claimed 'Obsessed' singer Addison had been hanging out with the rapper and had liked some of his Instagram posts.

However, Rae later took to Twitter to dismiss the claims, tweeting, "I'm single."