Jack Harlow 'Lovin On Me' Lyrics Meaning Revealed
10 November 2023, 09:30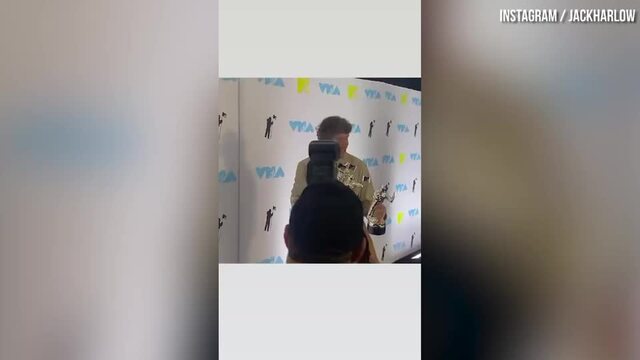 Jack Harlow poses with VMA awards
What are the lyrics for 'Lovin On Me', the song Jack Harlow is teasing on TikTok?
Jack Harlow is ready for his comeback into the rap scene, and has teased a new song titled 'Lovin On Me' across social media, including TikTok.
Fans speculated that the track was set to be called 'Vanilla' or 'Whips and Chains' following multiple previews of the song on TikTok, but Jack has confirmed that the new song is called 'Lovin On Me'.
The song is set to be released on Friday, November 10, and here's a breakdown of all the lyrics we know so far.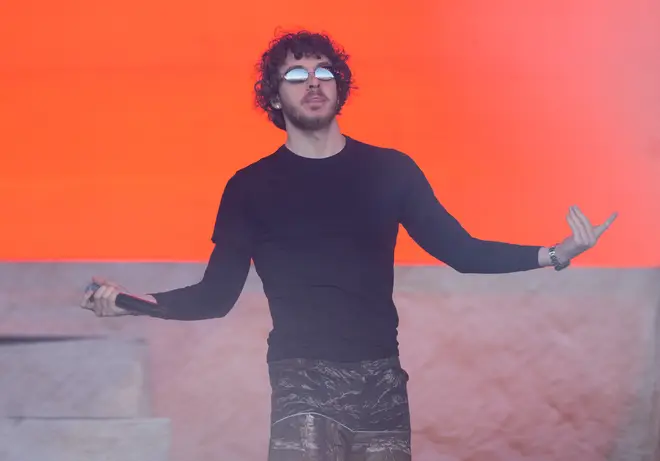 'Lovin on Me' is the follow up single to Jack's latest album 'Jackman', which was released in April of this year.
The rapper also released his hit album 'Come Home The Kids Miss You' last year to rave reviews and embarked on a world tour.
Most recently, Jack Harlow joined forces with Jungkook for the track '3D'.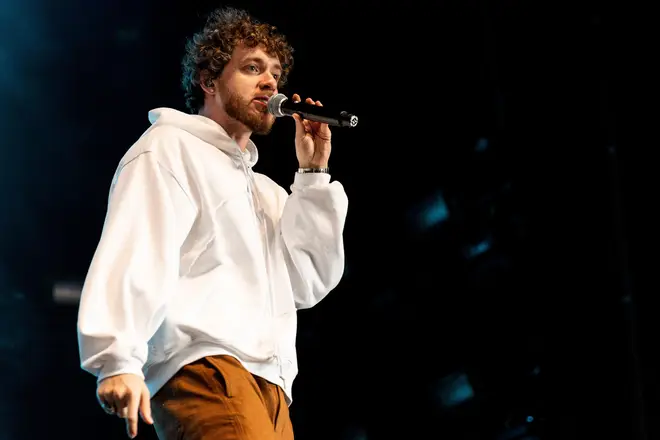 What are the lyrics for Jack Harlow's new song 'Lovin On Me'?

[Pre-Chorus]

I don't like no whips and chains

And you can't tie me down

But you can whip your lovin' on me, baby

Whip your lovin' on me, baby

[Chorus]

I'm vanilla, baby, I'll choke you, but I ain't no killer, baby (I don't like no whips and chains)

She twenty-eight, tellin' me I'm still a baby (Baby, you can't tie me down)

I get love from Detroit like Skilla Baby (But you can whip your lovin' on me, baby)

And the thing about your boy is (Whip your lovin' on me, baby)

I don't like no whips and chains

Baby, you can't tie me down (But you can)

But you can whip your lovin' on me, baby (That's right, that's right)

Whip your lovin' on me, baby

[Verse 1]

Young J-A-C-K, A-K-A Rico, like Suave

Young Enrique, speakin' of A-K-A, she's a alpha

But not around your boy, she get quiet around your boy, hold on (Shh)

Don't know what you heard or what you thought about your boy

But they lied about your boy, goin' dumb and it's some' idiotic about your boy

She wearin' cheetah print, that's how bad she wan' bе spotted 'round your boy

[Pre-Chorus]

I don't like no whips and chains

And you can't tie mе down

But you can whip your lovin' on me, baby

Whip your lovin' on me, baby

[Chorus]

I'm vanilla, baby, I'll choke you, but I ain't no killer, baby (I don't like no whips and chains)

She twenty-eight, tellin' me I'm still a baby (Baby, you can't tie me down)

I get love from Detroit like Skilla Baby (But you can whip your lovin' on me, baby)

And the thing about your boy is (Whip your lovin' on me, baby)

I don't like no whips and chains

Baby, you can't tie me down (But you can)

But you can whip your lovin' on me, baby (That's right, that's right)

Whip your lovin' on me, baby

[Verse 2]

Young M-I-S-S-I-O-N-A-R-Y

You sharp like barbed wire

She stole my heart, then she got archived

I keep it short with a b*tch, Lord Farquaad

All the girls in the front row, ayy

All the girls in the barricade, ayy

All the girls that been waitin' all day, let your tongue hang out

F*ck everything, ayy

If you came with a man (Yeah, yeah)

Let go of his hand (Let go of this sh*t)

Everybody in the suite, kickin' up they feet

Stand up, b*tch, dance

[Pre-Chorus]

I don't like no whips and chains (I see you)

And you can't tie me down (And all the guys in the back waitin' for the next track)

But you can whip your lovin' on me, baby (Cut your boy a slack)

Whip your lovin' on me, baby (It's young Jack)

[Chorus]

I'm vanilla, baby, I'll choke you, but I ain't no killer, baby (I don't like no whips and chains)

She twenty-eight, tellin' me I'm still a baby (And you can't tie me down)

I get love from Detroit like Skilla Baby (But you can whip your lovin' on me, baby)

And the thing about your boy is (Whip your lovin' on me, baby)

I don't like no whips and chains

Baby, you can't tie me down (But you can)

But you can whip your lovin' on me, baby (That's right, that's right)

Whip your lovin' on me, baby

I don't like no whips and chains

And you can't tie me down

But you can whip your lovin' on me, baby

Whip your lovin' on me, baby

But you can whip your lovin on me, baby (that's right, that's right)

Whip your lovin on me, baby