Tekashi 6ix9ine's Girlfriend Opens Up About Their Relationship With Loved-Up Birthday Post
9 May 2019, 10:59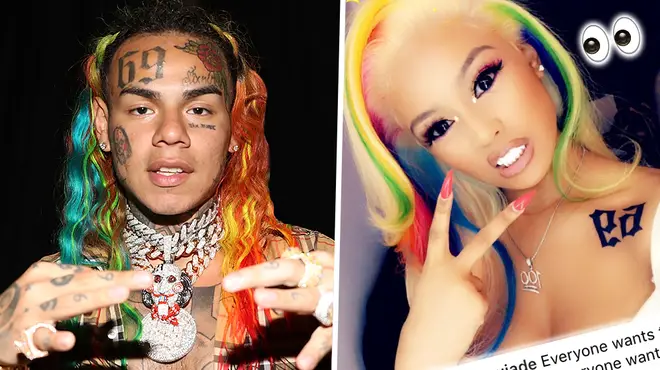 Tekashi 6ix9ine's girlfriend Jade has revealed details on their relationship during her heartfelt birthday post to the "FEFE" rapper...
Tekashi's 6ix9ine's girlfriend Jade, has taken to Instagram to wish her boo a happy birthday. Just yesterday (8th May), the New York rapper turned 23 years-old.
Model, 22, Jade is unable to physically be with Tekashi on his birthday as he is currently locked up. However, she has shown her dedication and appreciation for him on social media, revealing the huge tattoo of his face on her chest. Today, she's has written a lengthy appreciation birthday message.
Just yesterday, Jade took to Instagram to let everyone know how much she appreciates her bae on his birthday. She started by saying how loved Tekashi is by his fans.
"Everyone wants to hear you speak , everyone wants to hear your story & months later after you left millions around the world still sing your songs word from word waiting on you. " Jade wrote.
She continued on to personalise and talk from her heart, saying:
"Happy birthday to the man I fell in love with 😍 when I met you I had no idea we would still be together in a relationship 6 months later being in the situation you are in just made us closer & stronger & you allowing me to see a different side of you that no one would see."
The model added: "I learned so much from you , down to the little things you told me meant sooooo much to me and really showed me how much you care, appreciate and Love me I wanna thank you for being so REAL with me!!!!"
Jade ended the message on a cute note saying "I just want you to know I'm infatuated with you I can't wait too have you next to me 24/8 😋😈 I love you baby❤️ #freeyouASAP "
In January, Jade took to Instagram to show that she visisted Tekashi in jail. She posted a picture of the "DUMMY BOY" rapper squeezing her bottom.
Tekashi 6ix9ine is currently awaiting trial after being charged with racketeering, drug trafficking and firearms offences last year. However, due to his cooperation with the police, he may get an early release - as early as 2020.