Rihanna Super Bowl Halftime Show 2023: Setlist, Merch, Date, Rumours & More
8 February 2023, 10:33 | Updated: 8 February 2023, 10:36
Rihanna has confirmed that she will be headlining the halftime show at the 2023 Super Bowl!
The internet has gone wild after Rihanna announced that she will be headlining the half-time show at the 2023 Super Bowl.
Following in the footsteps of artists like Beyoncé, J-LO, Kendrick Lamar and Eminem, RiRi will be shutting down the stadium with her songs.
The set is likely to be packed with some of her biggest hits from way back when to more recent tunes.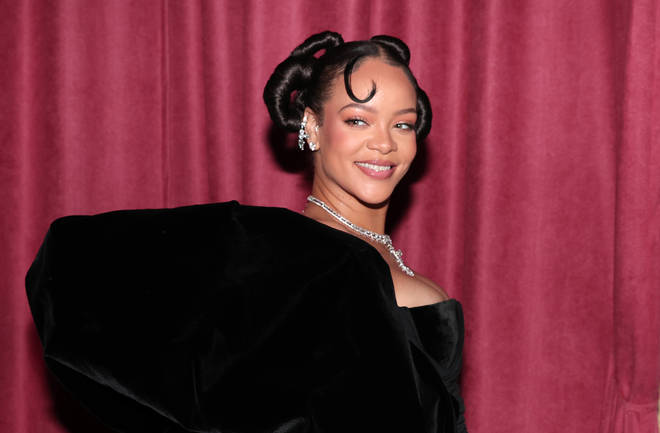 The singer and mother-of-one shared the news by posting a picture of her hand holding an American football, which has since racked up millions upon millions of likes!
Jay-Z, whose company Roc Nation is helping to coordinate the show released a statement saying: "Rihanna is a generational talent, a woman of humble beginnings who has surpassed expectations at every turn."
"A person born on the small island of Barbados who became one of the most prominent artists ever. Self-made in business and entertainment."
Fans have been speculating on the details of this announcement, including a rumoured setlist and any special guests she is likely to perform with.
With the Super Bowl fast approaching, Rihanna is reportedly "ready" for the occasion. A source told PEOPLE that "She is rehearsing right now. She's very excited, ready, and focused."
"She can't wait to kill it," the source adds, and we know RiRi is going to produce one hell of a show!
Here's all we know so far about Rihanna's Super Bowl appearance!
What date is the 2023 Super Bowl?

The 2023 will take place on Sunday 12 February at the State Farm Stadium in Glendale, Arizona.

It will be the 57th Super Bowl and it will be the first time that Apple Music will be the partner on the Halftime show.

What will the setlist be?

So far, there is no confirmed setlist for Rihanna's performance.

However, that has not stopped speculation as to what songs she will perform as part of the show.

Seeing as she has 20 years of hits under her belt, it will be difficult to choose just a few songs to perform.

What will Rihanna & A$AP Rocky name their baby boy? Fan predictions revealed

Rihanna spotted out and about recently.

Picture: Getty Images

Fans have been speculating that the setlist will include hits like 'Umbrella', 'We Found Love', 'Needed Me' and 'Diamonds'.

Rihanna has taken a break from music to launch her successful Fenty Beauty makeup line, and also to raise her son who she welcomed in May with boyfriend A$AP Rocky.

This outing marks her first public performance since the 2018 Grammys, where she won for best Rap/Sung Performance.

Will there be special guests?

So far, no guests have been confirmed to perform with Riri at the Super Bowl.

However, this hasn't stopped fans from guessing who will be joining Rihanna on stage.

Now, a source has revealed that Rihanna is planning to bring her 7-month-old son to the performance.

Rihanna is gracing the Super Bowl half time stage very soon. Picture: Getty

"She knows it's going to be loud so she's thinking that either she'll have him wear noise-canceling headphones for babies or her family, many of which are also coming, will enjoy the show from a skybox or some type of club seating," the insider revealed to Hollywood life.

The singer showed the first video of her son last month in a TikTok video where she is seen cooing and he giggles.

Well, we can't wait to see Riri's No.1 supporter there!

Rihanna and ASAP Rocky spotted together in New York.

Picture: Getty Images

According to TMZ, Rihanna and her creative team are working with a list of 50 possible guests to perform with her.

Sources have claimed that everyone that Riri has collaborated with over the years may possibly appear, including Kanye West, Jay-Z, Drake, Pharrell and Calvin Harris.

However, a final decision has not been made yet on who may join her, and there is still a chance that she will appear solo too.

Rihanna is busy preparing for her Super Bowl debut.

Picture: Getty Images

How have fans reacted to the news?

Of course, fans have been going wild at the news of Rihanna's performance.

The singer hasn't released any solo material since 2016, so this news also hints at new music from the songstress.

Rihanna makes 'surprise appearance' as pregnant statue at the Met Gala 2022

Here's a few of the Navy's reaction to the news:

Will Rihanna be touring after the Super Bowl?

Well, it seems like RiRi might be touring after her Super Bowl after sources claim that she is planning a big comeback.

The 34-year-old has been at the centre of rumours that she is hitting the road after sources say that she is "gearing up to announce a massive comeback."

However, any formal plans have been kept under wraps, but rumblings of a tour are in fruition.

Rihanna is gracing the Super Bowl half time stage very soon. . Picture: Getty

The insider told Page Six that "There has been a lot of talk among people in the know, especially in the last week or two, that Rihanna is gearing up to announce a tour."

"Even some members of Rihanna's team have been kept in the dark. It's all a big secret, from the details of her halftime show to what's next — if anything."

Reps for Rihanna have not commented on the tour rumours.

Who else has performed at the Super Bowl?

The 'Work' singer joins a long list of musical icons who have performed at the Super Bowl half-time show, including Beyoncé, Prince, Lady Gaga and Madonna.

2022's half-time show was led by Dr. Dre, Snoop Dogg, Eminem, Mary J. Blige and Kendrick Lamar.

5 artists performed at the 2022 Super Bowl.

Picture: Getty Images