Drake Brings Out J. Cole During Last London Show And Teases New Music Together - WATCH
12 April 2019, 11:05 | Updated: 12 April 2019, 11:14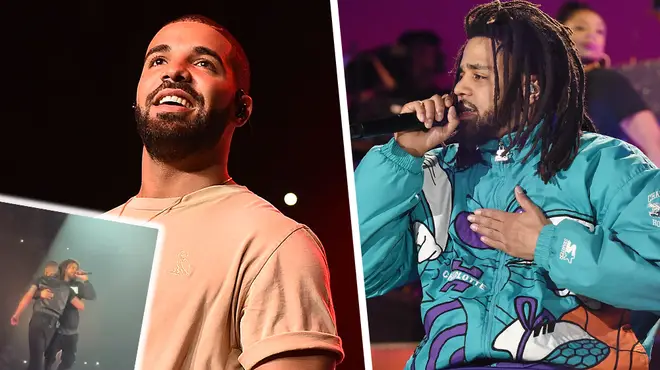 Drake surprises his fans with special guest J. Cole during his last show in London. Not on that, but the Drizzy reveals the pair have an upcoming collaboration on the way...
Drake's European leg of the 'Assassination Vacation Tour' is nearly coming to an end, but it's safe to say it will be a tour to remember with many fans left amazed by Drake's shows.
Yesterday (Apr 11) the superstar closed his seven-day residency at London's O2 arena, where he 'turned the 02 into an O3'.
Over the past shows, he's brought many U.K artists such as J Hus, Dave, Fredo, NSG, Giggs, & many more. However, he surprised his fans with a little U.S flavour, when he brought out hip-hop extraordinaire J. Cole.
Drake and J. Cole reunited on stage during Drizzy's last show in London's O2 Arena.
Cole came out to perform his latest single, "Middle Child" and a track from 2014 Forest Hills Drive "No Role Modelz" before he and Drake had a moment together on stage.
Drizzy dedicated a heartfelt speech to J.Cole and praised the North Carolina rapper for grinding and putting in the work to get where he is now.
They both started music around the same time, helped each other out and grew beside each other in their careers.
The 6 God and J.Cole exchanged loving words while on stage, congratulating each other on their successes.
"Top 5, if not, God damn arguably the best rapper to ever come in this motherf*cker," Cole said on stage with his arm around Drizzy. "Watching your show tonight, god damn."Drake shared his praise for Cole right after.
Drake started to reflect on memories with Cole stating:
"When I think of all my earliest memories there was always one guy that was always right there doing the same thing as me. Taking care of his people, showin' love," he said about Cole.
The 6 God added: "This man right here. He hasn't changed since the first day I met him".
Twitter user Huss_I_Am, who runs creative publication @14HQProjects shared a video clip of Drizzy and Cole together on stage.
During the video, Drizzy drops the biggest bomb, announcing that he and J. Cole are releasing new music.
Drizzy reveals "I can't wait to make some new music with you. I know we been working. I can't wait to let the people hear it."
Fans went crazy at the fact that two rap legends are going to drop an upcoming collaboration. To be fair, we've seen in the past that the two work well together, so we can't wait...