Cardi B Reveals Daughter Kulture Is Her Sister's 'Twin' With Throwback Photo
9 April 2019, 10:32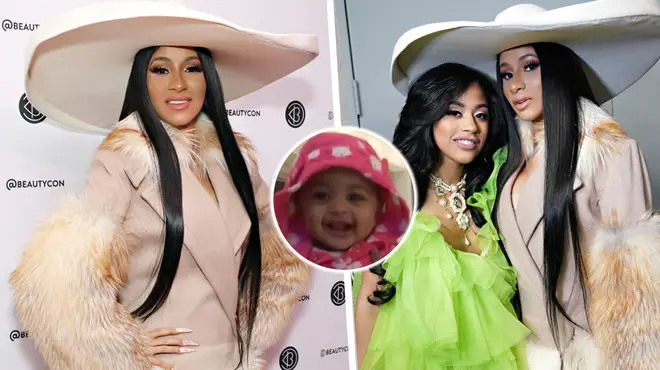 Cardi B shares an adorable photo of her daughter Kulture in comparison to her sister Hennessy in a cute throwback photo...
Cardi B has been more open with showing her baby girl Kulture, to the world. The New York superstar often takes to Instagram to post her and husband Offset's cute daughter. More recently, Cardi B realises that her baby has a striking resemblance to her sister, Hennessy Carolina.
In Cardi's latest post on Instagram, the star has compared a picture of her sister Hennessy when she was a little baby, next to a recent photo of Kulture.
Cardi took to Instagram and shared a split screen of a photo of Hennessy when she was a baby and baby Kulture.
The "Money" rapper captioned the photo:
 "Bro this is weird 🤔i gave birth to another Hennessy," she captioned the image.
Hennessy responded to the shoutout writing: "Haaaaan lol My twinny twin twinnnnn!😽😽😽💖😽💖💖💖💖💖❤️❤️❤️"
Cardi B recently responded to a fan's criticism of her not being the best role model for young girls.
Being that Cardi B is a mother to a daughter, and already feels the pressure to be a good role model as a mum, it doesn't help when fans criticise her even more. The humanitarian and mental health advocate fan tweeted:
"I love you ALOT but I don't agree with the messages you've been sending us young girls. So many of us look at you as a role model and that should send a very loud message," the fan wrote on Twitter.
Cardi B responded to the fan on Twitter, stating: "For these past two years I been watching what I say and I haven't been myself," Cardi responded.
She continued: "I been feeling trap and sad cause it's not ME but everybody tell me to be it for me to be this "rolemodel" and guess what ? People still spit my past right in my face so for now imma be my old self again."
The "Please Me" rapper, has received a lot of backlash recently, over a video resurfacing from her live stream a couple years ago, where the star talks about drugging and robbing men.
However, her husband Offset came to her defence and showed he still loves her regardless of her past. Infact, he's been praising her even more, expressing that she's the reason why female rappers exist.