Offset Makes Shock Cardi B Claim During Savage Female Rappers Rant
8 April 2019, 17:42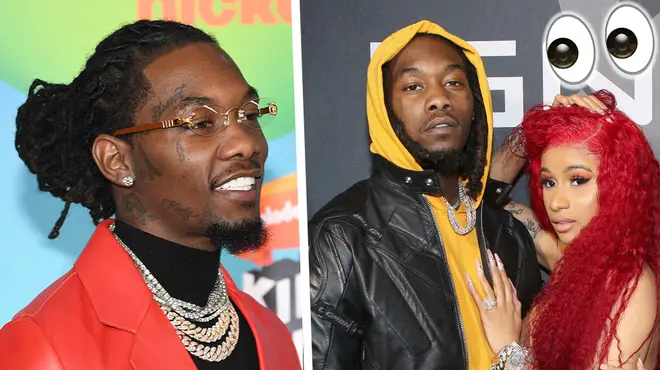 Offset has received backlash after taking to Twitter to rant about how Cardi B put on for female rappers...
Offset took to Twitter to praise his wife and mother of his child on her surpassing all female rappers. Since Offset has been back in Cardi B's good books, he's ensuring that he will stay there and sings her praises.
The Migos rapper is only giving his wife what she deserves when he treats her like a queen. However, the Migos rapper has triggered many fans as his praises are seen to be 'extreme' and 'disrespectful' for the female rappers who paved the way for Cardi B.
At the end of the day, Offset feels like his wife is the best female rapper and he won't shy away from expressing that.
Cardi B is currently one of the most popular artists in the entire world. Offset jumped on Twitter to say that all the new female rappers are Cardi clones, creating some division among his fanbase.
The same ones hate are motivated by the wife she did the unbelievable

— OFFSET (@OffsetYRN) April 5, 2019
Many fans respect his opinion believing that Cardi is the best female rapper, however, do not accept the fact that the Migos rapper is discrediting other female rappers.
The rapper tweeted in a now-deleted tweet:
"All you hoes rap cuz of my wife," wrote the Migos rapper. He continued "Gave y'all hoes hope to not suck d*ck the rest of ya life and catch money."
Not talking bout prior female artist talking bout the female artist that come from my wife background

— OFFSET (@OffsetYRN) April 5, 2019
Offset makes it clear that he feels that many female rappers are using Cardi's success to create their own wave.
Fans are cheering Offset's claims and mentioning legendary female rappers like Missy Elliott, Nicki Minaj, Queen Latifah and others come from a rough background and still made it big.
We rich over here so ya hate don't get you paid I stand on what I said

— OFFSET (@OffsetYRN) April 5, 2019
Offset tried to clear up his comments, singling out the bartenders and strippers that have transitioned to rap.
The Georgian rapper clarified that he wasn't talking about the legends or anybody that was established before Bardi, after he got a significant amount of backlash.
Every bartender stripper with the dream of getting out the club it's nun wrong with that but my wife help guide ur life to try to rap all u dumb ass ppl at home on couch tweeting suck my balls not talking bout established artist like the legands and the ones before Cardi

— OFFSET (@OffsetYRN) April 5, 2019
Fans were saddened and disappointed with Offset's tweets. Many fans pointed to the fact there are talented rappers like Tierra Whack and Young M.A who have successfully created their own lanes without mimicking Cardi B's style.
In other Offset and cards news, he recently defended her after a resurfaced video appeared of Instagram Live from few years ago. The video reveals that she drugged and robbed men, and while fans compared her to Bill Cosby, Offset stood up for his wifey. Cardi addressed the video.