Kodak Black Savagely Trolls The Game And 50 Cent With Notorious 'Male Stripper' Allegations
11 April 2019, 10:57 | Updated: 11 April 2019, 11:12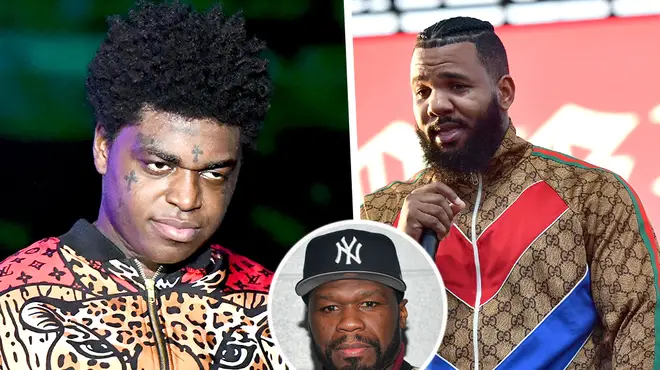 Kodak Black disses The Game and drags 50 Cent into the beef bringing up the pair's wild history...
Kodak Black has been very active on social media recently, getting himself into beefs with T.I, The Game and offending pretty much everybody, with his outrageous comments. The rapper first caught bad attention after making a disrespectful move on Lauren London, just days after her boyfriend and child's father, Nipsey Hussle had passed away in L.A.
After Kodak posted a video saying that Lauren London was "fitting to be a whole widow," and inviting her to "call his line", The Game responded angrily on his Instagram story. Now, Kodak has clapped back at The Game.
Kodak Black took to Instagram Live clap back at The Game, by pettily using the star and 50 Cent's collaboration song against him. Kodak Black played "Hate It Or Love It" before calling out The Game.
The Floridian rapper stated:
"50 [Cent] grabbed that boy off the pole," said Kodak in his video, referring to comments that Game's step-father made several years ago about The Game being a male stripper.
Kodak continued:
"You was a booty shaker, you was a male stripper. 50 Cent had to come get you off the pole like whatchu talkin' bout. Yo, leave me alone. Stop talking about me. If Lauren ain't said nothing, y'all need to leave me alone."
This all came about as a retaliation to The Game responding to Kodak's comments, by cursing him out.
The Game took to Instagram and said "This is to Kodak Black or anybody direspecting my n***a's legacy, his family... Keep my n***a name out your fucking mouth, n***a. Keep his girl's name out your fucking mouth, n***a." 
T.I also addressed Kodak after his comments towards Lauren London. T.I chimed in and said "Hey, Kodak Black: You outta pocket, n***a. Fix that sh*t—quickly, expeditiously".
He continued: "If I see you, I'ma say it to your face. You outta pocket, n-gga. Get your motherfuckin' self together."
At this point, Kodak has gained many enemies within the past week and he's been frustrating a lot of people on social media.