Kodak Black Addresses Young M.A Beef After Receiving Brutal Backlash Online
22 March 2019, 11:20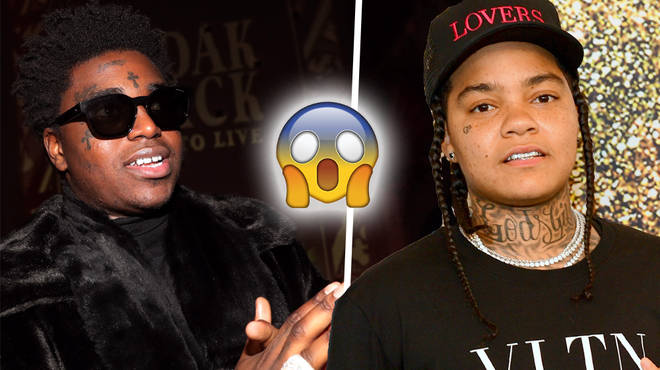 Kodak Black takes to social media to address Young M.A issue, following brutal online backlash...
After being released from prison, Kodak Black has been very open about settling down and finding a long term girlfriend. Kodak has been seen flaunting his alleged girlfriend off on Instagram, looking loved up. During his Breakfast Club 105.1 interview, closer to the time he had just been released, he revealed that he is looking for the love of his life.
But somehow, Kodak he got to a point where he was crushing on Young M.A, who is openly homosexual. Things quickly went from 0-100 after preying on Young M.A on an Instagram comment and even singing a line dedicated to her "coochie" in his new song.
Nicki is in a committed relationship with Kenneth Petty and M.A has made it clear that she's not into guys. After some back-and-forth between Kodak and M.A, the Floridian appears to be off of that wave, downplaying all of his flirting during a recent live stream.
The "ZeZe" artist has noticed that Young M.A isn't playing after she threatens to pull up on him. After getting backlash and having young M.A herself, address him, Kodak has decided to step back and retract his comments.
Kodak took to Instagram live to clear up the mess of shooting his shot at Young M.A. Kodak stated:
"Bro, c'mon be realistic. I am too fly for that shit," said Kodak about his lust for the female emcee. "And I got too much resources to go that route. Why would I wanna go that route, over there. [...] I was bullsh*ttin', I was just bullsh*ttin', man!" After his comments, Kodak tells his fans to leave Young M.A alone because "people be sensitive."
This is the second time Kodak took to Instagram to clear up him shooting his shot at Young M.A. Since Young M.A went in on Kodak during her Instagram Live, hresponded saying "That's My Dawg" on his Instagram Live.
After Kodak piped down and tried to diffuse the "beef" he created, M.A calmed down and showed she was unbothered about the situation. Young M.A took to Instagram to show just how unbothered she was, while digging into pancakes for breakfast.
Kodak has backtracked on his comments and reveals he was just playing around. However, fans think he is just covering up the fact that he has a real crush on Young M.A.