Nicki Minaj Reveals A Major Throwback Of Herself & Boyfriend Kenneth Petty
19 March 2019, 17:18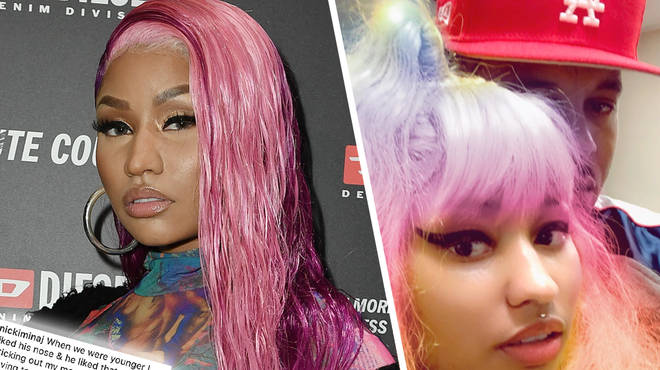 Nicki Minaj takes it back to when her and boyfriend Kenneth Petty were kids, and posts a major throwback...
Nicki Minaj and her boyfriend Kenneth Petty may have only started dating last year, but the couple go way back. Petty and Minaj have known each other since they were children.
The 36 year-old rapper, and the love of her life grew up in the same neighbourhood in New York. Nicki Minaj decided to make it official and show him off to the world.
Since show off her beau on Instagram, their relationship has become one of the biggest controversial relationships. Although Minaj seems so in love with Petty, some fans can't help but look at his past as a reason for Nicki to not be with him.
Kenneth reportedly has several convictions, with the main ones being for first-degree attempted rape and manslaughter. However, Nicki Minaj has decided to stand by Petty regardless of his complex past.
While Nicki Minaj reflected on her childhood with Kenneth Petty, she shared a side-by-side collage photo of them both as kids.
Kenny is pictured on the left and Minaj is pictured on the right. Nicki Minaj captioned the collage photo:
"When we were younger I liked his nose & he liked that tooth sticking out my mouth," she said. "I hated having to smile cuz I didn't want anyone to see it. He still brings that tooth up all the time. He says he misses it. Should I get that tooth back y'all?"
Since being a kid, Nicki has changed significantly in her appearance. Although Kenny loves her for how she is now, he loved her back then when she hadn't gotten surgery. Infact, Petty misses the tooth that stuck out, that she never liked.
Nicki has been very open about her and Kenneth Petty's relationship - especially over talks on Queen Radio. Over the weekend, the love filled star, decided to remind everyone of just how far back she and Kenny go.
The Queen posted a photo of of themselves as kids. Nicki reveals that they've crushed on each other since they were young. The couple seem happily in love and Nicki Minaj seems as though she's in a happy space with Petty.