T.I. Compares Himself To Tupac Months After Dissing The Late Rapper's Lyrics
14 March 2019, 14:04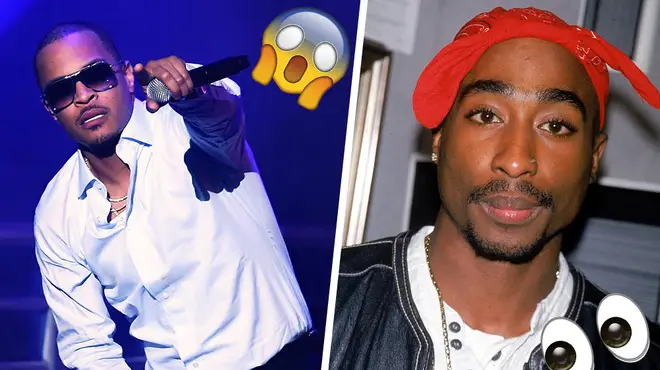 T.I takes to social media and justifies his bold claim comparing himself to Tupac...
Tupac has become that go to legendary rapper that a lot of new rappers aspire to be like, or even compare themselves to. Boosie named his project BooPac, Troy Ave referred to himself as the "NewPac", Tekashi 6ix9ine compared himself to Tupac and many other rappers have jumped on the "compare myself to Tupac" bandwagon.
Individuality in rap is usually what makes the artist special, but many have likened to be like another rapper. T.I has recently made a bold statement on social media compare himself to Tupac. He refers to the comparison, priding himself on being the only other artist to maintain the same level of consistency as Tupac.
This comparison comes as a surprise as T.I expressed he wasn't impressed and too fond of some of 2Pac's bars. Back in January, T.I. featured on BET's Rate the Bars series, in which celebrities judge the lyrics of notable rappers.
T.I. was asked to recite lines from unidentified artists and rate them on a scale of 1 to 5—with 1 being the lowest. T.I was given the lyrics to Pac's 1991 record "Something Wicked."
T.I said "I give this a 1," the lowest rating for Tupac's bar. He then explains "I gave it a 1 because, it's, you know: 'rat, cat, dog, fog, run, fun.' I'm done."
Why do these #rappers always have to ride on past rappers coattails? There was only 1 Tupac and Tip is great in his own right. Damn! I'm sick of that shit! These mufuckas love attention. #Tip #TI #Tupac #2Pac #rap #Hiphop

— Najeero (@Najeero) March 14, 2019
Although he doesn't rate Tupac's bar, the 38 year-old rapper professes his admiration for Tupac, revealing that the Late MC was a solid businessman. Tip recently claimed that no other rapper has been able to duplicate Pac's wide-ranging success, apart from himself.
Nobody sounds like 50. Nobody sounds like em. Nobody sounds like fabolous (Loso). Nobody sounds like TI. Like Tupac. Like biggie. Like Dre. Like busta rhymes. Like bubba sparxxx. Like snoop dogg. Like p diddy. Like Bernie siegel. Like lil Wayne. Like nicki Minaj. Like Kanye west

— Sophia (@omshaktimala) March 14, 2019
Just yesterday (Mar 13) T.I took to Instagram to make a statement. The Georgian rapper posted a montage photo of himself and captioned the photo:
"Any way you slice it... I'm the very best at what I do... impossible to duplicate... accept no substitution!" T.I. declared on Instagram this week. "When you get done buuuulshittin'... Riddle me this.... Who since 2Pac has maintained as much consistent diversity within music genres,businesses & other opportunities? I'll wait..."
Tupac was for the people , TI cool but I gotta see your resume , public works , community service

— FLUR ENT. (@EntFlur) March 14, 2019
T.I has received a lot of backlash, as anyone does when they compare themselves to legendary rappers. Many fans disagree with T.I's claims turning to the fact there are rappers that are more consistent, with more businesses and other facets.
On Instagram, many Tupac fans challenged T.I.'s bold claim, pointing to other hip-hop artists who have been majorly successfully in crossing many entertainment mediums and that become wealthy within various industries.
Tupac is a martyr and TI isn't, hard comparison to make. I don't think so tbh, if there's a rapper alive comparable to pac I'd say it's j.cole or jay-z

— Jack Mihm (@jack_mihm) March 14, 2019
Many fans specifically recommended JAY-Z as a more appropriate comparison, who has had his hands in everything from music and sports to fashion and restaurants to mobile apps and real estate.
A fan wrote in the comment section, "Jay-Z," to which Tip responded, "Respectfully to da goat...what major feature film he [starred] in?"
The comment section has continued to get filled with many fans chiming in on the debate on whether T.I should compare himself to Tupac.
.
.
.