All Eyez On Me: 20 Of The Greatest Tupac Songs Of All Time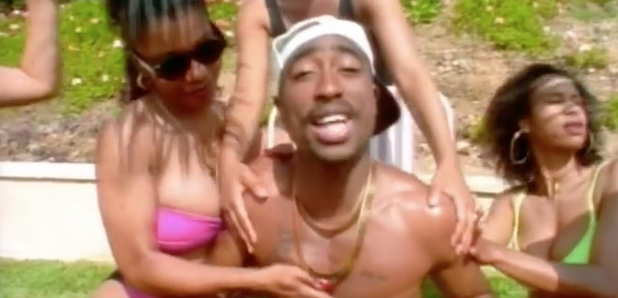 Here's our rundown of the best Tupac songs ever - from upbeat collaborations with Dr. Dre and Snoop Dogg, to soulful jams that will have you in your feelings.
Over time Tupac has become an icon in Hip-Hop culture, embodying the idea of what it means to be a rapper.
And despite being tragically murdered at the age of 25, the 'California Love' rapper left behind an unrivalled collection of music, including an astonishing 11 platinum albums.
We have attempted to narrow down 20 of Tupac Shakur's greatest songs, spanning albums such as 'Me Against The World', 'All Eyez On Me', 'The Don Killuminati: The 7 Day Theory' and more.
'Changes' Feat. Talent
Despite being released after Tupac died, 'Changes' remains one of the biggest hits in his catalogue. The iconic song, which is an interpretation of Bruce Hornsby's 1986 hit 'The Way It Is', hears Pac rhyme about social justice over a piano sample.
'California Love' Feat. Dr. Dre
Tupac linked up with fellow Deathrow label-mate Dr. Dre for one of the most iconic Hip-Hop songs of the 1990s. The pair rap about Tupac's adopted city of California over some classic bass-lead production.


'Hit 'Em Up' Feat. The Outlawz
After being shot in 1994, Tupac retaliated by releasing one of the biggest diss tracks in Hip-Hop history, directed at Biggie Smalls and The Junior Mafia. Intended as a response to Biggie's 'Who Shot Ya', Pac displayed his signature aggression on the track.


'Hail Mary'
The final track from Tupac's fifth album 'The Don Killuminati', hears the rapper torn between the street life and salvation, over chilling graveyard bells and a heavy bass line. His crew The Outlawz also provide hard-fitting feature verses.
'Thugz Mansion' Feat. Nas & J. Phoenix
Tupac showed his soulful, introspective side on acoustic classic 'Thugz Mansion' featuring Nas. The rappers dream about a hypothetical heaven dedicated to thugs and gangsters, on the track taken from his posthumous 2002 album 'Better Dayz'.


'Ghetto Gospel' Feat. Elton John
Pac's only UK No.1 single came courtesy of a posthumous collaboration with Elton John in 2005. The track, which samples Elton's 1981 song 'Indian summer', features the rapper discussing social politics over powerful production.


'I Ain't Mad At Cha'
Sampling 1983 song 'A Dream' by DeBarge, the track was actually recorded on the same day Tupac was released from prison in 1995. Chillingly, the official music video showing himself getting shot and going to heaven, was recorded one week before he was actually shot and killed in Las Vegas.


'Dear Mama'
In 1995, Tupac made history as the first ever artist to top the Billboard Charts while in prison. As a result of his impending incarceration for rape, he released his most thoughtful and personal album yet - 'Me Against The World' - which included a song dedicated to his mother.


'Ambitionz Az A Ridah'
When Tupac was released from prison in 1995, he reportedly went directly to the studio and recorded his hard-hitting single 'Ambitionz Az A Ridah'. The piano-based instrumental later became iconic in Hip-Hop and soundtracked countless freestyles.


'Letter 2 My Unborn'
Tupac displayed his amazing storytelling over a fast-paced song dedicated to his unborn child. The track, which was released as a posthumous single from his 2001 album 'Until The End Of Time, features powerful interview excerpts from the rapper.


'Brenda's Got A Baby'
Taken from his 1991 debut album '2Pacalypse Now', the thought-provoking 'Brenda's Got A Baby' was actually inspired by a real story he read in the New York Times. The song which introduced Tupac to the world, was about a 12-year-old girl who became pregnant by her cousin and threw the baby in the trash.


'2 Of Amerikaz Most Wanted' Feat. Snoop Dogg
Tupac traded verses with fellow Deathrow label-mate Snoop Dogg on one of the standout songs from his 1996 album 'All Eyez On Me'. Over the sound of G-Funk, the two then-biggest rappers in the world displayed all of their thug bravado.


'Until The End Of Time' Feat. R.L Thugger
Taken from his posthumous 2001 album of the same, Tupac's hard-hitting anthem alongside R.L. Thugger features the West Coast rapper at his introspective best - delivering heartfelt street poetry.


'Starin' Through My Rearview' Feat. The Outlawz
Released shortly after his untimely death in 1996, Tupac's 'Starin Through My Rearview' actually contains a sample of Phil Collins' 1981 track 'In The Air Tonight'. The West Coast rapper trades verses with his crew The Outlawz.


'Me Against The World'
The title track of Tupac's triple platinum-selling 1995 album, hears the rapper get typically introspective over some classic 90's boom-bap production. Having survived a near-fatal shooting, the rapper showed his new-found emotional depth.


'All Eyes On Me'
Taken from the final Pac album released when he was alive, 'All Eyez On Me' features the rapper bragging about his gangsta lifestyle over some signature West Coast G-Funk production.


'So Many Tears'
The second single from Pac's third studio album 'Me Against The World' is Tupac at his finest. Over thumping production, the rapper tells stories of pain, passion and death.


'To Live & Die In L.A.'
Despite being born in New York, Tupac made California his home and made it known through his 1996 dedication to Los Angeles. The smooth track samples Prince's song 'Do Me, Baby'.


'Keep Ya Head Up'
Back in 1993, Tupac showed his love and support for downtrodden black women on his uplifting single 'Keep Ya Head Up'. The official video was dedicated to 15-year-old black student Latasha Harlins, who was shot and killed by a corner store owner - indirectly starting the 1992 LA riots.


'I Get Around' Feat. Digital Underground
Tupac's first ever hit single was a song all about his desires for women. Featuring Digital Underground, the 1993 video depicted Pac's life as one huge Hip-Hop house party - which may have been not too far from the truth.