Tory Lanez Responds After The Game Disses Him For Comparing Tekashi 6ix9ine To Tupac
6 December 2018, 15:58 | Updated: 16 January 2020, 17:12
In his recent interview with Tim Westwood, Tory Lanez compared the release of jailed rapper 6ix9ine's album 'DUMMY BOY' to that of Tupac. The Game went on to rubbish Lanez's statement, to which Tory replied himself.
The Game wasn't happy with Tory Lanez's comments on Tupac and Tekashi 6ix9ine.
The 39-year-old rapper threw a subliminal shot at Lanez after the 'MiAMi' hitmaker compared the album rollout of 6ix9ine's new album 'DUMMY BOY' to that of Tupac.
"It's really sad to see somebody at that platform... it kinda reminds me of Bobby Shmurda," Lanez told Tim Westwood in a recent interview. "But Bobby Shmurda didn't even get to go as far."
"For somebody to go that far, you got Kanye, Nicki Minaj, your album's dropping... the only n***a who had sh*t like that popping was Tupac."
"When 2Pac was in jail he dropped the biggest album. Not to say it was the biggest album of all f**king time, but it was a pretty big moment. It's sad he's gotta be locked up during it, is all I'm saying."
In response, The Game took to Instagram with a since-deleted video urging people to stop comparing artists to the legendary 'All Eyes On Me' rapper.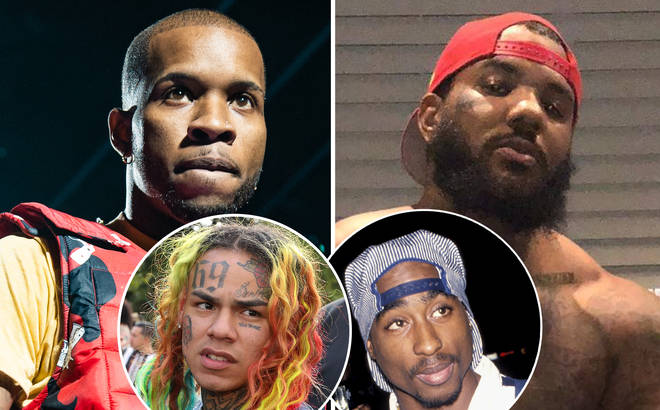 Tory then hit back at The Game with his own post, which has also been deleted, asking him to "stop the subliminals." He followed up with a tweet clarifying his previous comments.
"I did not compare 6ix9ine to 2 pac," he wrote on Twitter. "I just said they both dropped big albums from jail at the level of fame that they had. Get off my d*ck."
Tkeahsi 6ix9ine is currently sitting in jail awaiting a trial for a potential life sentence following his recent racketeering arrest. His new album 'DUMMY BOY' dropped while he was incarcerated.
It's not all bad news for him though - shortly after it was announced that Travis Scott's album 'ASTROWORLD' had nabbed the number one spot, a counting discrepancy was discovered, meaning his 'DUMMY BOY' could still grab the top spot.