Tekashi 6ix9ine's Lawyer Speaks Out After The Rapper's Threatened In Jail
3 December 2018, 10:48 | Updated: 3 December 2018, 10:51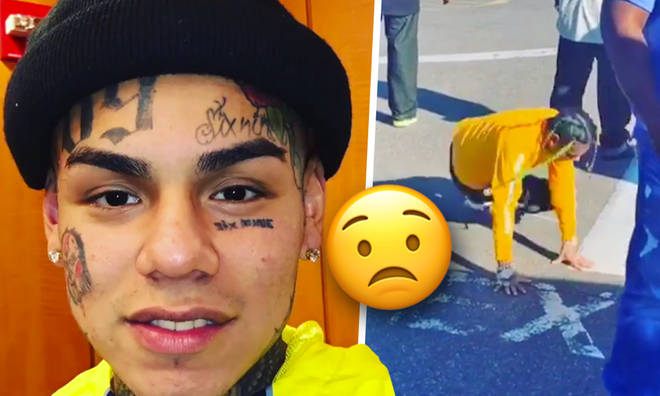 Tekashi 6ix9ine's lawyer Lance Lazzaro has spoken out for the first time about the 'Dummy Boy' rapper being threatened by gangsters in jail.
After Tekashi 6ix9ine was arrested on a number of charges which could see the 'Gummo' rapper spend the rest of his life in prison, he was immediately put in jail as he awaits his trial on 4th September 2019.
But now his lawyer, Lance Lazarro has spoken out for the first time about threats 6ix9ine has faced since he's been in prison and why he was moved to an alternative provision by prison officials.
After his arrest, 6ix9ine was placed in the Metropolitan Detention Center in Brooklyn and was in general population, but it was reported that the rapper threatened by members of the Crips gang.
According to reports, Tekashi 6ix9ine was 'G-checked' almost instantly by one member of the Crips as soon as he enetered the prison facility, but prison guards were on hand to defuse the situation before it got out of hand.
Speaking for the first time about the situation, 6ix9ine's lawyer told TMZ that the rapper, "was being threatened in jail. However, he was not scared nor did he request being removed. The [Bureau of Prisons], acting upon these threats, removed him to a different facility to eliminate the threat."
Tekashi 6ix9ine was moved to an alternative facility which is reportedly a unit for neutral inmates who aren't members of any gangs. Reports have also suggested that the facility is often used to protect criminals who cut deals with the police.
Police admitted that they had an informant who had infiltrated 6ix9ine's group and provided recordings which helped get the rapper arrested and fans on social media claimed they'd worked out exactly who the 'snitch' was.
With around 10 months until the start of his trial, Tekashi 6ix9ine will remain behind bars before he faces the charges which could land him with a 35 years - life sentence.
> Download Our Free App For All The Latest Tekashi 6ix9ine News!